Rebels topple top-ranked Tar Heels
November 26, 2011 - 4:04 pm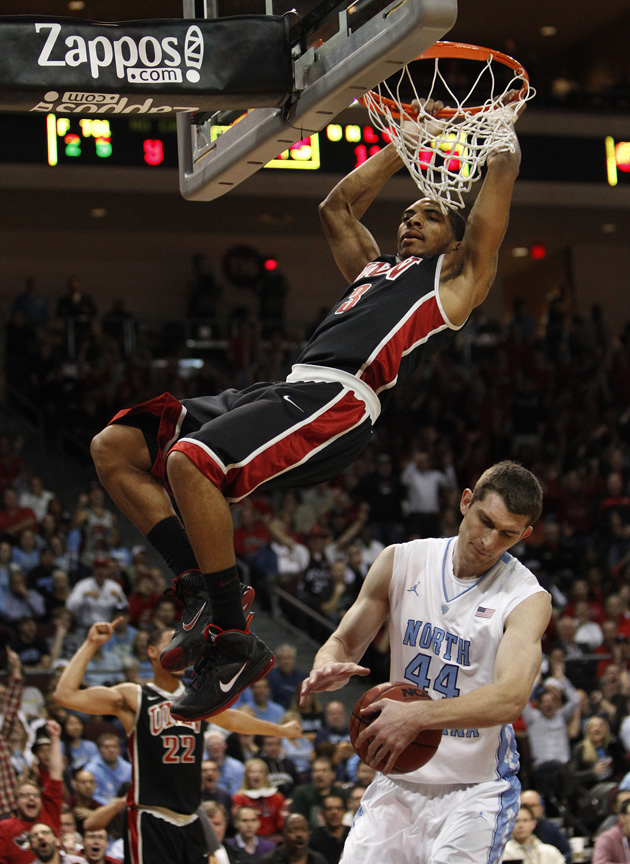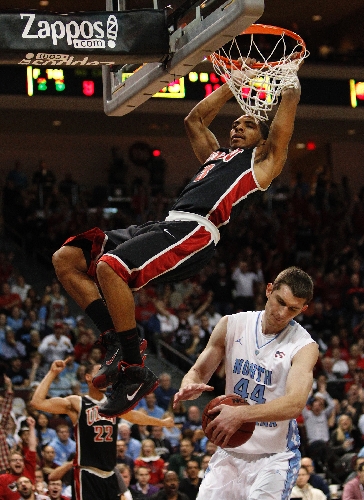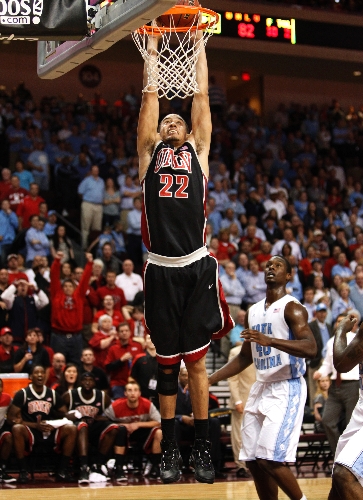 Visions of knocking off the nation's No. 1 team certainly crossed Chace Stanback's mind during the past week. The reality of the moment was even better than the UNLV senior imagined.
Celebrating fans stormed the Orleans Arena floor Saturday night and surrounded Stanback, the primary player in college basketball's biggest early-season upset.
"It's a great thrill," Stanback said. "We prepared really hard for this game, and it showed."
Stanback hit four 3-pointers and totaled a career-high 28 points as the Rebels stunned top-ranked North Carolina 90-80 to win the Las Vegas Invitational championship.
Stanback's 3 from the corner put UNLV up 82-70 with 2:43 remaining, and his dunk with 1:22 left iced the upset.
Sophomore forward Mike Moser finished with 16 points and 18 rebounds for the Rebels (7-0). Oscar Bellfield had 16 points and nine assists, and Anthony Marshall added 13 points.
"To be the best, you've got to beat the best," Moser said.
Two weeks into the season, first-year coach Dave Rice guided UNLV to its first victory over a No. 1-ranked team since 1989. The last Rebels coach to pull off the feat was Jerry Tarkanian, who was seated two rows from the floor amid the rowdy crowd of 7,523.
"It's really a great atmosphere and an atmosphere we should all want for college basketball," Tar Heels coach Roy Williams said.
Harrison Barnes and P.J. Hairston each scored 15 points for North Carolina (5-1).
UNLV shot 13-for-32 from 3-point range, with Bellfield hitting 4 of 8 and Stanback making 4 of 11.
"They kept going in, and they made a bunch of them," Williams said.
The Rebels turned up the heat, and likely made the Tar Heels seriously sweat, when Justin Hawkins buried a 3-pointer from corner to extend the lead to 72-60 with 7:42 remaining.
Stanback followed soon after with a 3 from the opposite corner, and a rebound and dunk by Carlos Lopez made the score 77-63 with 5:40 to go.
An anticipated run from North Carolina never materialized.
"It's a huge win for our program," Rice said. "Chace was terrific. He was a leader. He made clutch shots and rebounded the ball, and his defense was a difference in the game."
The Rebels ripped off the first 14 points of the second half to turn a four-point deficit into a 52-42 lead on Moser's two free throws with 15:55 remaining. Bellfield and Moser each hit a 3-pointer during the run, and the Tar Heels missed their first 10 shots from the field.
North Carolina pulled within five before back-to-back 3s by Moser and Stanback put UNLV up 62-51 with 11:52 to play.
Quintrell Thomas' three-point play helped the Rebels hold off a Tar Heels charge, and Hawkins' 3 pushed the lead to 12.
Bellfield triggered the Rebels' hot start. He hit three 3-pointers and totaled 13 points in the first half, but the Tar Heels erased an eight-point deficit to take a 42-38 edge into intermission.
"We knew we had to play a better second half," said Stanback, who finished with 10 rebounds.
Bellfield and Marshall each hit a 3-pointer, and Bellfield drained another from the corner to put UNLV ahead 11-4 at the 16:30 mark.
Marshall dribbled off a Thomas screen and accelerated down the lane through 6-foot-11-inch John Henson and 7-foot Tyler Zeller for a powerful dunk and three-point play. Stanback's 3-pointer extended the Rebels' lead to 17-9 with 12:45 to go.
North Carolina responded with the next nine points and took its first lead, 18-17, on Barnes' baseline jumper with 10:34 left in the half.
The Tar Heels, who shot 17-for-30 (56.7 pecent) from the field in the opening half, put together a rally consisting mostly of perimeter jumpers. Its bigger front line did not dominate as expected, and Zeller went to the bench with three fouls with seven minutes to go.
Kendall Marshall's 3 at the four-minute mark put the Tar Heels in front 32-27. But the Rebels answered every punch with a flurry of their own before winning by knockout.
■ NOTES — The last time UNLV faced a No. 1 team was against Arizona on March 23, 1989, in the NCAA Tournament's Sweet 16 in Denver. The Rebels won, 68-67. The last time UNLV faced a No. 1 team in the regular season was against North Carolina on Dec. 1, 1985, in the Great Alaska Shootout. The Tar Heels won, 65-60.
The Rebels earned a holiday tournament title for the second straight year, after winning the 76 Classic in Anaheim, Calif., last year on Thanksgiving weekend.
Contact reporter Matt Youmans at myoumans@reviewjournal.com or 702-387-2907.
UNLV — 90
NORTH CAROLINA — 80
KEY: Chace Stanback scored 21 of his career-high 28 points in the second half for the Rebels.
NEXT: UNLV at UC Santa Barbara, 7 p.m. Wednesday, KWWN (1100 AM, 98.9 FM)