Rebels trounce Wyoming in regular-season finale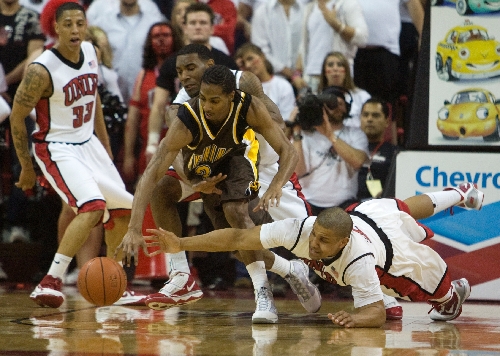 It took no time at all for Tre'Von Willis to forget what UNLV accomplished Saturday. By the time the final buzzer sounded, he was looking ahead.
Willis scored 13 of his 20 points in the first half to propel the Rebels to a 74-56 runaway victory over Wyoming at the Thomas & Mack Center.
The Mountain West Conference regular-season finale was little more than a formality and a warm-up exercise for UNLV (23-7, 11-5) with far more important games looming in the postseason.
"The regular season is over, and now we're basically playing one-and-done games for the rest of the year," Willis said. "I'm excited."
The Rebels secured the No. 3 seed in the MWC tournament and will face sixth-seeded Utah (14-16, 7-9) at 8:30 p.m. Thursday at the Thomas & Mack. The Utes swept the regular-season series from UNLV, a fact Willis addressed repeatedly in postgame interviews.
"We were kind of embarrassed about that," the junior guard said. "It's never a good feeling when you lose to a team twice. Now we get a third opportunity to play Utah, and we definitely want this win.
"I'm very prideful, so I wouldn't have it any other way."
Willis and sophomore forward Chace Stanback, who had 13 points and nine rebounds, made certain the Rebels disposed of the Cowboys (10-20, 3-13).
Forward Darris Santee and walk-on guard Steve Jones also contributed on Senior Day. Santee scored all nine of his points while UNLV built a 44-23 halftime lead.
"We definitely wanted to send them out with a bang," Willis said. "We were very hyped before the game. You couldn't ask for much more out of the seniors. They are willing to do anything to make this team win."
Jones scored on a baseline jumper with 1:30 left, drawing applause from what remained of an announced crowd of 14,116. Many fans made an early exit from a game that never was in doubt.
Willis' layup and Stanback's 3-pointer put the Rebels up 28-14. Santee's back-to-back baskets stretched the lead to 40-20.
"The guys opened up real sharp," coach Lon Kruger said. "It was a good all-around effort."
Desmar Jackson had 21 points for Wyoming, which was all-around bad while shooting 3-for-19 from 3-point range and committing 16 first-half turnovers.
Kruger opted not to play junior guard Derrick Jasper, who has been out since Jan. 26 with a sprained medial collateral ligament in his left knee. Jasper practiced Thursday and Friday, but wasn't needed Saturday.
"He was a little sore, so there was no need to jump him out there," said Kruger, who expects Jasper to play against Utah.
The Rebels got wide-spread scoring from Kendall Wallace (eight points), Oscar Bellfield (seven) and freshmen Justin Hawkins and Anthony Marshall, who had six apiece.
"It's a good feeling to play well, but the exciting part is I feel we still haven't played up to our potential," said Willis, who shot 9-for-15 and had eight rebounds and five assists.
The Rebels have won their past four games by a total of 95 points. Preceding that was a three-game losing streak for UNLV, which last felt the sting of defeat 66-61 at Utah on Feb. 17.
"They beat us twice already, but that's in the past," Stanback said. "We're looking forward to the challenge."
Contact reporter Matt Youmans at myoumans@reviewjournal.com or 702-387-2907.
UNLV — 74
WYOMING — 56
KEY: Tre'Von Willis scored 13 of his 20 points in the first half to lead the Rebels.
NEXT: UNLV vs. Utah, MWC tournament, 8:30 p.m. Thursday, CBSC (333), The Mtn. (334), KWWN-AM (1100)