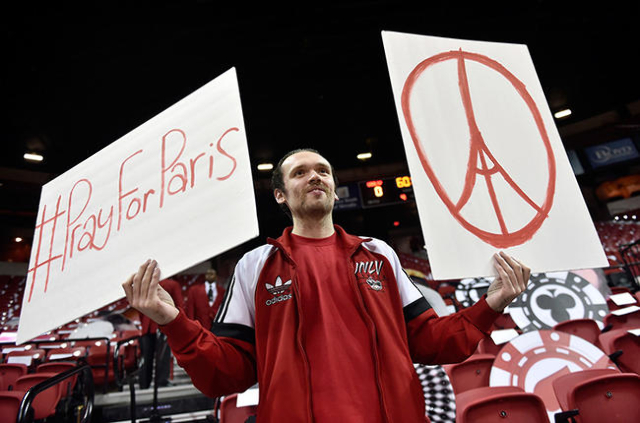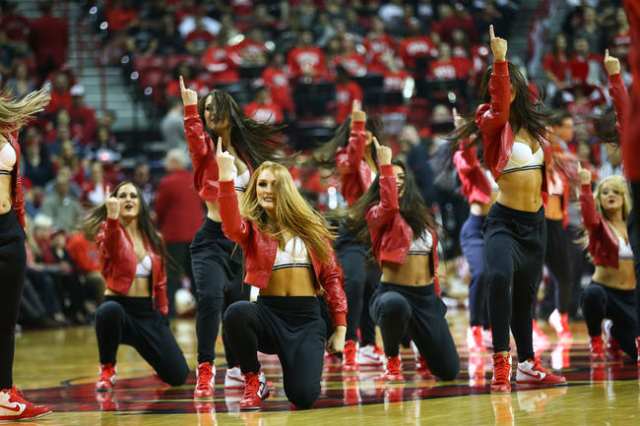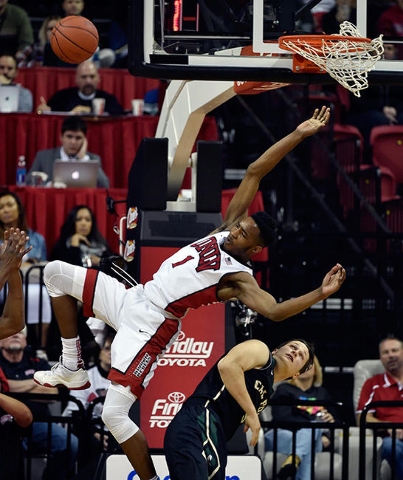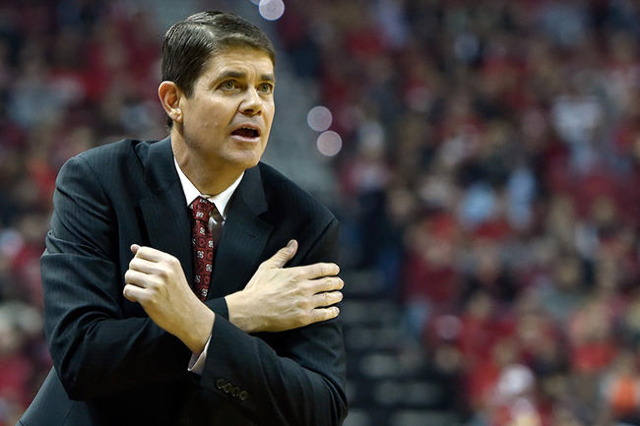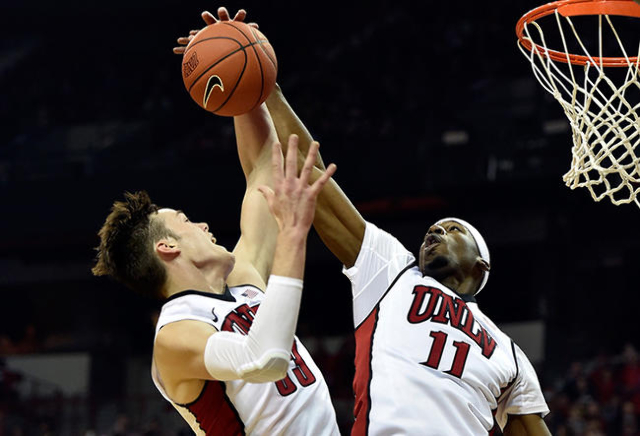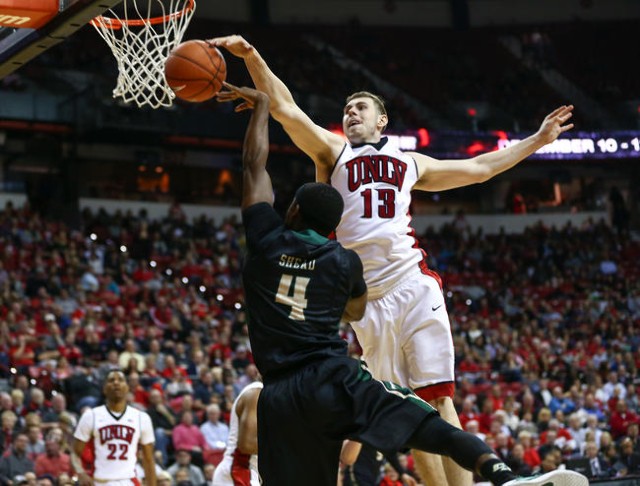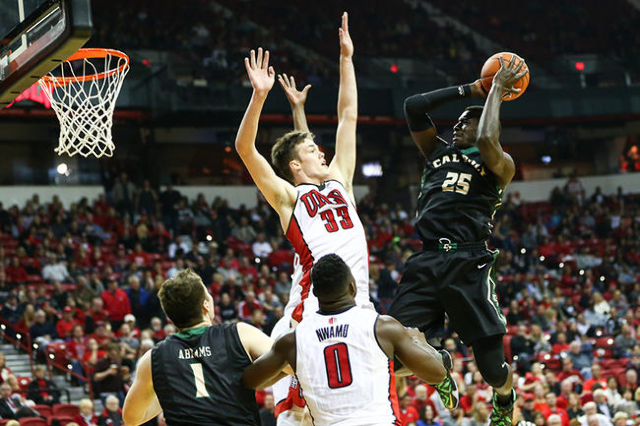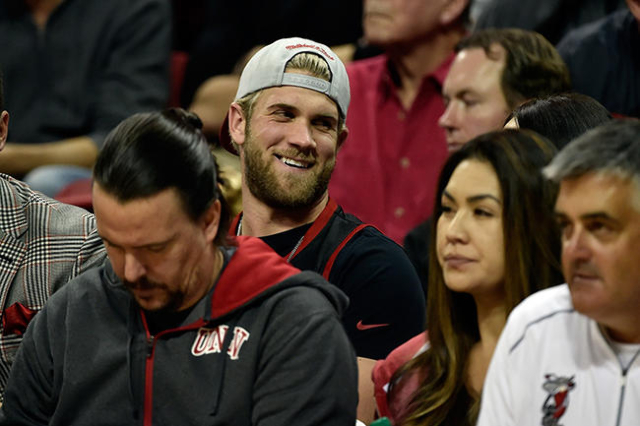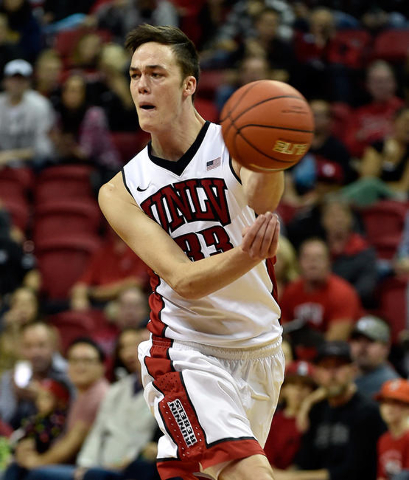 Stephen Zimmerman Jr. got his college basketball career off to a positive start. Spotting up on the baseline, the 7-foot freshman's first jumper hit nothing but net.
In the end, after UNLV threw away a double-digit lead, it was up to senior guard Jerome Seagears to make Friday night's season opener a positive memory.
Patrick McCaw scored 15 points and Zimmerman had 12 points and nine rebounds as the Rebels held off a late rally to defeat Cal Poly 74-72 before 12,201 at the Thomas & Mack Center.
Seagears, who sat out last season, stepped right back into a pressure situation and made two free throws with 14 seconds remaining to put UNLV up by four.
"It was crazy. I've been waiting to play a college game for so long," said Zimmerman, a Bishop Gorman High graduate. "We have a lot to learn, of course. It's still a win at the end of the day."
The Rebels learned that a 13-point second-half lead can quickly disappear when turnovers pile up while 3-point shots and free throws miss the mark.
"We have to take better shots," said Seagears, a Rutgers transfer who finished with 11 points and five assists. "This is a game of runs. We went on our run and then they went on their run."
Joel Awich, a talented and versatile 6-7 senior forward, led the Mustangs' spirited run down the stretch.
Cal Poly closed the gap to 62-57 on a 3-pointer by Awich at the 6:26 mark, and his dunk trimmed the deficit to 64-61 with five minutes to go. He dunked again to tie the score at 67 with 2:19 to go.
A layup by Jordan Cornish and a free throw by Ben Carter pushed UNLV's margin to three as coach Dave Rice had to sweat out the first game of his fifth season.
"Cal Poly has got a lot of good players. I had some NBA teams actually call me about Awich and ask what I had seen on film," Rice said. "It's absolutely not the game you would choose to play as an opener."
Awich and David Nwaba each finished with 15 points for the Mustangs, who played at an abnormally fast pace and forced the Rebels' into mistakes and questionable shots by using a zone defense for some long stretches.
"I thought their zone put us on our heels a little bit," Rice said. "Plenty of ill-advised 3-point shots we took in the first half."
Zimmerman's first shot was on the mark, but he finished the first half 1-for-5 from the field. The Rebels were cold shooters, missing 9 of 10 3s and hitting 14 of 21 free throws.
The Mustangs were more efficient from 3-point range (4 of 12) and the free-throw line (8 of 11) en route to a 40-37 halftime lead.
The momentum shifted immediately after the half. Zimmerman drove the lane and converted a three-point play to tie the score. McCaw, a sophomore guard, pulled up and knocked down a 3 from the wing as a 12-0 run put UNLV on top 49-40 at the 14:09 mark.
Cal Poly's scoring drought finally ended when Brian Bennett hit a jumper with 13:43 remaining. The pace picked up on both ends, and McCaw's fast-break layup stretched the Rebels' lead to 58-47 with 11:20 to go. Ike Nwamu's free throws made the score 62-49 with 9:22 left.
Zimmerman shot 4-for-9 from the field and 4-for-5 on free throws in 24 minutes. The aggressiveness he showed early in the second half sparked UNLV's surge.
"A big thing was for us to pick up our energy," Zimmerman said. "The refs were calling fouls, and calling them so often, we were saying we need to get to the free-throw line more."
The Rebels finished 25 of 40 from the free-throw line and 3 of 14 from 3-point range, and they committed 19 turnovers to complete a ragged offensive night. Their full-court defensive pressure was only marginally effective.
Rice used 10 players, with nine getting double-digit minutes. Derrick Jones Jr. and Dwayne Morgan each scored eight points off the bench.
It was not an easy opener, and it was ugly at times, but Rice found a positive in it.
"I was really proud of our toughness," he said.
Contact reporter Matt Youmans at myoumans@reviewjournal.com or 702-387-2907. Follow him on Twitter: @mattyoumans247
Check our GameDay page for full coverage of the UNLV-Cal Poly game.