Recruit Jackson 'locked in at UNLV'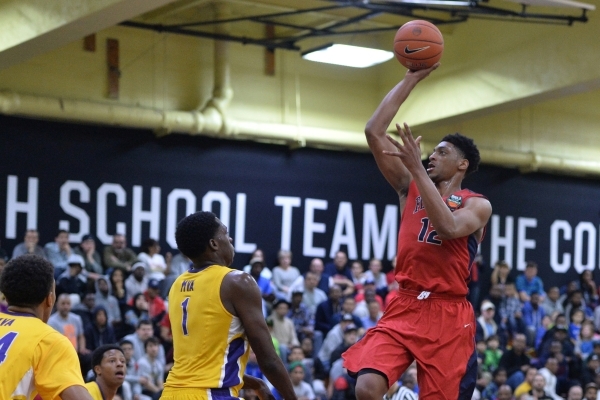 When asked to predict his future, Justin Jackson pump-faked and passed on the question. But he left no doubt about his college intentions.
Jackson, who made an oral commitment to UNLV last fall, said he'€™s sticking by his word. He plans to play basketball for the Rebels, but he'€™s not sure when that will happen.
"Where my head is at, I'€™m locked in at UNLV," he said. "I love the fans and I love the coaches."
Jackson'€™s eligibility for the 2015-16 season was a mystery going into the summer, and it remains unsolved. The 6-foot-8-inch forward left Findlay Prep ahead of schedule with hopes of reclassifying as a 2015 recruit, but as now, he'€™s in the 2016 class.
He called his status "still undetermined" after playing for Canada Elite in the Fab 48 tournament at Bishop Gorman High School on Wednesday. Jackson shot 8 of 11 from the field and scored 19 points in a 66-62 loss to Team Loaded (N.C.).
Both teams were loaded with talent. One of Jackson'€™s teammates is Thon Maker, a 7-1 five-star prospect who has the NBA in his near future. UNLV coach Dave Rice watched from the front row, with Kansas'€™ Bill Self, Kentucky'€™s John Calipari and North Carolina'€™s Roy Williams near by.
Jackson, who was recruited to Findlay Prep by current Rebels assistant Todd Simon, said his academics are in order and he could attend UNLV in the fall.
"Everything is in order, everything is straight, so it'€™s just whether I want to go or not," Jackson said. "I'€™m not sure how it'€™s going to play out. By the end of the summer if I feel like I'€™m 100 percent ready, I might reclass.
"There are a lot of options on the table. I have to discuss it with my coaches and my parents and see where it goes."
Rice has one scholarship available, which he is holding for Jackson, who said it'€™s possible he could redshirt this season at UNLV. That move would prevent other schools from attempting to recruit him.
But he seems set on not playing for the Rebels in the 2015-16 season. A versatile athlete who can play either forward spot, Jackson said the team'€™s depth chart is so deep that he does not feel he's needed immediately.
"Honestly, I think because we have such a good squad right now, I'€™m not going to force myself into position to reclass early," Jackson said. "If the opportunity is there, I might think about it. But right now, because our team is so good, I don'€™t feel I need to come. I would be like an extra part."
UNLV signed three incoming freshmen —€" Bishop Gorman 7-footer Stephen Zimmerman, 6-4 point guard Jalen Poyser from Canada and 6-6 forward Derrick Jones from Pennsylvania. Poyser has been encouraging Jackson to come to campus right away.
Jackson, rated the No. 32 player in the 2016 class by Rivals.com, made Canada'€™s Under-19 National Team roster and competed in the FIBA World Championships in June.
"I got a feel for what college basketball is going to be like," he said. "It was a great experience."
He'€™s physically prepared to contribute at the college level, and spending the season at a post-graduate prep school might not benefit him. But that'€™s something he plans to discuss with his parents before making a decision, presumably sometime in August.
"I feel like I'€™m ready. I feel like I can make an impact," he said. "I want to be at a certain point when I step out on the Thomas & Mack (Center). Everyone needs to get better. I still have some things I need to polish up."
Contact reporter Matt Youmans at myoumans@reviewjournal.com or 702-387-2907. Follow him on Twitter: @mattyoumans247.