Regents approve Chris Beard's UNLV contract by 9-4 vote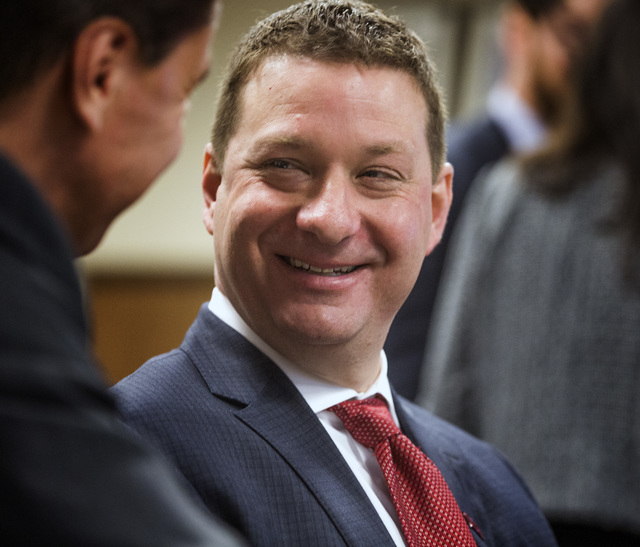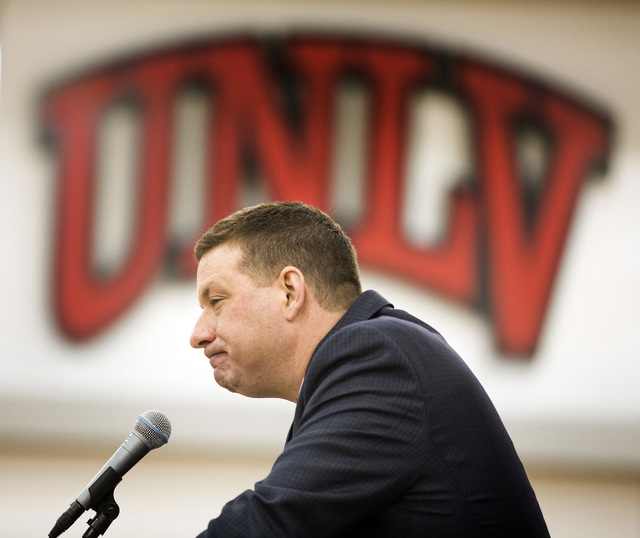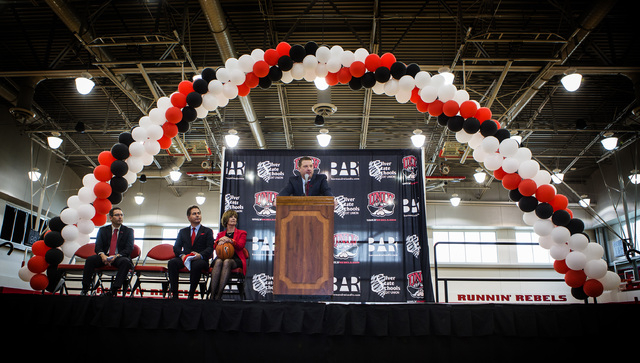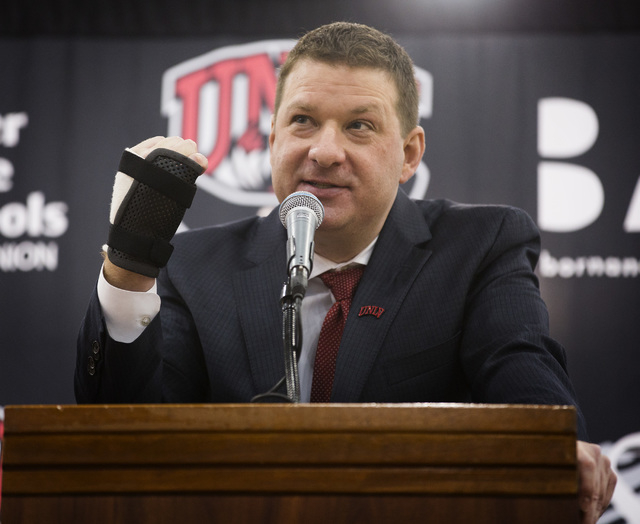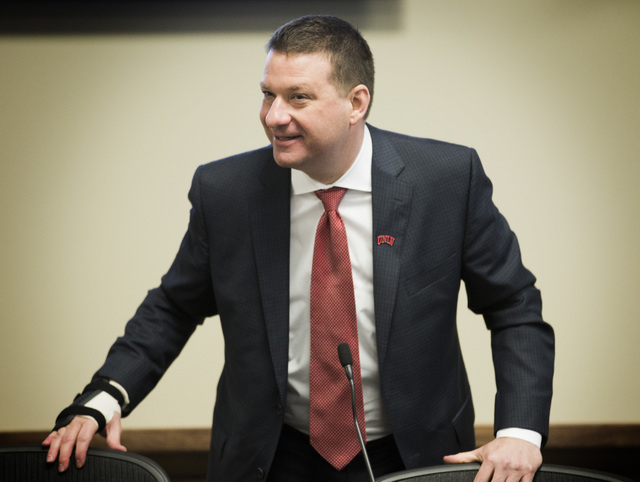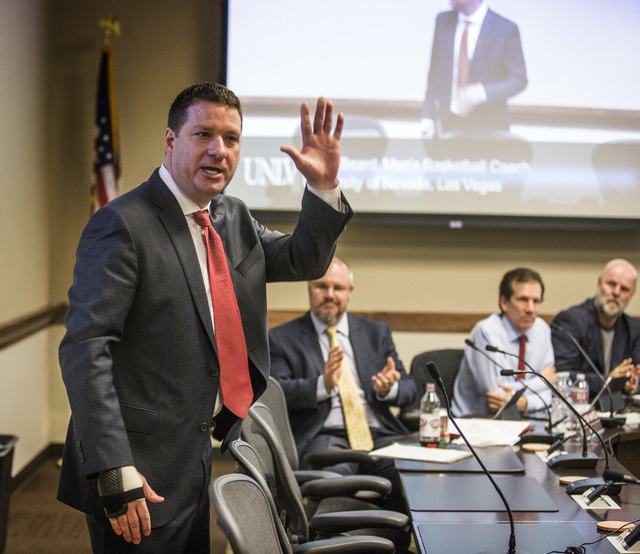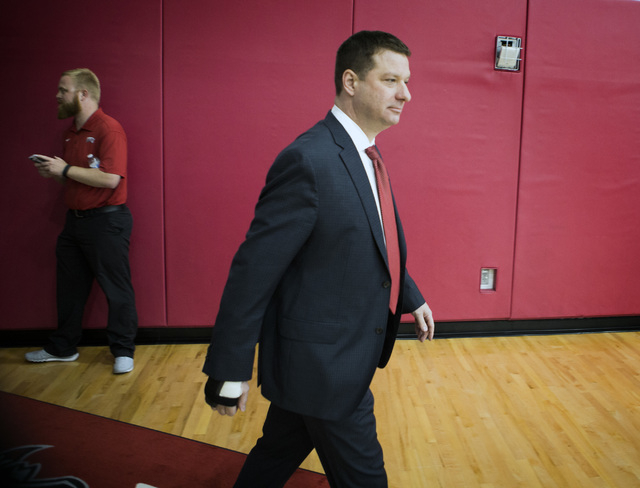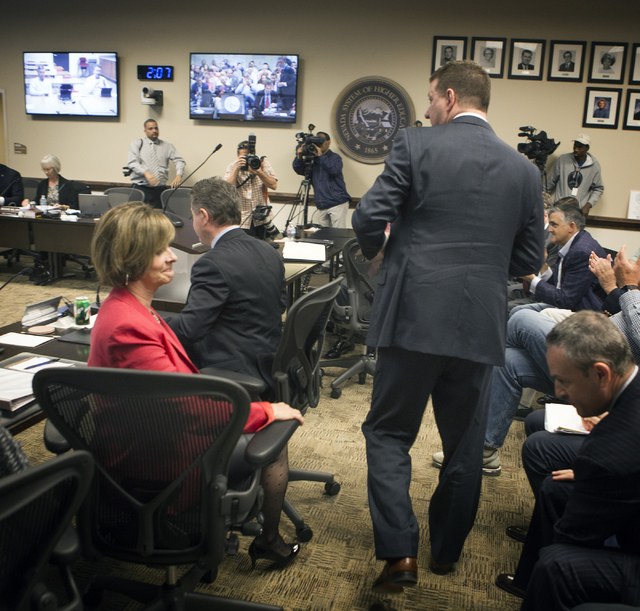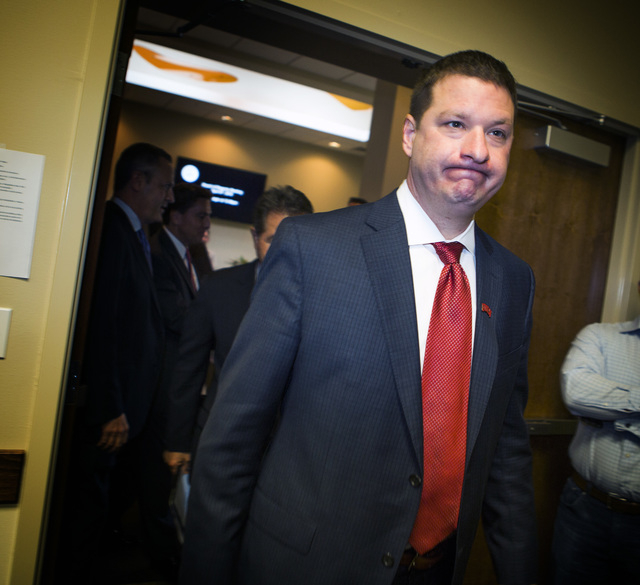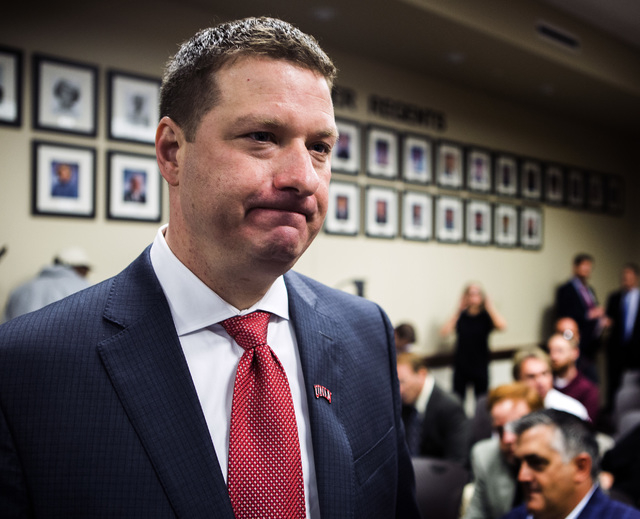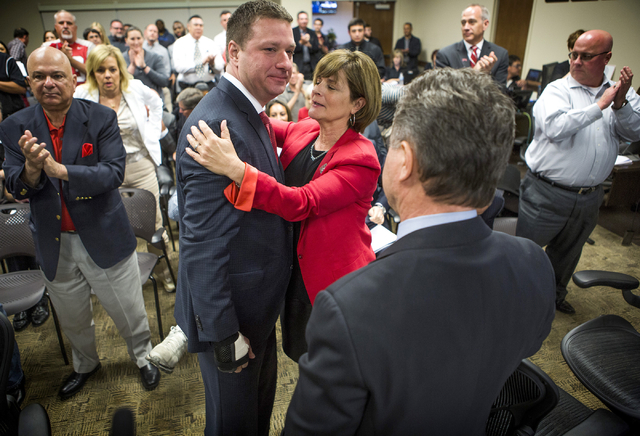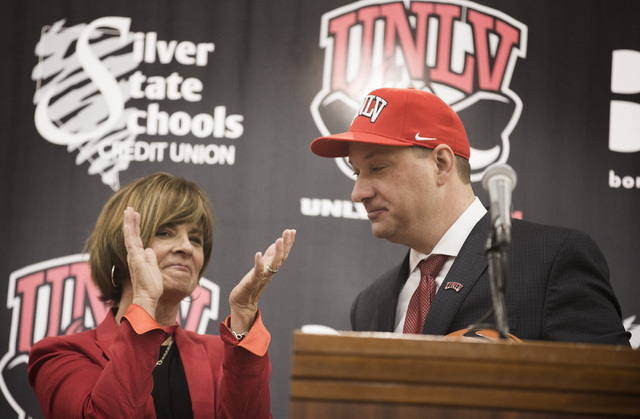 For nearly two weeks, Chris Beard was forced to be patient as the process played out before he could officially become UNLV's basketball coach.
He's not patient by nature, and on Friday bristled when asked about the Rebels being a rebuilding project.
Now at least he doesn't have to wait to become the coach, and minutes after his contract was approved by University of Nevada Board of Regents on a 9-4 vote, Beard already was looking ahead.
Beard agreed to take the job on March 27, but wasn't technically hired until the special meeting.
"This is the longest I've ever stood still in my life," Beard told the regents. "In college, I never took classes on Tuesdays and Thursdays because I couldn't sit there for an hour and 15 minutes. I took all Monday, Wednesday and Friday classes because I sat for 50 minutes. One of the reasons I guess I'm Methodist is shorter sermons.
"I'm not sure what the vote was, but I consider this a big win, not only for myself, but for UNLV basketball. I'm honored and really excited. I just lost a couple of hours in recruiting, so I'm going to get to work."
He's got plenty of work in taking over a program at a crossroads.
The Rebels not only come off consecutive 18-15 records, they have lost six players since the season ended. The most recent was Chris Obekpa, a 6-foot 10-inch senior transfer from St. John's who redshirted this season, but is leaving for the NBA Draft.
Only four players remain on the roster, and Beard said he planned to call the three committed players from the recruiting class. He will spend the upcoming week on the road recruiting.
"There are a lot of different ways to get players, and I believe in all avenues," Beard said.
Also, there is the coaching staff. Despite reports that said he was bringing Brian Burg from his most recent stop in Arkansas-Little Rock and hiring Chris Ogden from Tennessee, Beard said he hadn't made any decisions.
"There's an urgency in these things where you want to get people in and start working, but I think more importantly than doing it quickly is doing it right," Beard said. "We'll end up having a great coaching staff mainly because of UNLV and because of Las Vegas. My phone's ringing off the hook with qualified people that want to come in here and help us. We'll put a staff together that's not only talented, but works together."
Beard, 43, spent one season at Little Rock, where he went 30-5 and made the second round of the NCAA Tournament. The Trojans won the Sun Belt Conference regular-season and tournament titles, and he was named the league's Coach of the Year after engineering a 17-victory improvement.
"Chris is exactly what we were looking for right from the beginning," UNLV president Len Jessup said.
UNLV and Beard had to wait nearly two weeks before his hire became official because of a newly created process in which the contract had to be submitted to the system office and vetted. The contract wasn't posted until Monday.
"This was a fantastic day," said regent James Dean Leavitt, who voted for the contract. "I think all of the concerns of the board were addressed. I hope now that the public that watched this understand a little bit more and respect the process."
The vote was largely along geographical lines. Nine of the 10 regents who represent at least part of Clark County voted for the contract — Allison Stephens was the exception. The three Northern Nevada regents were unanimous in their opposition, including chairman Rick Trachok, who has a philosophical opposition to lucrative coaches' contracts.
"It's a deep-seated conviction, and I can't change it, and I have no intention of changing it," Trachok said. "So that's why it's never a surprise to anybody, and I don't try to pontificate, and I don't try to go on and on. People understand where I am on this."
The process is at least over, and Beard finally could get started.
"I'm really excited that we can move forward with Runnin' Rebel basketball," athletic director Tina Kunzer-Murphy said. "We missed a couple of weeks, and so now Chris can go to work.
"He works from morning till night, and his focus is really clear and absolute on going out and getting great players and getting this program where we need to be."
Contact Mark Anderson at manderson@reviewjournal.com or 702-387-2914. Follow on Twitter: @markanderson65