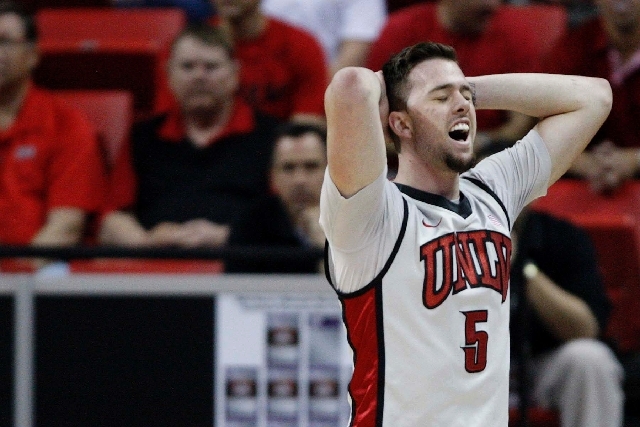 In late March, Katin Reinhardt shot down a report that he was considering transferring from UNLV. But where there's smoke, sometimes there's a liar.
Two months later, Reinhardt is leaving Las Vegas, and he's the third high-profile underclassman to do so since the end of the basketball season.
Reinhardt plans to transfer, coach Dave Rice confirmed Sunday. The 6-foot-5-inch shooting guard is likely headed to Southern California or another Pacific-12 Conference school.
"There have been rumors about this all year," Rice said. "Katin and I talked about it a number of times during the season, and he always told me he planned to stay at UNLV."
Reinhardt, from Mater Dei High School in Santa Ana, Calif., started 34 games as a freshman and was the Rebels' fourth-leading scorer at 10.1 points per game. He was second on the team in minutes per game (29.2) and led UNLV in 3-pointers made (65) and attempted (185).
Multiple sources indicated during the season that Reinhardt was unhappy and looking to transfer, and after that was reported in the Review-Journal on March 23, Reinhardt responded by posting an online video with an animated denial and pledge to remain with the Rebels.
A message left for Reinhardt's father, Ernie, was not returned.
Rice said he spoke with Reinhardt late Sunday night, and Reinhardt indicated another system might be better suited for his talents. Primarily a catch-and-shoot guard at UNLV, Reinhardt wants to play the point or a role that includes more ballhandling responsibilities.
The Rebels will have four point guards on their roster next season — sophomore Daquan Cook, incoming freshman Kendall Smith and junior college transfers Jelan Kendrick and DeVille Smith.
"Katin told me why he was leaving. He said that he feels his best opportunity to play in the NBA is to play more minutes at the point guard position," Rice said. "Katin would have had an opportunity to compete for minutes at the point, but I've never guaranteed anyone that they will start or play a certain number of minutes.
"There have been over 900 transfers in Division I the last two seasons, and we are certainly not immune from that trend."
Reinhardt's departure means six players who accounted for 131 starts and 71 percent of the team's scoring last season are leaving the program.
Freshman forward Anthony Bennett declared for the NBA Draft, and junior forward Mike Moser announced his intention to graduate this summer and transfer to Oregon for his final season of eligibility.
Anthony Marshall, Justin Hawkins and Quintrell Thomas graduated.
Of UNLV's top eight scorers last season, only Bryce Dejean-Jones and Khem Birch return, with both entering their junior season.
"The sky isn't falling," Rice said. "We are excited about our team and confident about the future of our program."
Contact reporter Matt Youmans at myoumans@review journal.com or 702-387-2907. Follow him on Twitter: @mattyoumans247.