Rejuvenated Rebels take show on road, rout Utah State — PHOTOS
January 19, 2016 - 11:55 pm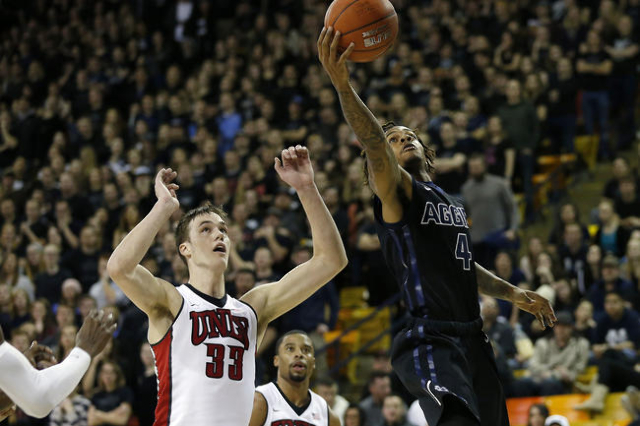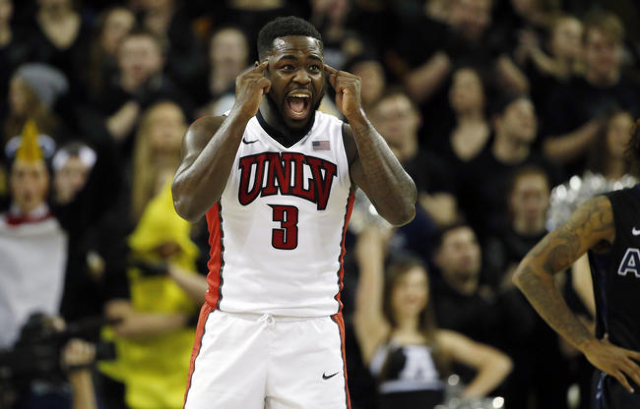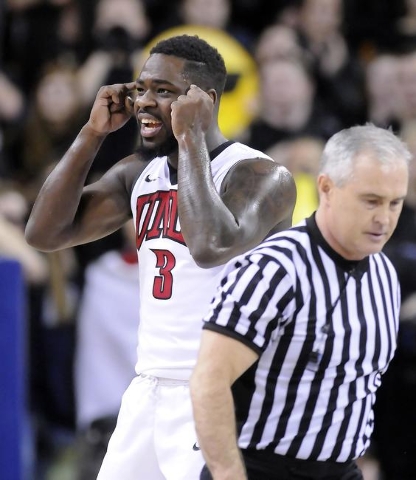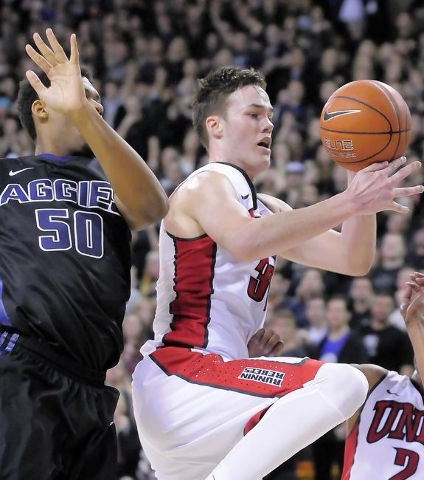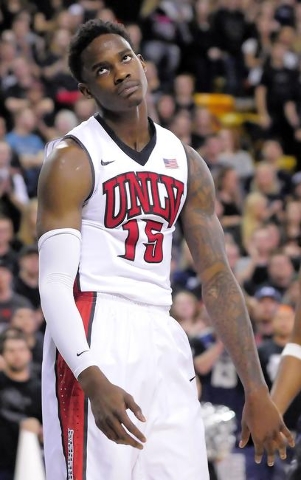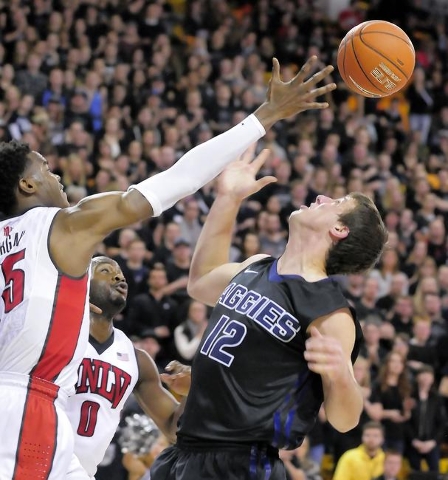 LOGAN, Utah — UNLV was always going to come out energized against New Mexico.
The Rebels were never challenged against Air Force.
This was the question: How would they perform in a hostile environment on the road?
Just fine. More than fine, in fact, showing the recent high-quality play not only wasn't a fluke but was a message to the Mountain West.
The Rebels left Dee Glen Smith Spectrum with an 80-68 victory Tuesday night over Utah State, taking control with a 21-2 run to open the second half by using a dazzling display of shut-down defense and transition offense.
"We wanted to come out and be the tougher team, come out and be more aggressive than them," UNLV forward Derrick Jones Jr. said. "I guess it showed on the scoreboard."
This was the third victory in a row for UNLV (12-7, 3-3 MW), and all three have come under interim coach Todd Simon. He has the Rebels playing loose and confident in recording double-digit victories in all three games.
UNLV, which next plays at UNR on Saturday, shot 60.7 percent in the second half and 53.4 percent for the game.
Jones made 10 of 15 shots and scored 21 points, one of five Rebels in double figures. Dwayne Morgan had a season-best 13 points, and Stephen Zimmerman Jr. and Jerome Seagears each totaled 12 points. Zimmerman also had 16 rebounds for his third consecutive double-double.
Chris Smith scored 16 points for Utah State (11-7, 3-4), but leading scorer Jalen Moore was held to nine points on 4-of-13 shooting, more than six points below his average.
"We had some tremendous defenders at that (wing) position," Simon said. "When you think about Dwayne Morgan and the job that he does, he's an absolute nightmare defensively. Ben Carter is very smart and plays really hard, and then you have Derrick Jones, who's an absolute freak defender. The day he decides he wants to be the best defender in the nation, he will be."
Simon wasn't all that pleased with the first half, but he had little to complain about after that.
Not only did the Rebels come out of the locker room with that big run, but they also withstood the Aggies' eight-point run to come to within 56-46.
"We had to stay calm," Morgan said. "We came amongst ourselves as a team and said we just want to relax. We've been through these situations in practice."
Applying the practice lessons to the game, the Rebels prevented Utah State from making a serious charge after that, keeping the point differential between eight and 14 the remainder of the game.
Winning at Utah State is not easy, with its rowdy student section that stands and chants throughout, but the Rebels have a history of doing well here. They improved their record to 15-3 in Logan and 31-4 overall against the Aggies.
This game, though, was a key test.
After coach Dave Rice was fired Jan. 10, the team came out emotional and focused two days later at the Thomas & Mack Center and beat New Mexico 86-74.
The Rebels followed that up with a 100-64 victory Saturday over Air Force, a Falcons team a mere shadow of the ones that have given UNLV so much trouble over the years.
To win on the road in this environment was crucial for UNLV, which was 1-4 in away games before Tuesday.
"It was a big game for us because we went through a little slump," Jones said. "We had to get the job done, and we did it.
"We're happy with the win, but we're not satisfied with it. We want more wins, and we're going to keep going out and playing our hearts out."
* COOK STAYS HOME — UNLV junior guard Daquan Cook didn't make the trip to Logan for Tuesday's game because of illness.
He missed at least two days of practice, and a trainer told him to remain in Las Vegas. Cook also didn't play in Saturday's 100-64 victory over Air Force because of illness.
He was suspended the first 13 games this season after being arrested for driving under the influence on Nov. 1. Since his return, Cook has appeared in two games and played four minutes.
* NO REASON TO CHANGE — The Rebels went with the same starting lineup for the fifth game in a row Tuesday, and after averaging 93 points in the two previous games, it seemed like a sound strategy.
UNLV started guards Patrick McCaw and Jerome Seagears and forwards Derrick Jones Jr., Dwayne Morgan and Stephen Zimmerman Jr. in its 80-68 victory over Utah State.
Contact Mark Anderson at manderson@reviewjournal.com or 702-387-2914. Follow him on Twitter: @markanderson65
Check our GameDay page for full coverage of the UNLV-Utah State game.