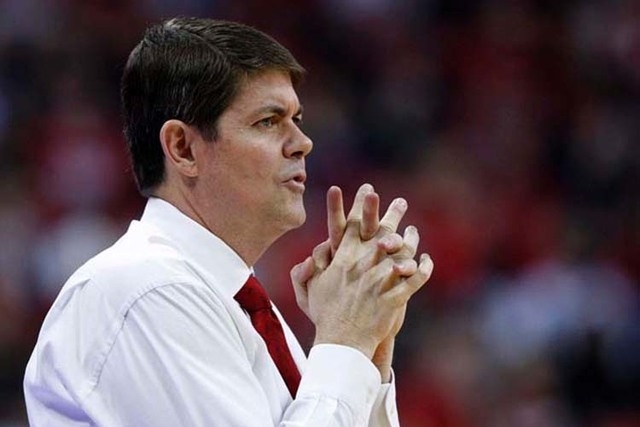 In February, when Rashad Vaughn announced his commitment to UNLV, he mentioned next season's schedule as an attraction. He was looking forward to playing against Duke, Arizona and Kansas.
It was part of coach Dave Rice's sales pitch. Rice, who reeled in one of the nation's top recruiting classes, has no plans to back down from any scheduling challenge.
"The schedule is obviously very strong," Rice said after dates were announced for 13 nonconference games for 2014-15. "It's the kind of schedule we will be playing every year moving forward. The guys we recruit want to play a strong schedule, and the fans get excited about it."
Vaughn, a shooting guard from Findlay Prep and a McDonald's All-American, will lead the new-look Rebels into Rice's fourth season.
There will be several opportunities for UNLV to pick up marquee wins and put together an NCAA Tournament-worthy resume.
The Rebels open the regular season with the home-game portion of the Coaches vs. Cancer Classic, with opponents to be announced soon, on Nov. 14 and 16 at the Thomas &Mack Center.
A game against Duke is not guaranteed. UNLV will face Stanford in a semifinal at Barclays Center in Brooklyn, N.Y., on Nov. 21 before playing either the Blue Devils or Temple the next day.
The Rebels host Albany on Nov. 29 and play at Arizona State on Dec. 3. The Great Danes, who won the America East Conference tournament, and Sun Devils each went to the NCAA Tournament last season.
Rice could be starting three freshmen — Vaughn, small forward Dwayne Morgan and power forward Goodluck Okonoboh — in November, and they will get thrown into the fire immediately.
"It's an extremely challenging schedule for a young team," Rice said, "so it's important we play well early."
The soft spot in the schedule is obvious. With a quick turnaround following the Arizona State trip, Rice wanted to line up a non-Division I opponent, and he lured St. Katherine College, an NAIA team from San Diego, to Orleans Arena on Dec. 5.
The Rebels travel to Sioux Falls, S.D., to play South Dakota in a neutral-site game Dec. 13. UNLV hosts Portland on Dec. 17 and faces Utah at the MGM Grand Garden on Dec. 20.
Arizona and Southern Utah visit the Thomas &Mack on Dec. 23 and Dec. 27 before the Rebels open Mountain West play on either Dec. 30 or 31. The 18-game conference schedule will be announced in August.
UNLV finishes its nonconference schedule with a game at Kansas on Jan. 4.
The Rebels and Jayhawks are in the Maui Invitational field in November 2015, so they could meet in three straight seasons. Kansas is under contract to play in Las Vegas during the 2016-17 season.
Rice scheduled one exhibition, against Florida National on Nov. 5, and UNLV will play a closed scrimmage at UCLA.
Contact reporter Matt Youmans at myoumans@reviewjournal.com or 702-387-2907. Follow @mattyoumans247 on Twitter.
UNLV basketball 2014-15 nonconference schedule
— Nov. 5 Florida National (exhibition), Thomas & Mack Center
— Nov. 14 TBA, Thomas & Mack Center
— Nov. 16 TBA, Thomas & Mack Center
— Nov. 21 vs. Stanford, Barclays Center, Brooklyn, N.Y.
— Nov. 22 vs. Duke or Temple, Barclays Center, Brooklyn, N.Y.
— Nov. 29 Albany, Thomas & Mack Center
— Dec. 3 at Arizona State, Tempe, Ariz.
— Dec. 5 St. Katherine, Orleans Arena
— Dec. 13 vs. South Dakota, Sioux Falls, S.D.
— Dec. 17 Portland, Thomas & Mack Center
— Dec. 20 vs. Utah, MGM Grand Garden
— Dec. 23 Arizona, Thomas & Mack Center
— Dec. 27 Southern Utah, Thomas & Mack Center
— Jan. 4 at Kansas, Lawrence, Kan.