Rice might bring Jay Spoonhour, Peck back to UNLV staff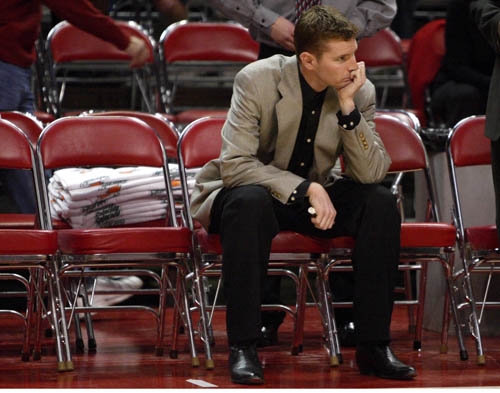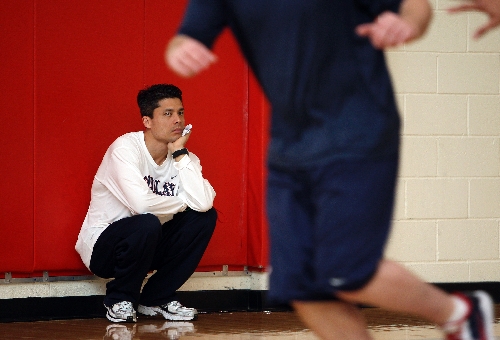 It took no time at all for Dave Rice to reveal the first half of his plan for his UNLV coaching staff. Now he's starting to work on finalizing the second half.
Rice, introduced Monday as head coach, might reach into the Rebels' past to lure Jay Spoonhour back to Las Vegas.
Spoonhour and Rice parted ways after the 2003-04 season, when Spoonhour was UNLV's interim coach for the final 10 games and Rice was an assistant. Neither coach was retained when Lon Kruger brought in his own staff, but the two could be reunited soon.
"Jay and I are close," Rice said. "I'm trying to figure out how this whole thing is going to work. Jay is terrific, and he obviously has head coaching experience."
Rice's relationship with Spoonhour, the son of Charlie Spoonhour, the Rebels' head coach from 2001 to 2004, goes back a decade.
Rice, who has three days of head coaching experience, is looking to put together his staff puzzle with complementary pieces. Rice's area of expertise is on the offensive end.
His first hire was Justin Hutson, a former San Diego State assistant regarded as a defensive specialist and a recruiting ace.
An offer is on the table to former Rebels great Stacey Augmon, a Denver Nuggets assistant. Augmon and Rice were teammates on UNLV's 1990 NCAA championship team and 1991 Final Four team. Rice said he is "still in the process" with Augmon, who won't make a decision until the Nuggets are done with the NBA playoffs.
"He's got a great situation with the Nuggets," Rice said. "I think he's trying to figure out if he wants to stay in the NBA or come back to college to his alma mater."
If Augmon accepts, Rice would have an opening for one assistant coach and for the director of basketball operations.
"In terms of filling the rest of this staff, it's going to take a little bit of time. I want to make sure we make the right decision for our program," Rice said. "It was really important to get Justin. I think we can recruit nationally, and I think we have the West Coast covered because Justin is so good."
Jay Spoonhour, head coach at Moberly (Mo.) Community College, has strong recruiting connections throughout the Midwest and in Texas.
He was an assistant to his father at Saint Louis and also worked as an assistant at Valparaiso, Missouri and Texas-San Antonio. He was head coach at Wabash Valley College, where he was named National Junior College Athletic Association Coach of the Year after guiding the team to a 36-1 record and the national championship.
After his father resigned because of health issues in 2004, Jay Spoonhour led the Rebels to a 6-4 record — with three of the losses by three points or fewer — and reached the Mountain West Conference tournament championship game.
Also on that staff as video coordinator was Michael Peck, now the head coach at Findlay Prep. Peck, who led Findlay to National High School Invitational championships in 2009 and 2010, is a candidate for assistant openings at UNLV and Arizona.
Rice, formerly Brigham Young's associate head coach, drove back to Provo, Utah, with his family Wednesday. He will return to UNLV on Friday to continue meeting with the Rebels' players and completing his coaching staff.
"My first priority after getting this job was getting to know the players and the players getting to know me," Rice said. "There are so many good coaches who I respect, and so many good candidates. I wish I could have 27 coaches on the staff."
Contact reporter Matt Youmans at myoumans@reviewjournal.com or 702-387-2907.
Lincoln County's Walker still committed to Rebels
Lincoln County High School senior point guard Dantley Walker will remain committed to UNLV, he said late Wednesday.
Walker, who will leave on a two-year Mormon mission in August, received a phone call from new UNLV coach Dave Rice on Wednesday confirming the Rebels would hold their scholarship offer for when Walker returns in 2013.
"It's awesome. I'm just happy to still be a Rebel," Walker said. "I'm very excited coach Rice got the job and excited to play for him."
Walker, the state's all-time leader in points (3,304) and assists (887), originally committed to UNLV on Feb. 15.
LAS VEGAS REVIEW-JOURNAL