Rice shows he's serious about changes after first official UNLV practice — PHOTOS
October 5, 2015 - 11:02 pm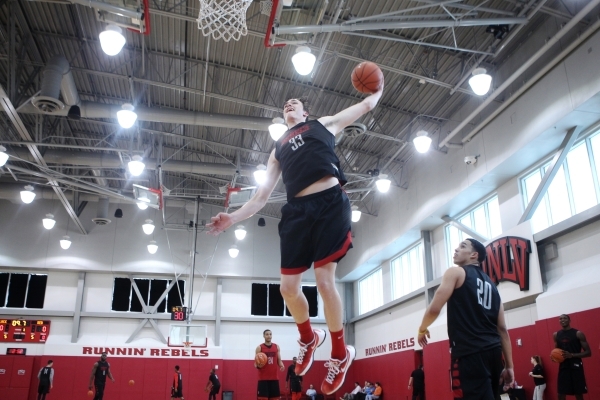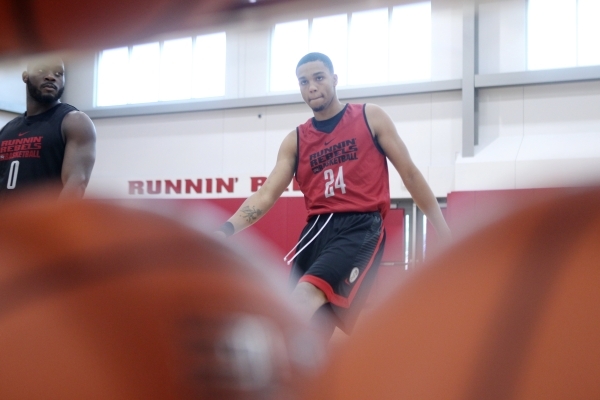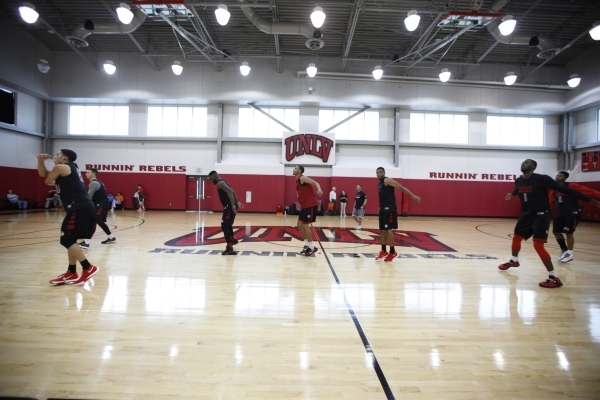 On the first day of practice in his fifth season as UNLV basketball coach, Dave Rice finally was surrounded by what he envisioned all along.
On the day he was hired, he pledged the Rebels would run. Now, he really means it, and he means it because the players running the floor Monday form arguably his most talented roster from top to bottom.
"We've got a lot of athletes on this team," said sophomore guard Patrick McCaw, the team's top returning scorer. "It's very exciting."
Rice is serious about delivering on the changes he promised, and he knows it's time for progress. This is considered his make-or-break season, and whether or not that theme holds true, he's not in a position to make the empty promises of a campaigning politician. As a coach off an 18-15 season and in need of returning to the NCAA Tournament after a two-year absence, he must win.
So, he's speeding up the process. One of Rice's primary goals in October will be implementing a full-court pressure defensive system that he has talked about for years.
"We have a situation now where we have the depth and we have the personnel to play that way," Rice said. "We have to do some things to force tempo, and so we're going to pick up early on every possession and trap on some of those possessions. We're definitely committed to playing this way. It just takes a lot of hard work."
Rice and his assistants ran the Rebels through a high-energy, 2½-hour session at the Mendenhall Center. UNLV is allowed 30 practices before its Nov. 13 season opener against Cal Poly.
Aside from conditioning, a major focus in the offseason, Rice said, was developing more mental toughness in his team. The players assembled are impressive in size and strength, almost resembling a football team. It's an athletic and versatile group that appears capable of running opponents ragged.
In the Mountain West, a conference known for slow-paced play, the Rebels have underachieved in recent seasons while allowing opponents to dictate the pace more often than not. Forcing faster games with more possessions should benefit UNLV, which will be far more talented than several teams on its schedule.
The Rebels will test their progress in a closed scrimmage at Southern California on Oct. 31 before an exhibition against Whittier on Nov. 6.
"There's no doubt it's a tough way to play," Rice said. "But at the same time, we need to do some things to force tempo, particularly in our league. It's going to take some time. There are going to be some growing pains and some mistakes that go along with it."
Stephen Zimmerman, a 7-foot forward from Bishop Gorman High School, headlines one of the nation's top freshman classes and is a prominent part of a new-look roster.
UNLV is imposing on the front line with Zimmerman, 6-foot-10-inch sophomore Goodluck Okonoboh, 6-9 junior Ben Carter, 6-8 forward Dwayne Morgan and 6-7 freshman Derrick Jones Jr.
"I think we can make a lot of noise on defense," Okonoboh said. "We understand we have the talent and versatility at each position to be a great full-court press team. If one of us gets tired, another guy is coming right in. We're working hard every day and building trust in each other. It's really exciting."
Carter, a Bishop Gorman graduate and Oregon transfer, and senior point guard Jerome Seagears, a Rutgers transfer, practiced with the team last season while redshirting.
"I just think it's about putting it all together and being a cohesive unit because we do have a lot of talent, I'm not going to lie," Seagears said. "I think we're going to put it together.
"If you look at some of the good teams out there, Louisville and Duke, they pressure and pick up full court. It all starts with the depth, and we have the depth to do it. We have a lot of guys who are very athletic, and we have a lot of good defenders."
Seagears and McCaw will play major roles in the backcourt along with 6-5 senior Ike Nwamu, a transfer from Mercer, 6-6 sophomore Jordan Cornish, 6-7 junior Tyrell Green, 6-4 freshman Jalen Poyser and junior Daquan Cook, who missed last season with a knee injury.
"That's how we want to play, up-tempo and fast-paced," McCaw said. "I'm very confident in the full-court press and the pace we plan on playing this year. I think it's going to work. I'm very convinced. I think all of the guys have bought in to the full-court press."
With 12 players expecting significant roles, one of Rice's challenges will be keeping everyone happy.
"It also starts with guys being willing to accept roles," Rice said. "I think it's important for our guys to understand the task at hand is to be a team. The minute you lose sight of that, you can't play this way."
Contact reporter Matt Youmans at myoumans@reviewjournal.com or 702-387-2907. Follow him on Twitter: @mattyoumans247