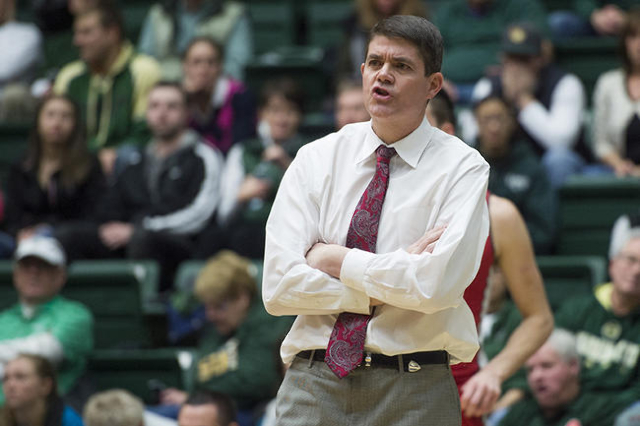 FORT COLLINS, Colo. — With a five-point lead and less than a minute on the clock, UNLV was seemingly in control of the game. A short time later, after his team's improbable collapse, coach Dave Rice lost control.
Rice unleashed an angry locker-room tirade Wednesday night, and his emotions were a ticking time bomb when he stepped out in a hallway to talk to reporters.
"It's unacceptable. It can't keep happening," Rice said. "We put ourselves in position to win the basketball game, and we didn't get it done."
He paused and added, "I'm pissed off. It's ridiculous."
John Gillon hit a free throw with 1.1 seconds left as Colorado State rallied to stun the Rebels 66-65 at Moby Arena.
A minute after the final buzzer, junior forward Ben Carter cried outside the locker room. It was Carter who carried UNLV to the brink of victory, but it also was Carter who took most of the blame for the team's last-minute meltdown.
"We gave that one away, and a lot of it was on me," said Carter, who totaled 16 points and 12 rebounds for the Rebels (9-6, 0-2 Mountain West).
Stephen Zimmerman Jr. made two free throws to give UNLV a 63-58 lead that it held inside the final minute. J.D. Paige hit two foul shots to pull the Rams within three with 47 seconds to go.
But that's when the Rebels fell apart. Carter threw an inbounds pass over Patrick McCaw's head and into the Colorado State bench, eliciting a roar from the announced crowd of 3,431.
"That's a bad decision on my part, one of the many mistakes I made at the end of the game that really cost us," Carter said.
Paige drove the lane and hit a high floater over Zimmerman to cut the Rams' deficit to 63-62. On the other end, Zimmerman was fouled in the low post, but missed the front end of a one-and-one with 23 seconds remaining.
Out of a timeout, Paige drove to the rim and scored while drawing a foul on Zimmerman with 11 seconds left. Paige made the free throw to put Colorado State up 65-63. McCaw drove and banked in the tying layup with 6.6 seconds on the clock.
Gillon raced through defenders and got to the rim, where he drew a foul on Carter.
"I thought I had to make a play on the ball," said Carter, who agreed with the foul call.
Gillon, shooting 92.5 percent at the free-throw line this season, missed the first shot before sinking the second. McCaw fumbled the inbounds pass as time expired.
A week after losing their conference opener at home to Fresno State, the Rebels were rocked by another defeat.
"Now we're devastated again," Rice said. "I'm very pissed.
"We've just got to count on guys to make better plays than that. We made too many mistakes, too many unforced errors. It's absolutely 100 percent unacceptable."
Tiel Daniels had 12 points and seven rebounds for the Colorado State (9-6, 1-1). The Rams shot 1 of 9 from 3-point range in the second half after hitting seven 3s on the way to a 33-29 halftime lead.
Freshman guard Jalen Poyser scored nine of his 12 points after the half for UNLV, which used a big second-half run to take control — or so it appeared.
The Rebels trailed 41-32 with 15 minutes remaining. A jumper by Zimmerman and a layup by Carter triggered a rally. Jordan Cornish and Poyser each hit a 3, McCaw turned a steal into a three-point play and Poyser threw down a breakaway dunk. In less than six minutes, UNLV reeled off a 23-4 run to seize a 55-45 lead with 9:21 to go.
The Rebels still led by 10 with 5½ minutes left, 59-49. But it all unraveled in the final minute, leaving Rice 0-for-Fort Collins in his five trips here, with each of the past two losses by one point.
Rice adjusted his lineup by moving McCaw to the point and Jerome Seagears to shooting guard. Freshman forward Derrick Jones Jr. got his first career start. Senior guard Ike Nwamu, the only player to start all of the first 14 games, came off the bench.
Zimmerman finished with nine points and eight rebounds before fouling out with 11 seconds to play. McCaw had 11 points, five assists and four turnovers. The Rebels shot 46.3 percent (25 of 54) from the field, but also committed 18 turnovers.
"Coach Rice should be frustrated," Carter said. "It's on the players. Coach puts us in great position to succeed, and it's on us to execute."
— Contact reporter Matt Youmans at myoumans@reviewjournal.com or 702-387-2907. Follow him on Twitter: @mattyoumans247
Check our GameDay page for full coverage of the UNLV-Colorado State game.