Rob Jeter brings his teaching, competitiveness to UNLV's bench
August 4, 2016 - 10:59 pm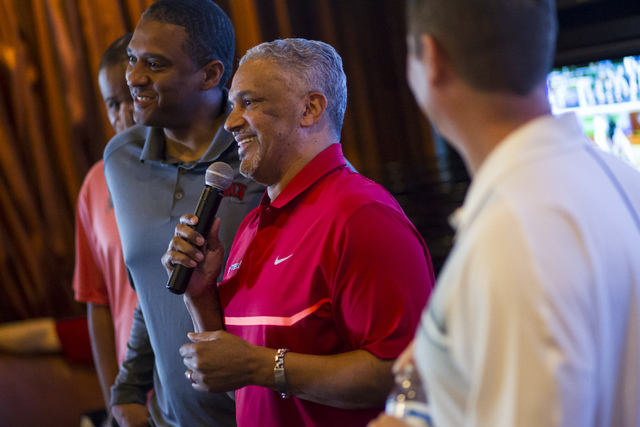 His mom, Gwen, taught kindergarten to second grade and ran a day care.
His dad, Bob, played in the first two Super Bowls for the champion Green Bay Packers, and as an Iowa running back was the Most Valuable Player of the 1959 Rose Bowl.
So it should be no surprise Gwen and Bob's son, Rob Jeter, chose coaching as his profession.
"It's a perfect marriage of teaching and coaching and in college," Jeter said. "You have the academic piece, the teaching piece, and you also have the competitive piece."
Jeter had a 185-170 record at Wisconsin-Milwaukee over the past 11 basketball seasons, winning 20 games five times and making the NCAA Tournament twice.
An acrimonious ending at Milwaukee helped lead Jeter to UNLV, where he now is an assistant to first-year coach Marvin Menzies. They have come to another difficult situation of having to almost completely rebuild the roster in short order.
"Ultimately, (Jeter) has instant respect from the players due to his resume," Menzies said. "I think that adds a comfort level to some of the guys. If he wasn't as humble and supportive of my journey, I don't know how it would work out, but he is. He's one of those guys in this profession that gets it. I think it will be a great partnership."
Jeter, 47, already has had a big hand in building back the roster, using his connections in Milwaukee and Chicago, where he grew up, to bring players to Las Vegas. The Rebels signed three players from those areas and added 5-foot-9-inch guard Jordan Johnson, who played for Jeter at Milwaukee.
"I think what's really important is we all have relationships, everyone on the staff, including Marv," Jeter said. "In a transition like that, you don't have a lot of time to really go out and develop a relationship with a player, where if you have a strong relationship with the people around that player, that's what helps you in this quick turnaround."
Jeter also will help run the Rebels' offense, and Milwaukee averaged 79.3 points last season, third highest in the Horizon League.
But Jeter and third-year Panthers athletic director Amanda Braun clashed, and on March 17 she fired him.
The move prompted Jeter to evaluate his priorities.
"What I didn't realize was how tough my situation had been on my family and how much of a toll it took on them," he said. "They were the ones in the stands. We had a lot of success, but during the transition of all of this, there was a lot of uncertainty. My older son is going to be 14 going into high school. That's a big transition for him. My second son is in fourth grade going into fifth, and now it's time to put pads on and play tackle football and really start playing travel basketball, and it's a big transition.
"My wife through it all I had to make sure I took care of her. I needed more time to spend with them and focus on them. Let's enjoy ourselves right now and let's regroup, and let's figure out together what's going to be the best plan for the family."
His top assistant at Milwaukee, Chad Boudreau, pestered Jeter to reach out to Menzies about joining the staff at UNLV. Boudreau met Menzies more than 10 years ago in Los Angeles and followed his career from then on.
Four times Boudreau tried to convince Jeter to get in touch with Menzies. Finally, on the fifth time, Jeter agreed and sent a text message.
Menzies got back to Jeter the following morning, and later that night the two were meeting in person after Jeter flew to Las Vegas. The hire was made shortly afterward.
They've been hard at work since then, and now are getting an early jump on the season by practicing this week and next before heading to the Bahamas for a week that includes three exhibition games.
Jeter will be right there on the bench, but what about returning to the head role at some point?
"Right now, it's taking care of what I have to take care of here because everything works out," he said. "I really believe that. Marv has given me an unbelievable opportunity."
Contact Mark Anderson at manderson@reviewjournal.com or 702-387-2914. Follow on Twitter: @markanderson65