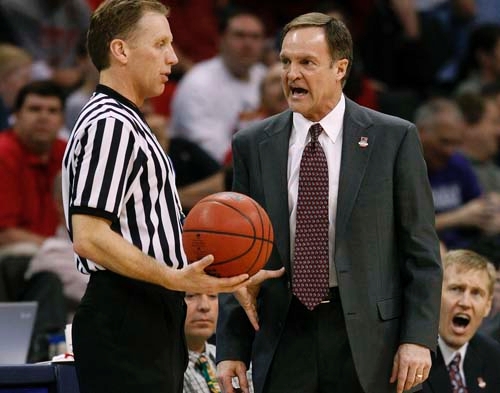 An opinion poll in October, revealed in an e-mail from the Mountain West Conference, did not inspire San Diego State coach Steve Fisher to pump his fists and plan on hoisting a trophy.
Neither did it cause UNLV coach Lon Kruger to temper his enthusiasm about the months ahead.
The media covering the Mountain West picked the Aztecs to come out on top and the Rebels to finish fourth in the 2010-11 season.
"As I've always said, we know we have a good basketball team. How good remains to be seen," Fisher said Tuesday from the league's Media Day in Denver. "Poll speculation (from the) media will not win you anything. This is a great league with a lot of teams capable of winning."
Sandwiched in the poll between San Diego State and UNLV are No. 2 Brigham Young and No. 3 New Mexico. All four teams reached the NCAA Tournament last season.
"Obviously, last year was the best year in the history of the Mountain West, and a vast majority of players on those teams are returning. It points to a very exciting year and a very strong year," Kruger said. "The level of play keeps going up."
Cougars guard Jimmer Fredette, who led the Mountain West in scoring at 22.1 points per game as a junior, was tabbed the preseason Player of the Year.
Rebels senior guard Tre'Von Willis was named to the all-conference first team with New Mexico senior guard Dairese Gary and San Diego State forwards Kawhi Leonard and Malcolm Thomas.
The Aztecs, who return five starters from a 25-9 team that won the conference tournament, collected 21 of 30 first-place votes.
"I wasn't surprised by that at all," said Kruger, adding that "probably five or six teams" are capable of winning the league.
That statement is not just a coaching cliché, and recent history shows the order of the preseason poll means little or nothing.
Two years ago, UNLV was predicted to win the conference, but the Rebels faded to a fifth-place finish.
Last year, New Mexico was picked fifth in October. When the calendar hit March, the Lobos captured the regular-season crown with a 14-2 league record, 30-5 overall.
UNLV, 25-9 last season, returns its top three scorers in Willis and juniors Chace Stanback and Oscar Bellfield.
"There are a lot of great teams, and we feel like we are one of those in the hunt," Kruger said.
The Rebels open practice at 7 p.m. Friday at the Thomas & Mack Center, where they also start the regular season Nov. 12 against UC Riverside.
Contact sports reporter Matt Youmans at myoumans@reviewjournal.com or 702-387-2907.
MWC BASKETBALL
Results of a media poll forecasting the 2010-11 Mountain West Conference men's basketball season (First-place votes):
Rank, Team, Points
1. San Diego State, (21) 261
2. Brigham Young, (5) 220
3. New Mexico, (3) 214
4. UNLV, (1) 203
5. Colorado State, 132
6. Utah, 105
7. Texas Christian, 92
8. Wyoming, 88
9. Air Force, 35
PRESEASON ALL-CONFERENCE TEAM
Player, year, pos., school
• Tre'Von Willis, Sr., G, UNLV
• Jimmer Fredette, Sr., G, BYU
• Dairese Gary, Sr., G, New Mexico
• Kawhi Leonard, So., F, San Diego State
• Malcolm Thomas, Sr., F, San Diego State
Preseason Player of the Year
• Jimmer Fredette, BYU
Newcomer of the Year
• Drew Gordon, Jr., F, New Mexico
Freshman of the Year
• Kyle Collinsworth, G, BYU