Rutledge striving to make impact
November 20, 2008 - 10:00 pm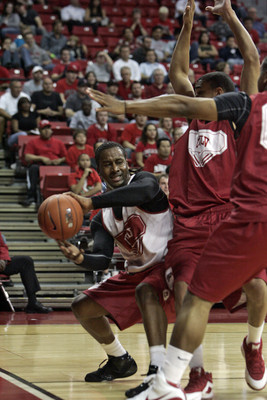 In case anyone has forgotten, four seniors — not three — are on UNLV's basketball team. Mareceo Rutledge intends to ensure his presence is recognized this season.
"I definitely want to be more of a factor," he said.
Wink Adams, Joe Darger and Rene Rougeau are at the head of the Rebels' senior class. Rutledge is in a reserve role, but he's making progress toward becoming an impact player.
UNLV (2-0) hosts Northern Arizona (1-1) at 7 p.m. today at the Thomas & Mack Center, and for Rutledge it's another opportunity to show how far he has come in a year.
The 6-foot-3-inch guard has changed his jersey to No. 3 and adjusted his attitude in a more aggressive manner.
Bouncing between pessimism and positive thinking, Rutledge sometimes finds he's playing too many mind games, turning simple basketball tasks into a complex puzzle of self-doubt. It's a problem he's still trying to overcome, with more success.
"If I do something wrong, I'm putting my head down and everything," he said. "I'm doing it a little bit, but not as much as last year.
"Once I step up and make a shot or get a layup, I feel like I'm more into the game."
Those characteristics were on display Tuesday, when Rutledge had seven points, three rebounds and two assists in the Rebels' 73-48 victory over Texas-Pan American.
Rutledge shot an air ball from 3-point range midway through the first half. At almost the same point in the second half, he took a pass from Tre'Von Willis and smoothly drained a 3-point jumper.
"After shooting an air ball, I kind of put my head down," he said. "In the second half, I stepped up to hit that 3, and I was more comfortable after that and able to play a longer stretch.
"… As we go deeper into the season, hopefully I'll be more of a shooting threat. I just want to be in there and produce positive plays."
UNLV plays three games in the next five days, and coach Lon Kruger wants to avoid overextending his starters this week. In Tuesday's game, Rebels reserves scored 37 points, led by freshman DeShawn Mitchell with 14.
"It was great to get a lot of guys in the rotation, and some of them really took advantage of the minutes," Kruger said. "I liked our play in the second half. The guys who came off the bench had a good run going."
Rutledge scored all seven of his points in the second half as UNLV turned a 27-24 halftime lead into a blowout.
As a junior, Rutledge averaged 3.4 points and 11.2 minutes while playing in 32 of 35 games. His transition from Yuba College in Marysville, Calif., to Division I basketball was rough.
He said grabbing a rebound or taking a charge can be all it takes to get him going and connect the mental and physical parts of the game.
"Rebounding boosts my confidence," he said. "I'm not saying I'm worried about stats or anything like that, it's just that I want to be able to be in the game and play more and help the team. On game day, there's no hesitation because I'm more comfortable. I'm coming in here knowing things and understanding it better."
Whether defending, passing, screening or shooting, Rutledge is showing signs of producing with more consistency.
"Most players are going to have a lot of good plays and a few that aren't good," Kruger said. "With Mo what we need first and foremost, and what he's been doing a good job of, is his energy and enthusiasm."
• NOTES — Northern Arizona opened with a 68-62 loss at Utah Valley State before defeating Haskell (Kan.) 95-63 on Monday. … Lumberjacks coach Mike Adras, a former player and coach at Bishop Gorman High School, returns three starters from last season's 21-11 team that finished second in the Big Sky Conference. … UNLV won last season's meeting 83-74 in Flagstaff, Ariz.
Contact reporter Matt Youmans at myoumans@reviewjournal.com or 702-387-2907.
GAME DAY
NORTHERN ARIZONA AT UNLV
WHEN: 7 p.m. today
WHERE: Thomas & Mack Center
RADIO: KWWN-AM (1100)
LINE: UNLV -17