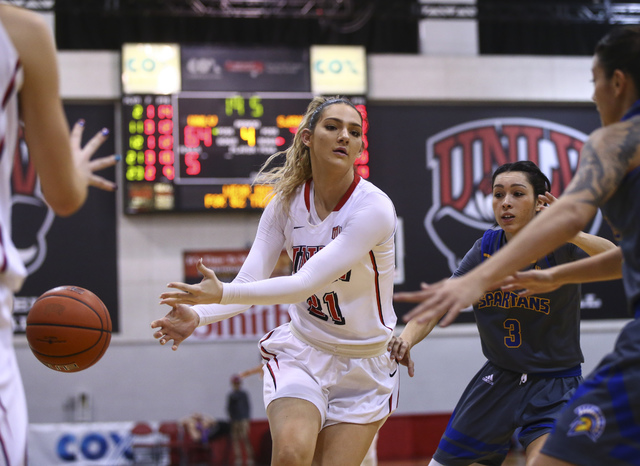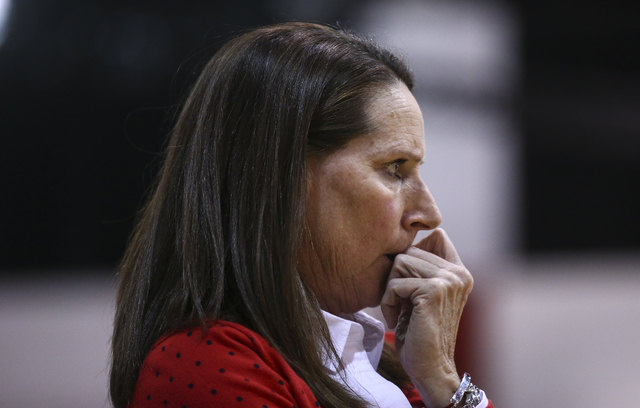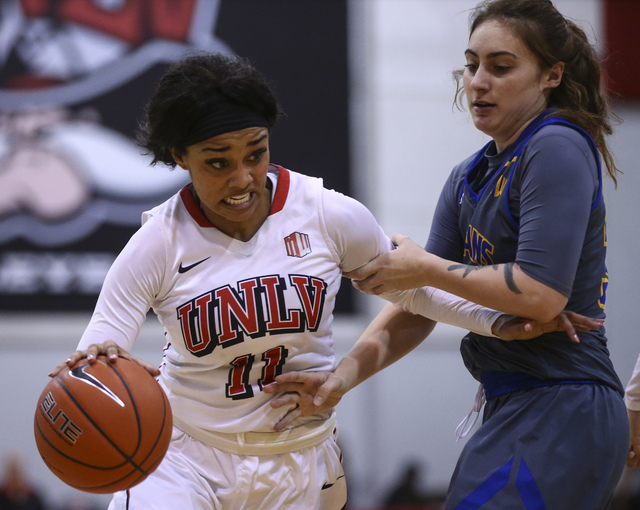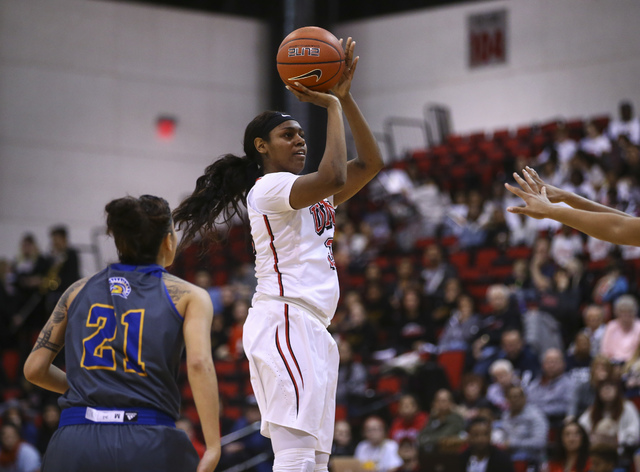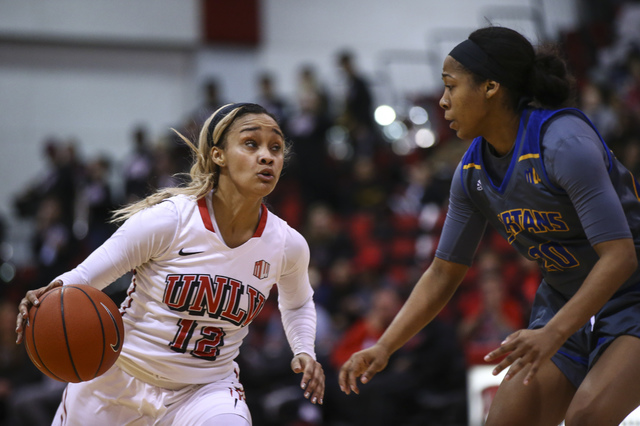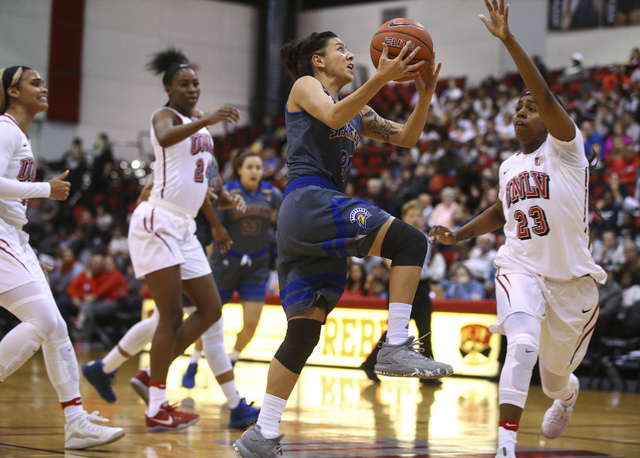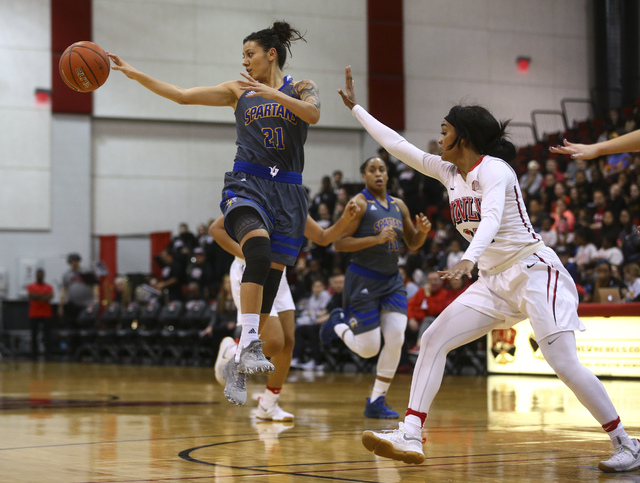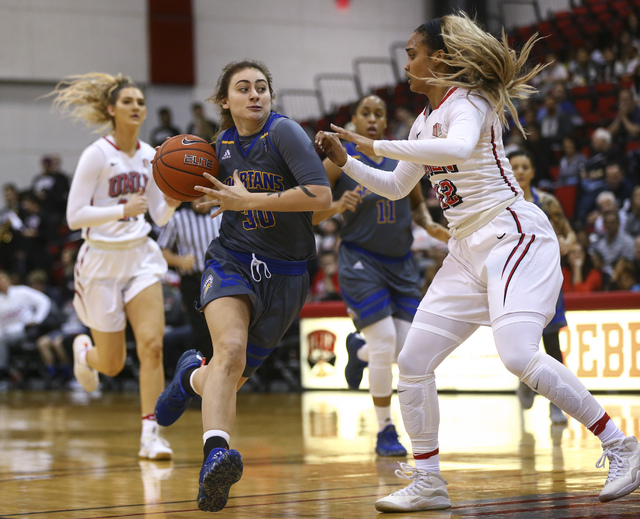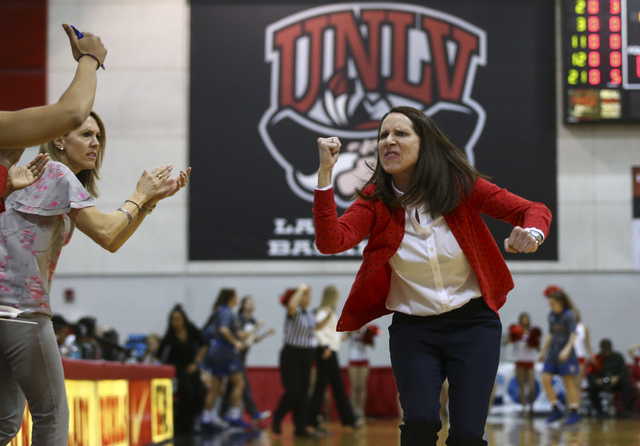 In the blink of an eye, the San Jose State women's basketball team ran away with a close game.
Maybe a bit more than a blink of the eye, but not much.
After UNLV tied the score at the end of the third quarter, the Spartans pulled away at the start of the fourth with an 8-0 run in less than 30 seconds to boost them to a 76-65 victory Saturday at Cox Pavilion.
"They came out firing in the fourth quarter," Lady Rebels guard Brooke Johnson said. "They got hot (with) the first 3. Usually, as shooters, once you see one shot go in, it's just kind of automatic that you're going to start feeling (it) more, and that's kind of what happened with them, and we just kind of weren't as composed as we should have been."
The Spartans (7-14, 4-5 Mountain West) play at a fast tempo, which was an adjustment for UNLV (14-7, 5-4).
"This team wants to shoot within the first 10 seconds," Johnson said. "We just had some miscommunications on defense where we needed to get back in transition. They didn't hit anything in the first half, but every team goes through a rough patch, and they got hot."
The Lady Rebels jumped to a quick lead, hitting a few 3s of their own to take an 11-point lead in the first quarter.
But soon, the Spartans began to chip away at that lead.
"The pace kind of gets to you," UNLV coach Kathy Olivier said. "That's what they do. They go up and down, up and down, up and down, up and down, and we like to execute a little more. We like to slow teams down a little more. You've got to give them credit. They hit 3s tonight."
The Spartans hit just two 3s on 13 attempts in the first half, but they were 7-for-12 in the second, including two 3s during their 8-0 run. Four Spartans each had two 3-pointers in the game.
San Jose guard Dezz Ramos, the conference's leading scorer at 21.8 points per game, led the way with 28 points. She hit only 9 of 24 field-goal attempts, but was 8 of 9 from the free-throw line.
"It was kind of hard to match up with how fast they were going, and that's on our part," Johnson said. "We need to know what we have and talk more, and that's kind of what started to kill us."
Four Lady Rebels scored in double figures. Johnson had team highs of 15 points and 10 rebounds for UNLV, which outrebounded San Jose 53-34.
"I thought we had some really good spots but too many bad spots, and they took advantage of it," Olivier said. "They started hitting those 3s. We couldn't stop the bleeding. And normally we do with our defense."
The Lady Rebels hit the road this week, playing at New Mexico on Wednesday and at Colorado State on Saturday.
"I just think (this) was a missed opportunity," Olivier said. "We had two games at home this week. We've been really good at home. We just needed to get the W. I don't care how we do it. We need to get the W, and our team knows that, so now we're going to have to steal one or two on the road."
Contact Betsy Helfand at bhelfand@reviewjournal.com. Follow @BetsyHelfand on Twitter.