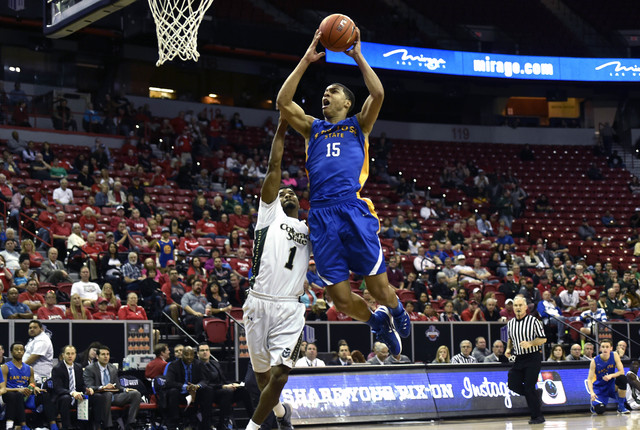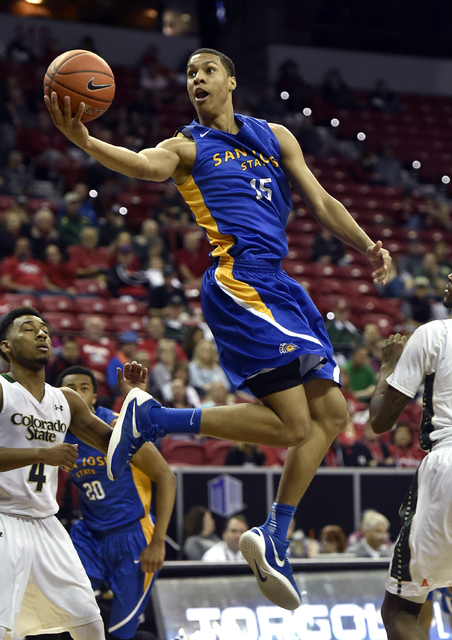 SAN JOSE, Calif. — Teammate Jalen James calls him "Air Canada," and these are high-altitude times for Brandon Clarke.
As a San Jose State sophomore forward, he has asserted himself as one of the Mountain West's top basketball players, just one season after being chosen by coaches as the conference Sixth Man of the Year.
Clarke, however, wasn't the kind of player whom college coaches identified early as a top prospect. He took time to grow (literally) into that kind of player, going from 6 feet 2 inches as a high school sophomore to 6-8 now and developing his game along the way.
"I wasn't recruited really until club ball the summer going into my senior year," Clarke said. "That was a huge summer for me. San Jose State was one of the first ones, and they were probably the college that offered me the most, and it just felt very right coming here.
"I don't want to say (other schools) missed out on me, but I feel like everything happens for a reason. I came here for a reason, so I was meant to be here."
Clarke quickly showed he could compete at this level, averaging 10.1 points and 7.3 rebounds last season. This season, as he and San Jose State (9-10, 2-6 MW) prepare to host UNLV (10-11, 3-5) at 2 p.m. Saturday at The Event Center, Clarke averages 18.4 points and 7.7 rebounds.
His 60.7 shooting percentage is the best in the Mountain West.
"He doesn't need a whole lot in terms of coming off screens and things of that nature like some players," UNLV coach Marvin Menzies said. "He's able to get the ball in his hands and create his own shot. A super athlete, and he has a really good knack for scoring a lot of different ways."
The Rebels have plenty to be concerned about, especially if they don't defend Clarke well. He is the major reason the Spartans have already matched last season's victory total.
They are 2-point favorites over UNLV, and this season they have beaten defending conference tournament champion Fresno State and won at Air Force. San Jose State lost twice to Colorado State, but both games were decided by single digits.
"We just have to put a full game together," Clarke said. "We have to come out hard and also finish strong. Once we do that, it'll be fun. I feel that our confidence is at a good place right now. I feel like we just have to make shots and get stops when it's needed, and we will be fine."
Clarke, who is from Vancouver, British Columbia, went to Desert Vista High School in Phoenix. As he grew 5 inches in his final three years at Desert Vista, his game took off as well and he led his school to the state championship as a senior.
Before that senior season on the AAU circuit, San Jose State was one of the first schools to take notice. He chose the Spartans over Santa Clara and Northeastern early in his senior season so he could focus on playing.
Maybe a power-conference school would have jumped into the mix had Clarke waited, but he was happy with his decision and remains so. Now he wants to help get the program on track. San Jose State hasn't posted a winning record since going 17-16 in the 2010-11 season.
"We are so close to becoming a team that wins, and if we can finally turn that corner," Clarke said, "it will be huge for us and for the college as a whole."
Contact Mark Anderson at manderson@reviewjournal.com or 702-387-2914. Follow @markanderson65 on Twitter.
UNLV at San Jose State
When: 2 p.m. Saturday
Where: The Event Center, San Jose State, Calif.
TV/Radio: UNLVRebels.com (online stream); KWWN (1100 AM, 100.9 FM)
Line: San Jose State -2; total 141