Shannon Evans follows Bobby Hurley to Arizona State, helps lead the Sun Devils
December 2, 2016 - 2:08 pm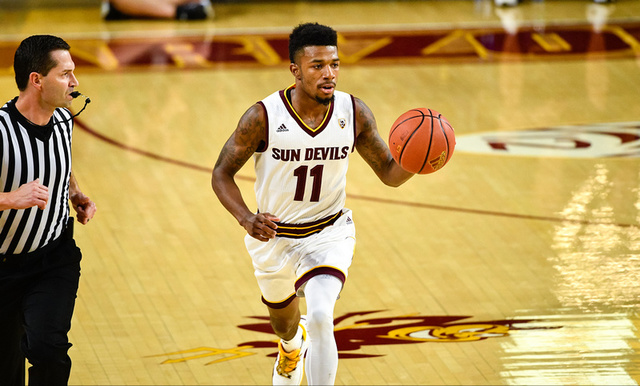 TEMPE, Ariz. — When Bobby Hurley had the chance to leave Buffalo in 2015 for the promise of coaching basketball in a power-five conference school at Arizona State, Shannon Evans II was close behind.
Hurley had seen promise in Evans, a 6-foot-1-inch guard, that many other coaches missed. Evans was a two-star prospect, according to ESPN.com.
But Evans justified Hurley's faith in him, averaging 8.5 points and 3.3 assists as a freshman and 15.4 points and 4.6 assists in 2014-15 in helping lead Buffalo to the NCAA Tournament.
Evans and Arizona State (4-3) host UNLV (5-2) at 5 p.m. PST Saturday at Wells Fargo Arena. The Pac-12 Network will televise the game, the first Rebels one on TV this season.
When Hurley left for Arizona State, it wasn't a tough decision for Evans.
"He did a lot for me for skill development and as a man," Evans said. "I wanted to play for a coach that I knew would care about me because I'm kind of late in my college career. So I wanted to go with someone that I trusted in that moment.
"You get a lot of coaches that recruit you and promise you a lot of things. He made me work for everything he gave me. He's a competitor and so am I, and I wanted to play for a guy like that."
UNLV guard Uche Ofoegbu, who sat out Wednesday's 89-81 victory at Southern Utah because of an illness, will play. Forward Cheickna Dembele, who missed the past three games with a foot injury, is a game-time decision.
Arizona State has its own bruises, most of them psychological after suffering a 115-69 pasting by Kentucky on Monday in the Bahamas. The Sun Devils either had their confidence shaken, or they have spent the week seething and will come out energized against the Rebels.
"You're never go through a season without adversity," Evans said. "So we hit adversity, and now it's all about how we respond and how we go about our next couple of games coming up."
Evans comes into this game averaging 15.4 points and 4.7 assists, and he has been an important addition to help take pressure off 6-1 guard Tra Holder, who leads the Sun Devils with 17.1 points per game. Holder often believed he had to carry the offense last season, averaging 14.2 points and 3.7 assists.
The Sun Devils also added 6-6 guard Sam Cunliffe, a top-50 recruit last season according to three major websites. He averages 10.4 points. Torian Graham, a 6-5 guard who sat out last season after also transferring from Buffalo, averages 16.6 points.
Evans, a junior, who also sat out last season under NCAA transfer rules, but he treated each practice like a game and pushed Holder in those workouts. He also made a point to show the rest of his teammates what to expect from their new coach.
"I was going after the players trying to get them prepared for the season," Evans said. "I tried everything I can to be a great teammate."
He wants to be the kind of teammate who helps lead Arizona State to the NCAA Tournament, though the Sun Devils have ground to make up.
"I believe nobody on the team has been besides me," Evans said. "So I want them to get that same experience that I had. I'm going to do everything I can to get back to the NCAA Tournament."
The Sun Devils are long shots, but Evans knows something about beating the odds.
"I've always had a chip on my shoulder," he said. "I always wanted to try to outwork everybody because I'm not the most talented, I'm not the most athletic."
Contact Mark Anderson at manderson@reviewjournal.com or 702-387-2914. Follow @markanderson65 on Twitter.
UNLV at ARIZONA STATE
When: 5 p.m. PST Saturday
Where: Wells Fargo Arena, Tempe, Ariz.
TV/Radio: Pac-12 Network; KWWN (1100 AM, 100.9 FM)
UNLV (5-2)
Coach: Marvin Menzies (5-2, first season)
PROBABLE STARTERS
Player ; Pos. ; Ht. ; Ppg.
Jalen Poyser ; G ; 6-4 ; 17.1
Kris Clyburn ; G ; 6-6 ; 9.4
Uche Ofoegbu ; G ; 6-4 ; 7.2
Tyrell Green ; F ; 6-7 ; 12.0
Dwayne Morgan ; F ; 6-8 ; 9.8
ARIZONA STATE (4-3)
Coach: Bobby Hurley (19-20, second season)
PROBABLE STARTERS
Player ; Pos. ; Ht ; Ppg.
Tra Holder ; G ; 6-1 ; 17.1
Sam Cunliffe ; G ; 6-6 ; 10.4
Shannon Evans II ; G ; 6-1 ; 15.4
Torian Graham ; G ; 6-5 ; 16.6
Obinna Oleka ; F ; 6-8 ; 12.4
WHAT TO WATCH
1. UNLV recorded a nice road victory on Wednesday, beating Southern Utah 89-81. But as Menzies acknowledged, the Rebels face a more athletic team in Arizona State. They struggled to defend dribble penetration at Southern Utah, so the Rebels are going to face an even bigger challenge doing so in this game.
2. Arizona State went to the Bahamas and was dismantled 115-69 by Kentucky on Monday. That loss either exposed the Sun Devils' weakness that can work in UNLV's favor, or, more likely, has the Sun Devils seething and ready to take out their frustrations on the next opponent.
3. There shouldn't be an intimidating atmosphere when UNLV rolls in, so the Rebels won't have much difficulty with on-court communication. The victory at Southern Utah also helped from a confidence standpoint in going back on the road.