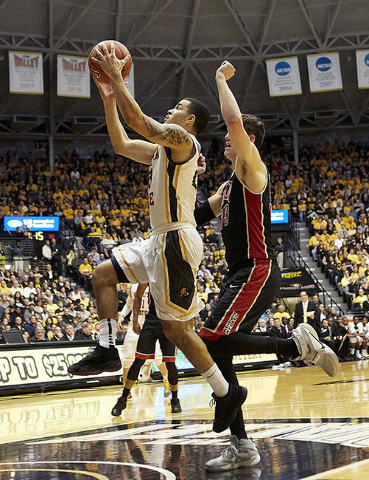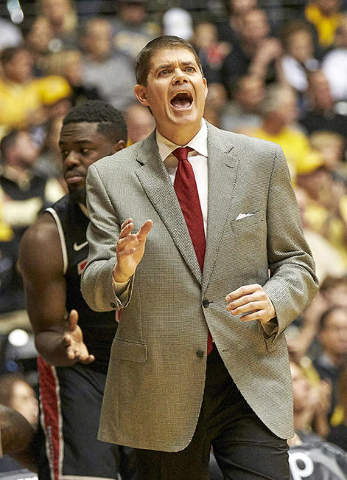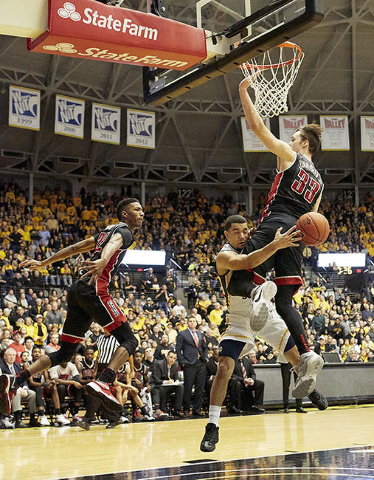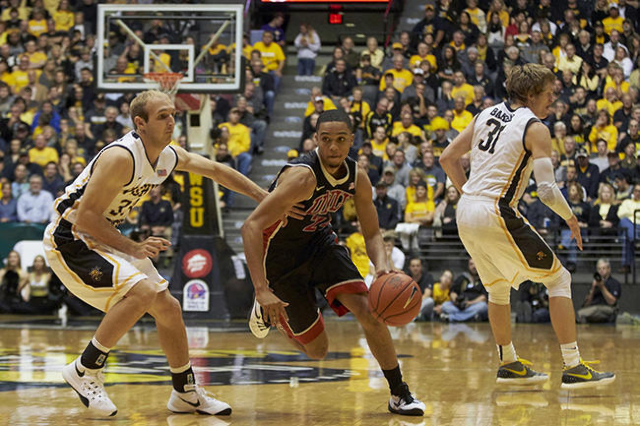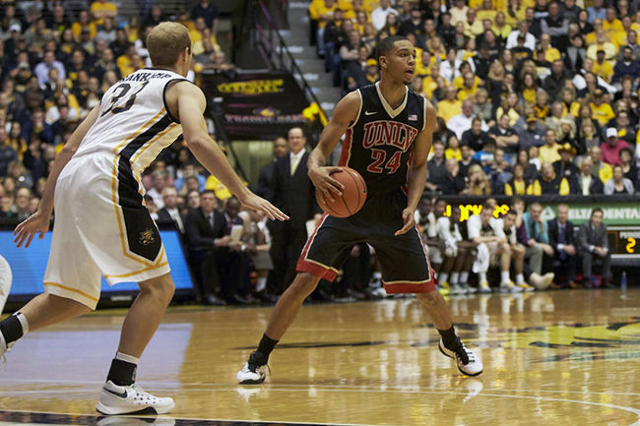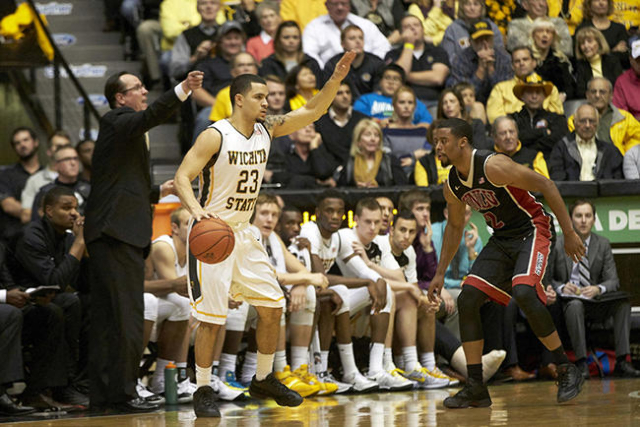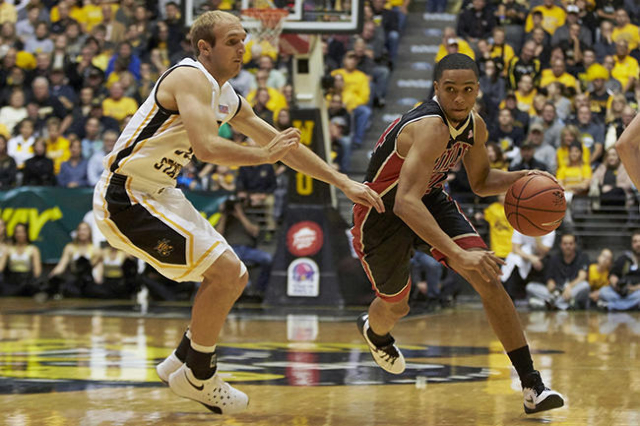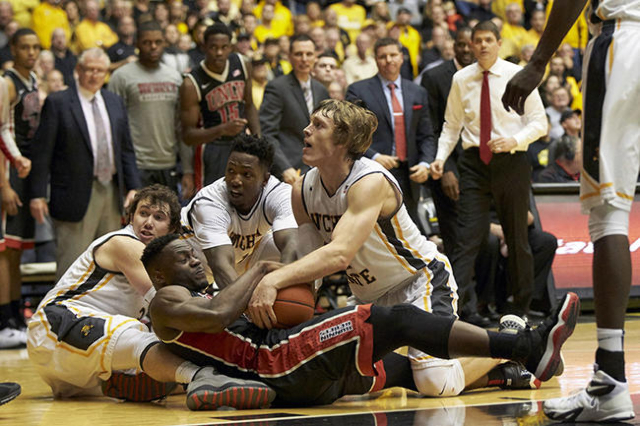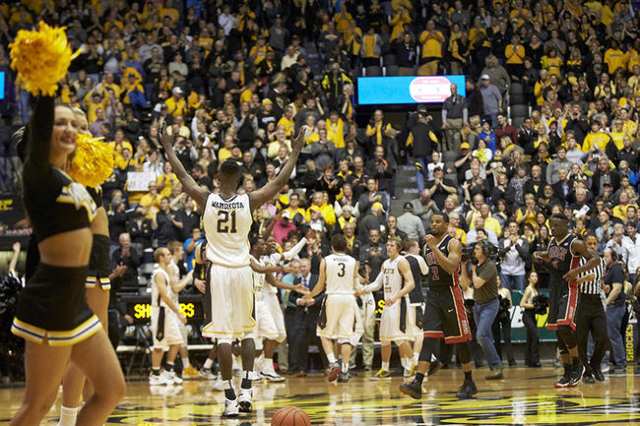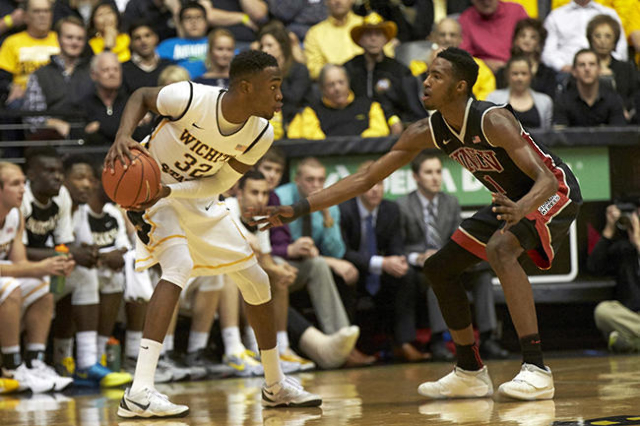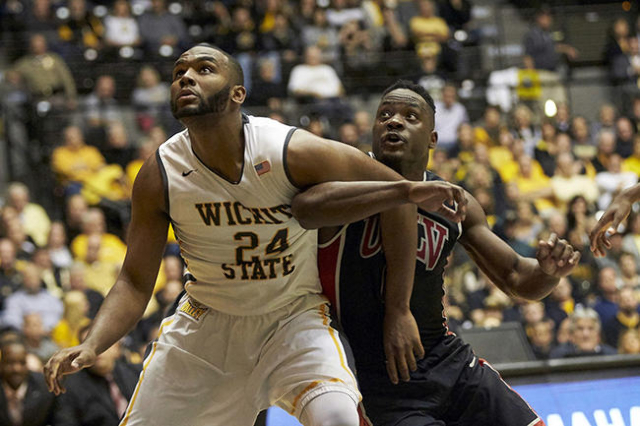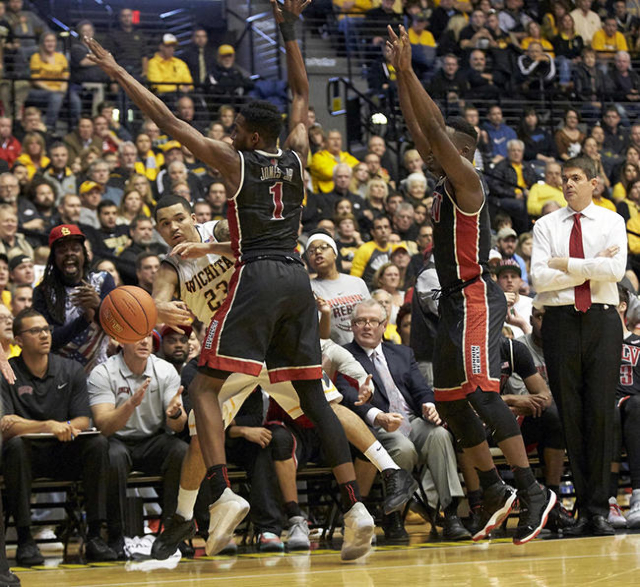 WICHITA, Kan. — Bodies were flying and few shots were falling. A defensive struggle is rarely pretty, but Fred VanVleet said Wichita State was not trying to win a beauty contest.
"It was just a physical grind-it-out game, and that's the way we needed to play," the senior point guard said. "I didn't think it was ugly. It was pretty physical. We didn't want to get in a track meet with these guys."
It was ugly from every perspective, with UNLV's offense bogged down by mistakes and never shifting out of a slow pace.
VanVleet scored 14 of his 17 points in the first half as the Shockers led the entire way in a 56-50 victory over the Rebels on Wednesday night in a Mountain West-Missouri Valley Conference Challenge game at Koch Arena.
"To hold this team to 50, that's a feather in our cap," VanVleet said.
The Rebels (7-2) were scoring 83.1 points per game, but only 7-foot freshman Stephen Zimmerman Jr. hit double figures with 11 points. Jerome Seagears added nine points, and his deep 3-pointer pulled UNLV within 52-50 with 22 seconds to go.
But Conner Frankamp answered by sinking two free throws, and the Rebels' Ike Nwamu lost his dribble and turned the ball over with 14 seconds on the clock. Ron Baker, who finished with 13 points, made two free throws to seal the victory for the Shockers (4-4).
"It's a one-possession game down the stretch," UNLV coach Dave Rice said. "I was proud of our resilience. There were two or three times the game was close to getting away."
Wichita State was up 14 in the first half and threatened to pull away. Despite poor offensive execution, the Rebels hung around and cut their deficit to 39-33 on Zimmerman's three-point play at the 12:03 mark.
UNLV committed 19 turnovers — a total of 11 from starting guards Seagears, Nwamu and Patrick McCaw — and allowed the smaller Shockers to pull down 14 offensive rebounds with their determination and hustle.
"Every time there was a loose ball or an offensive rebound in jeopardy … it's all about your effort and energy," said Baker, who had six rebounds.
Wichita State extended its home win streak to 35 games before a loud sellout crowd of 10,506. The atmosphere combined with the Shockers' defensive tenacity rattled the Rebels in the first 15 minutes.
"It was crazy," said Zimmerman, who shot four of six from the field and totaled six rebounds and four turnovers. "It's a crazy place to play."
VanVleet's 10 points sparked the Shockers to a 22-8 lead with 7:30 to go in the first half. Despite a sore hamstring, he dribble penetrated the paint almost at will, with Seagears unable to contain him. Freshman guard Jalen Poyser came off the bench and woke up the Rebels by hitting two 3s to keep the game within striking distance.
UNLV, which trailed 31-22 at halftime, finally cranked up its full-court pressure in the second half and got enough defensive stops to mount a comeback. Nwamu's fast-break dunk and McCaw's 3 rallied the Rebels' to within 47-44 with five minutes remaining. It was 51-46 after the Shockers' Zach Brown was credited with a layup on a blown goaltending call by official Vern Harris with 2:03 left, and it proved to be a pivotal play.
"This was a throwback win," Wichita State coach Gregg Marshall said. "We just won on the defensive end with grit and toughness."
The Shockers certainly did not win with their shooting, hitting just 37.5 percent from the field, including three of 18 from 3-point range, and 11 of 22 free throws. But they outscored the Rebels 10-5 in second-chance points.
"We knew they were a great offensive rebounding team, and I think we weren't as focused as we should have been," Zimmerman said. "That's a big reason for this loss. I don't want to say they wanted it more than us, but they were working really hard."
UNLV's reserves — mainly Poyser (eight points) and junior forward Ben Carter (seven points, seven rebounds) — were more efficient offensively than the starters. Poyser made both of his 3s while the rest of the team combined to shoot two-for-15.
McCaw, the Rebels' leading scorer at 18.4 per game, did not get his first basket until his steal and layup with 9:44 to go. He finished with a season-low five points.
"The biggest problem to start the game is we had a hard time scoring," Rice said. "Wichita's pressure made it hard to get in the flow of our offense. We were trying to up the tempo, but if you don't score, it's hard to set your pressure. VanVleet does such a good job of controlling tempo
"There is not a tougher place to play in the country than Wichita. The experience of playing in a game like this is going to serve us extremely well going forward."
VanVleet was plagued by injuries in November. Wichita State is a much different team with the 6-foot veteran running the show, as he proved while dealing the Rebels their second loss of the season.
"UNLV is really, really good," VanVleet said. "I don't know how they weren't ranked."
Contact reporter Matt Youmans at myoumans@reviewjournal.com or 702-387-2907. Follow him on Twitter: @mattyoumans247
Check our GameDay page for full coverage of the UNLV-Wichita State game.