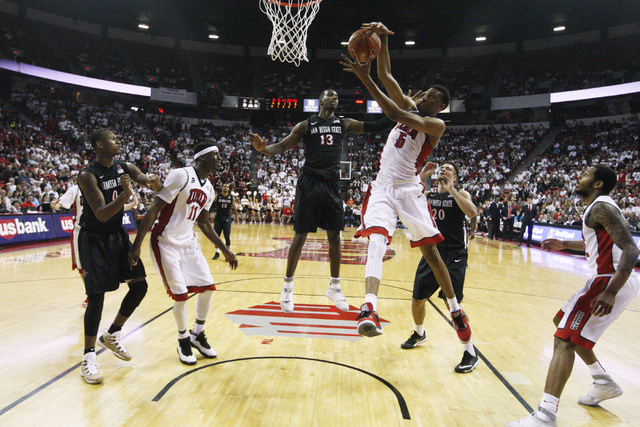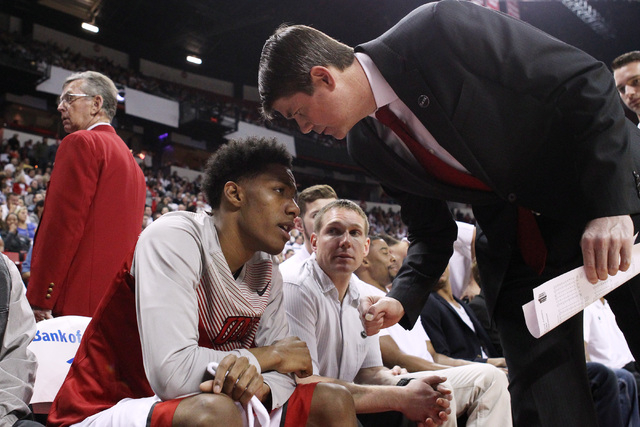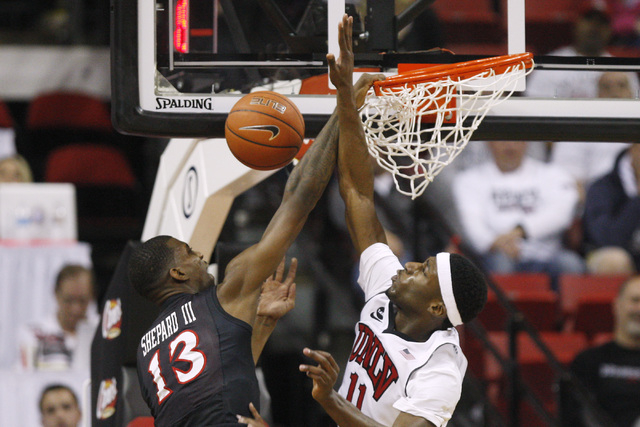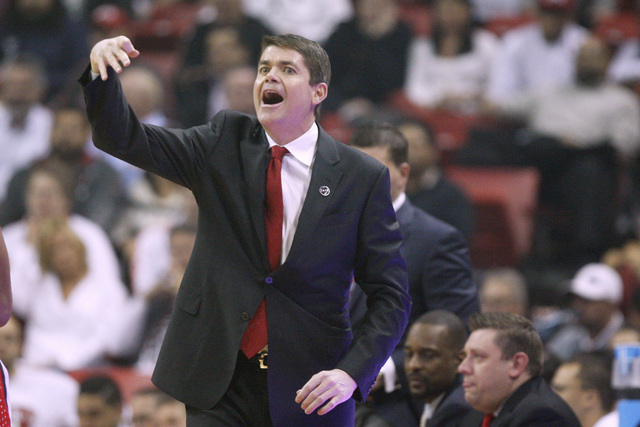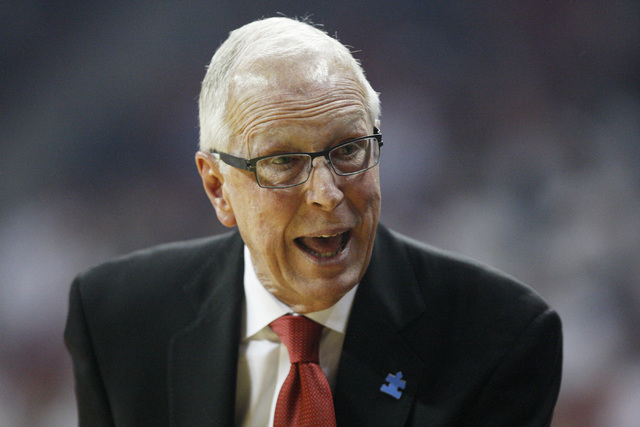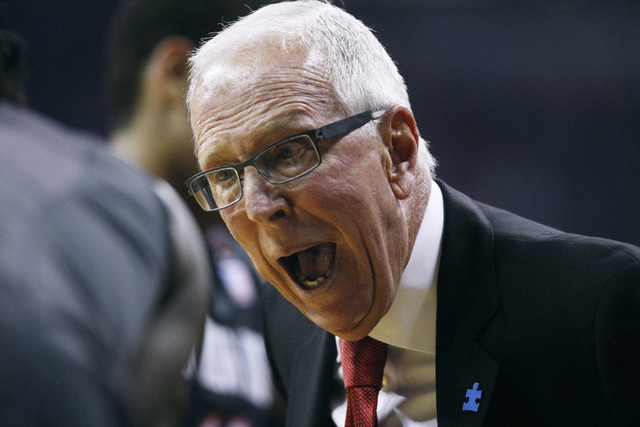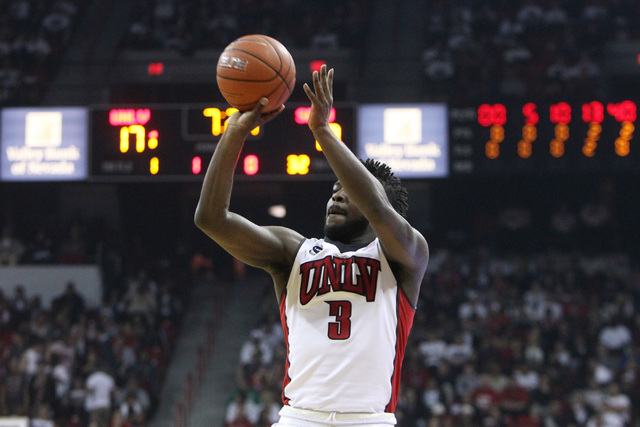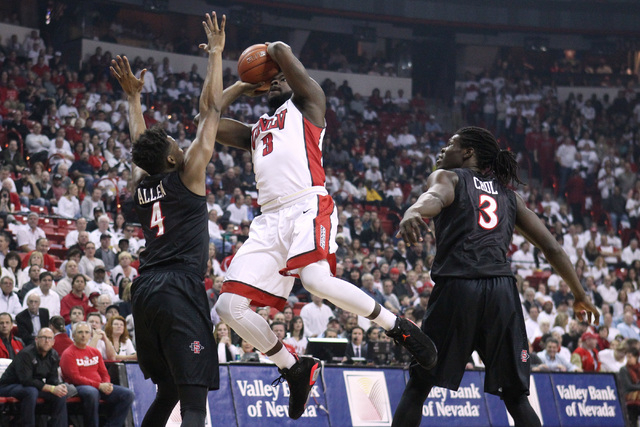 A shot to the nose knocked out freshman guard Patrick McCaw, one of UNLV's most valuable players, early in the second half. What could have turned into a lopsided fight at that point still went the distance.
The Rebels hung tough until JJ O'Brien, the best player on the floor all night, finally landed the knockout blow.
O'Brien drove for a layup with 16.7 seconds remaining and finished with a career-high 22 points to lift San Diego State to a 60-58 victory over UNLV before a Senior Night crowd of 13,454 on Wednesday at the Thomas & Mack Center.
"We gave ourselves every chance to win," said guard Cody Doolin, one of the Rebels' two seniors. "I thought it was great. We didn't have anything to hang our heads about."
Winston Shepard added 10 points for the Aztecs (23-7, 13-4) as they remained in a first-place tie with Boise State atop the Mountain West.
"This was a win about toughness," Shepard said. "How much do you want it? How much do you want to win the conference?"
The top six teams earn a bye in next week's conference tournament. UNLV (16-14, 7-10) will most likely be the No. 7 seed and open play at 2:30 p.m. Wednesday.
Despite being down to six scholarship players for most of the second half, the Rebels took the game to the wire. It was a task that required big efforts by freshman forward Dwayne Morgan, who scored 13 points off the bench, and Doolin, who had 12 points.
Sophomore forward Chris Wood, who fought off double-teams the entire game, totaled 10 points and 16 rebounds.
"I'm very, very proud of our effort," UNLV coach Dave Rice said. "We hung in there and answered them and just couldn't get it done down the stretch."
The Rebels led 31-28 at halftime, with Morgan providing 10 points. O'Brien had 16 while shooting 8-for-11.
The Aztecs missed their first nine 3s before Aqeel Quinn connected two minutes into the second half. A 15-foot jumper by Shepard and a 3-pointer by Matt Shrigley gave San Diego State a 38-34 lead with 16 minutes remaining.
McCaw went down at the 14:20 mark after taking a shot to the nose, the result of banging heads with Wood during a play near the basket. He was escorted to the locker room and never returned.
"I was told he couldn't play the rest of the night," said Rice, who was informed McCaw was showing concussion-like symptoms. "He will be re-evaluated in the morning."
A 3 by Dwayne Polee II put the Aztecs up 46-41 at the 12-minute mark.
Polee, a fifth-year senior forward, appeared in only his second game since Dec. 22, when he collapsed during a game against UC Riverside. He was diagnosed with an irregular heartbeat and held of action until Feb. 21.
Polee's status was in doubt until Wednesday. Irregular readings from a cardiac monitor implanted in his chest forced doctors to adjust his medication and hold him out of a game against Boise State on Saturday. Polee made a minor impact upon his return.
On the other hand, the Rebels were severely shorthanded in the second half without McCaw and injured leading scorer Rashad Vaughn. Rice had six scholarship players available for the final 14 minutes, and Morgan got into foul trouble late.
San Diego State seemed primed to pull away before freshman Jordan Cornish hit a 3-pointer to pull UNLV within 46-44 with 8:27 left. Wood's drive through the lane for a layup tied the score at 48 with 6:22 to play.
Cornish hit a 3-pointer from the top to put UNLV up 51-50 with 5:47 remaining. Shepard responded by sinking a wide-open 3 from the corner as the Aztecs surged back in front 53-51 at the 3:16 mark, and Wood's two free throws tied the score with 2:12 to go.
Wood rebounded O'Brien's missed jumper, but a Rebels turnover on the offensive end led to a fast-break layup for Trey Kell with just over a minute remaining.
Doolin drove to the rim, but his reverse layup attempt was swatted away by Skylar Spencer with 47 seconds to play. The biggest basket was delivered by O'Brien, who drove by Goodluck Okonoboh and beat Wood to the rim for the layup.
"O'Brien made a winning play," Rice said. "He was giving us problems."
Shepard made two free throws with 10.3 seconds on the clock to put San Diego State up 59-55.
After a layup by Doolin, Quinn hit the first of two free throws with 5.3 seconds to go. Rebels senior Jelan Kendrick was fouled at half court and made the first free throw. He intentionally missed the second, but the Aztecs rebounded and ran out the clock.
UNLV left with a hard-fought loss and doubts about how long McCaw might be lost.
"Pat's arguably our best or second-best player," Doolin said. "I just hope he's OK."
Contact reporter Matt Youmans at myoumans@reviewjournal.com or 702-387-2907. Follow him on Twitter: @mattyoumans247.