Stacey Augmon 'disappointed' he didn't get UNLV head coaching job, won't be retained by Chris Beard
April 13, 2016 - 11:26 pm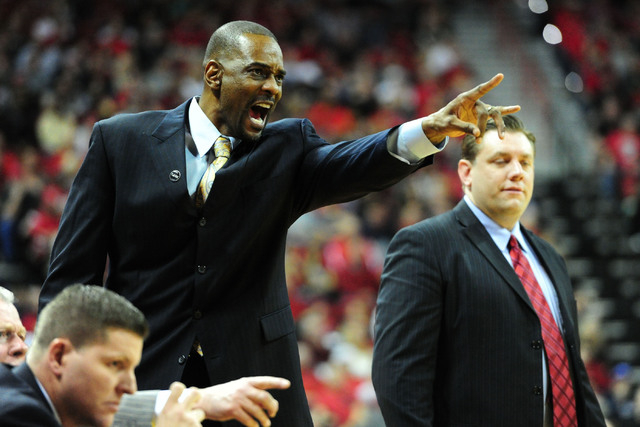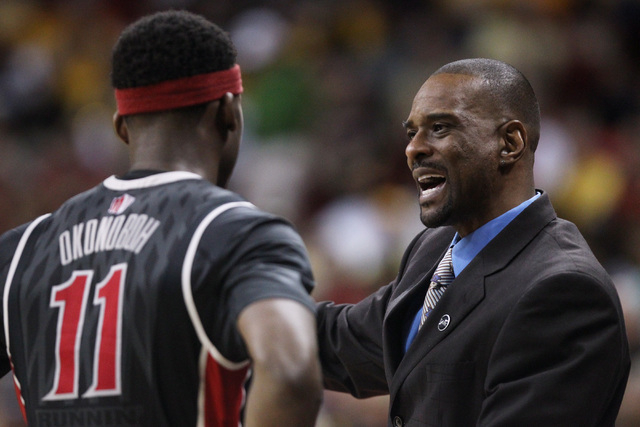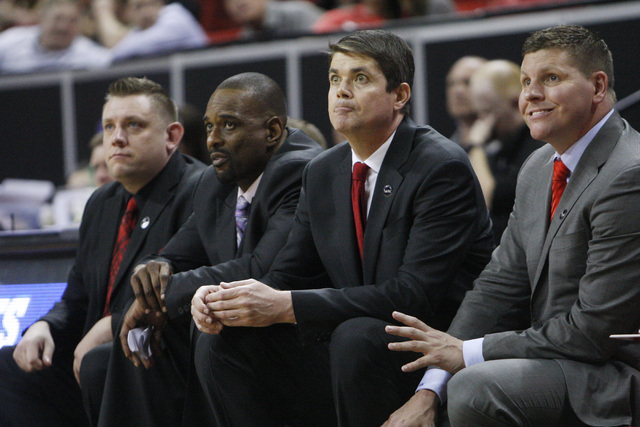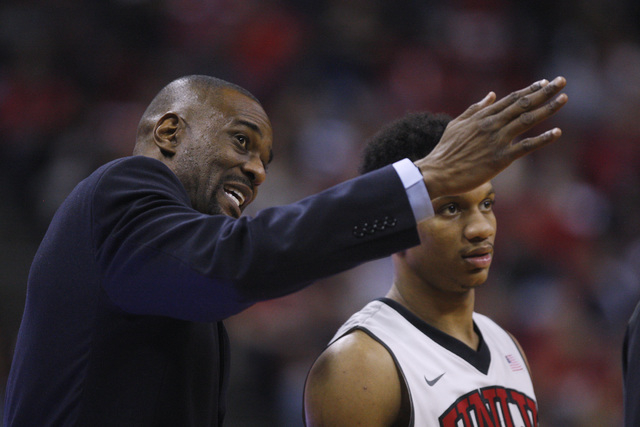 Stacey Augmon was disappointed and saddened with how things ended, how his time as a UNLV basketball assistant coach concluded.
He had hoped for much more. He had hoped to be named head coach of the program he helped win a national championship in 1990.
Instead, he will be leaving the university. The former UNLV All-American, an assistant coach for the past five seasons, was not retained on new coach Chris Beard's staff.
"I want to thank all the people who supported me in this process," Augmon said Wednesday in his first public comments since Beard was named the Rebels' coach. "So many people, from senators to judges to all those on the west side of town to so many other amazing people throughout the community. Thank you so much for all the support."
Augmon was backed for the UNLV job by former teammates Larry Johnson and Greg Anthony in a full-page ad in the Review-Journal that was paid for by "Rebels for Success."
"I was disappointed when I didn't get the head job," Augmon said. "But as the process went on and on and new candidates became public, I figured it wasn't going to happen. I felt that I had put in so much blood and sweat for the program and deserved the chance to be the head coach and turn the program around. I kept hope alive, but I wasn't feeling it there at the end. I figured if they kept adding names, they weren't satisfied with what was already there.
"I'll never regret coming back to UNLV to work for Dave Rice. I don't have any ill will toward the program, but they did the unheard of when they (fired Rice on Jan. 10) in the middle of a season. But a lot of things UNLV has done the last (four months) have been unheard of.
"I still believe in my heart had they kept Dave Rice, we would have turned things around and made the NCAA Tournament. We had enough talent. We had the guys to do it. I truly believe we would have been all right."
Augmon, 47, said there are coaching opportunities for him to remain in college but that he probably will pursue a return to the NBA as an assistant coach next season. His jersey hangs in the Thomas & Mack Center rafters, and he was inducted into the Southern Nevada Sports Hall of Fame in 2012.
UNLV has not made any announcements regarding its staff, but Beard has agreed to hire three assistants — Mark Adams and Brian Burg from Arkansas-Little Rock and Chris Ogden from Tennessee. Beard has one slot to fill.
Ed Graney can be reached at egraney@reviewjournal.com or 702-383-4618. Mark Anderson can reached at manderson@reviewjournal.com or 702-387-2914.
RELATED
Stacey Augmon goes silent after being passed over for UNLV job
Augmon breaks silence, makes pitch to be UNLV head coach
Stacey Augmon, Ryan Miller in limbo after meeting with new UNLV coach Chris Beard
Stacey Augmon's campaign for UNLV job supported by ad in RJ