Switch to zone keys Rebels win
November 14, 2014 - 11:29 pm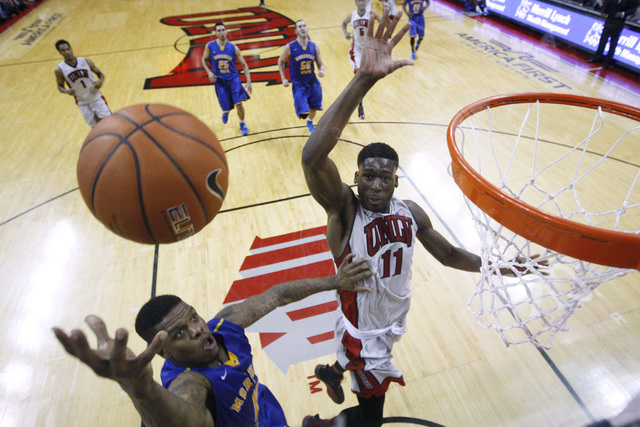 UNLV has been pretty strictly a man-to-man team defensively under coach Dave Rice.
Expect that to change after how effective the zone was for the Rebels during the second half of Friday night's 60-59 win over Morehead State in the season opener.
UNLV trailed 36-31 at the break and by as many as 11 points early in the second half before the zone that the Rebels have been working on at practice was fully employed.
It changed the game.
The Eagles hit just one field goal over the next 12 minutes as UNLV rallied to take the lead.
"We were fortunate enough they missed a couple shots early in the second half," UNLV coach Dave Rice said. "We work extremely hard on our zone every day. The thing about the zone we play is we have quick big guys and guards that are extremely long. We can cover a lot of ground."
The Rebels also have players that can protect the rim.
Freshman Goodluck Okonoboh blocked seven shots in his collegiate debut and Chris Wood rejected four.
That made life very difficult for Morehead State on the offensive end. The Eagles hit just 7 of 32 attempts from the field in the second half and shot just 30.9 percent for the game.
"We really like the zone," Rice said. "I told our staff the last few weeks that the zone is going to win us several games this year and there's no doubt it won us one tonight."
The Rebels stayed with the zone on the final possession of the game.
Morehead State had the ball with 10 seconds to play and a chance to win. Senior point guard Cody Doolin tried to slow down the Morehead State dribble in the backcourt before sprinting back to find his place in the zone.
Doolin eventually got his hand on the ball on a drive, and Angelo Warner tossed up a contested shot that never had a chance.
Wood secured the rebound and the victory.
"Its hard, up one point with 10 seconds to go. You want to have some individual accountability defensively, but (we) stayed zone," Rice said. "Zone had gotten us back in the game and given us the lead, so we stuck with it."
Doolin was pleased with the defensive execution on the play.
"We just wanted not to foul and to force them to make a shot," he said. "We just kind of funnelled it down to our big men and tried to force them to take a tough shot and that's what they did."
Contact reporter Adam Hill at ahill@reviewjournal.com or 702-224-5509. Follow him on Twitter: @adamhilllvrj.