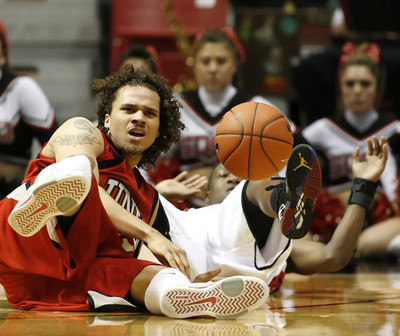 SAN DIEGO — Not every shot UNLV senior Curtis Terry takes is a thing of beauty. He threw up an air ball early in Saturday's game that was just plain ugly.
He was reminded of it, too, drawing loud taunts from fans every time the ball touched his hands.
So with the clock winding down and the game tied, Terry decided it was payback time. He rolled off a screen and made the winning 3-pointer with 26 seconds remaining, lifting the Rebels to a 72-69 victory over San Diego State.
"I was looking to take my shot when I had it," he said. "I don't want to sound cocky, but it felt good when I let it go."
Terry's shot took the air out of a season-high crowd of 9,131 at Cox Arena, and he made it in front of the Aztecs' student section that spent most of the day mocking him.
"I heard it," a smiling Terry said of the taunting. "I don't care, though."
UNLV improved to 15-4 and climbed into a first-place tie in the Mountain West Conference with Brigham Young at 4-1.
San Diego State (14-6, 4-2) had a chance to tie, but Kyle Spain's 3-point attempt hit the back of the rim with four seconds to go, and Marcus Lawrence secured the rebound for the Rebels.
"It was really a tough battle all the way," UNLV coach Lon Kruger said. "It was a hostile environment. I'm really proud of the toughness and the effort."
After Spain made two free throws to tie the game at 69, Kruger called timeout with 38 seconds left and set up a play for guard Wink Adams.
Denied on a drive to the baseline by the Aztecs' Lorrenzo Wade, Adams spun and fired a pass to Terry, who came free on the left wing after running off a screen by Rene Rougeau at the top of the key.
"I told Wink, 'The ball is yours.' Everybody knew he was getting the ball," Terry said. "He had a chance to take it to the hoop, but he got cut off, and I was able to step behind him and get an open look."
San Diego State's Richie Williams was short on a 3-pointer to tie and fouled Terry on the rebound with 11 seconds to go. But Terry missed the free throw, allowing the Aztecs one more shot.
"Unfortunately I couldn't hit the free throw. We were just trying to add a little more drama," said Terry, who shot 3-for-7 from 3-point range and finished with 10 points.
Junior forward Joe Darger led the Rebels with 19 points and 10 rebounds.
"Curtis always does a good job of hitting big shots," Darger said. "Everybody on the team had their moment and their time to shine."
Senior forward Corey Bailey stepped into the spotlight by scoring 15 points. Bailey shot 6-for-6 and made two 3-pointers.
"It was great for Corey," Kruger said. "He has been up and down in terms of production at times, but his attitude is great. He made some shots, got a couple big rebounds and always does a good job defensively."
Bailey was the primary defender on Wade, who entered as San Diego State's leading scorer with 15.4 points per game. Wade, a Cheyenne High School graduate, was held to eight points.
"Corey had the best game of his career," Terry said. "We knew that Wade was their key. Corey wanted to guard him and take on that challenge."
UNLV shot 25-for-50 from the field and 10-for-21 on 3-pointers.
Adams finished with 13 points and six assists. Rougeau had eight points, five rebounds and four blocked shots. Sophomore forward Matt Shaw came off the bench to produce seven points and six rebounds.
Ryan Amoroso's 15 points led the Aztecs, who also got 13 points from Spain and 11 points and seven rebounds from Billy White.
A freshman from Green Valley High, White left the game with a lower back injury with 11:41 to go. He fell hard under the basket on a layup attempt, and stayed on the floor for about five minutes before being helped to the locker room.
White returned with 6:23 remaining. Amoroso scored on an assist from White to pull San Diego State within 64-63 at the 2:38 mark.
Terry answered with a deep 3-pointer 10 seconds later. White tied the score at 67 on a layup with 1:55 left.
The Rebels had a 37-35 halftime lead and stretched it to 49-40 early in the second half.
"It's huge for us," Terry said. "We knew we had a chance to come in here and take over first place."
Contact reporter Matt Youmans at myoumans@reviewjournal.com or (702) 387-2912.
UNLV 72
San Diego State 69
UNLV Min FG-A FT-A R A PF TP
Bailey 28 6-6 1-2 3 0 4 15
Darger 30 6-11 4-4 10 0 4 19
Adams 38 5-13 2-2 2 6 2 13
Rougeau 32 3-5 2-3 5 4 2 8
Terry 29 3-8 1-3 3 3 4 10
Rutledge 1 0-0 0-0 0 0 0 0
Wallace 12 0-1 0-0 1 0 2 0
Lawrence 12 0-0 0-0 1 3 1 0
Shaw 18 2-6 2-2 6 1 2 7
TOTALS 200 25-50 12-16 33 17 21 72
Field goals–50.0%. Free throws–75.0%.
Three-point goals–10-21 (Darger 3-5, Terry 3-7, Bailey 2-2, Shaw 1-2, Adams 1-4, Wallace 0-1). Team rebounds–2. Blocked shots–4 (Rougeau 4). Turnovers–14 (Terry 4, Adams 3, Rougeau 2, Bailey 2, Lawrence, Wallace, Darger). Steals–3 (Rougeau 2, Wallace).
SDSU Min FG-A FT-A R A PF TP
Wade 36 4-11 0-0 4 7 2 8
White 33 5-9 1-2 7 1 1 11
Amoroso 31 6-8 2-4 6 0 3 15
Spain 23 3-9 6-7 3 1 4 13
Gay 17 1-6 0-0 0 1 0 3
Johnson 2 0-1 0-0 0 0 0 0
Williams 23 4-9 1-1 3 1 4 10
Thomas 17 0-2 2-2 1 0 0 2
Davis 18 3-6 1-2 5 0 1 7
TOTALS 200 26-61 13-18 33 11 15 69
Field goals–42.6%. Free throws–72.2%.
Three-point goals–4-20 (Amoroso 1-1, Williams 1-4, Spain 1-5, Gay 1-5, Wade 0-1, Thomas 0-1, Davis 0-3). Team rebounds–4. Blocked shots–2 (Wade, Amoroso). Turnovers–8 (Spain 2, Gay 2, White, Williams, Wade, Amoroso). Steals–9 (Spain 2, Gay 2, Thomas 2, White, Williams, Wade).
A–9,131. Officials–Dan Chrisman, Mike Littlewood, Mike Giarratano. Technical fouls–UNLV, None. San Diego State, None.
UNLV 37 35 — 72
San Diego State 35 34 — 69
UNLV — 72 SAN DIEGO STATE — 69 KEY: The Rebels' Curtis Terry hit a tiebreaking 3-pointer with 26 seconds left. NEXT: UNLV at Texas Christian, 4:30 p.m. Wednesday, The mtn. (334), KBAD-AM (920)