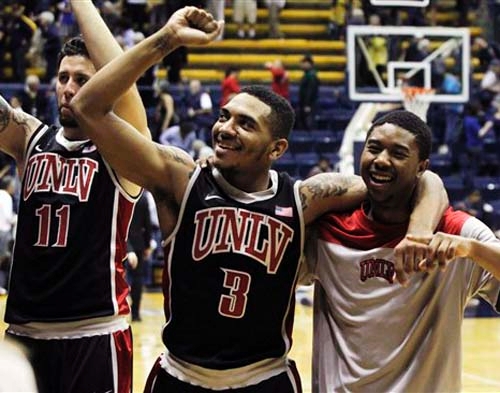 BERKELEY, Calif. – Quintrell Thomas' layup with 1.2 seconds remaining lifted No. 21 UNLV to a dramatic 76-75 victory over California at Haas Pavilion.
As the clocked ticked down, Anthony Marshall's 15-foot jumper fell short of the rim, and Thomas snatched the ball out of the air before spinning to lay in the game-winner for the Rebels (7-1).
Justin Cobbs made two free throws with 11.4 seconds remaining to give the Golden Bears (6-2) a one-point lead.
Anthony Bennett totaled 25 points and 13 rebounds, and Bryce Dejean-Jones scored 22 points for UNLV.
The Rebels overcame the loss of junior forward Mike Moser, who left five minutes into the game with a dislocated right elbow. He briefly returned to the bench with his arm in a sling, and it appears he could miss a significant amount of time.
Bennett made two free throws to tie the score at 70 with 1:36 to go. After Robert Thurman scored inside for Cal, Bennett drove the baseline and dunked to tie it again with one minute left.
The Bears' Allen Crabbe (18 points) made a free throw with 39 seconds remaining, but Bennett answered with a baseline jumper give the Rebels a 74-73 edge with 22 seconds to play.
HALFTIME REPORT
BERKELEY, Calif. – Mike Moser started the game for UNLV, but the junior forward finished the half with his right arm in a sling.
The 21st-ranked Rebels led California 45-38 at halftime behind 13 points apiece from Anthony Bennett and Anthony Marshall.
Moser's injury appeared to be significant. He hit the floor while chasing a loose ball and his arm was bent awkwardly after a Golden Bears player toppled over him. Moser stayed face-down in pain with 15:10 left, and was eventually escorted to the locker room. He returned to the bench wearing a sling late in the half.
Allen Crabbe, the Bears' leading scorer, went to the bench with three fouls with seven minutes remaining. Bennett's fast-break dunk and three-point play put the Rebels on top 32-30 with 5:45 to go.
Crabbe attempted one field goal and was held to five points. Richard Solomon scored 12 points for Cal, which trailed despite shooting 65.4 percent (17 of 26) from the field.
Bryce Dejean-Jones added 10 points for UNLV.
PREGAME REPORT
BERKELEY, Calif. – Junior forward Mike Moser is expected to play Sunday as UNLV faces one of its toughest tests on the nonconference schedule.
But every road game, no matter the opponent, has been a challenge for the Rebels over the past year.
Moser was sidelined for most of the week with a strained left hip before participating in Saturday's entire practice, and he should be ready to go when No. 21 UNLV (6-1) meets California (6-1) at 3 p.m. at Haas Pavilion in a nationally televised game on ESPNU.
"Barring a setback, I would expect him to play," coach Dave Rice said.
Moser, the team's No. 2 scorer and leading rebounder, was held out of a 68-60 win at Portland on Tuesday, and in his absence the Rebels stumbled through their worst offensive outing of the season.
Moser had 14 points in an 85-68 victory over the Golden Bears last December in Las Vegas. Anthony Marshall was the game's standout performer with 22 points and nine rebounds.
Contact reporter Matt Youmans at myoumans@reviewjournal.com or 702-387-2907. Follow him on Twitter: @mattyoumans247.