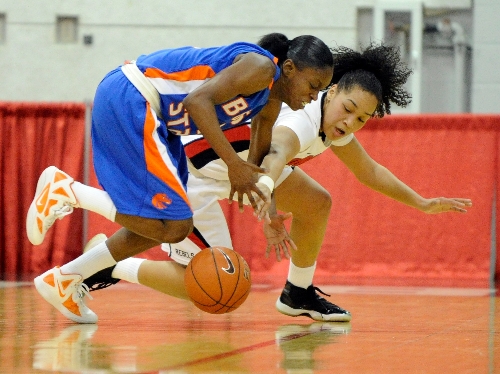 Since injuring her right wrist a couple weeks ago, UNLV women's basketball player Kelli Thompson has had good days and bad days.
Wednesday was a good day for the Lady Rebels' leading scorer.
Thompson scored the final 12 points for UNLV and finished with a game-high 24 to lead UNLV to a 66-50 victory over Boise State at Cox Pavilion.
UNLV (16-5 overall, 4-1 Mountain West Conference) clinched its first winning season in six years and is off to its best conference start since 2003-04, when it opened 4-0.
"This is what I've been waiting for," said Thompson, a junior. "It was rough, but hard work gets you where you want to be."
After a virtual layup drill to start the game — the first nine made field goals were layups — the Lady Rebels, led by Thompson's 10 points, grinded out a 26-18 halftime lead.
But the Broncos (11-9, 2-3 MWC), who entered averaging a league-leading 71.5 points per game, started the second half on an 11-2 run to take a 29-28 lead.
Lauren Lenhardt, who led Boise State with 19 points on 6-for-7 shooting, sank two 3-pointers in the surge.
UNLV answered with a 13-4 run to take a 41-33 lead and restore its eight-point halftime edge.
Sandrine Nzeukou made three layups during the spurt, Mia Bell and Thompson each made one, and Jamie Smith capped the surge with a conventional 3-point play.
"We didn't start the second half well, but we stepped it up defensively, which made it easier for us offensively," Lady Rebels coach Kathy Olivier said. "We had a lot of different people stepping up."
Nzeukou, Bell and Smith supplied 10 points apiece, and Smith and Markiell Styles each had eight rebounds for UNLV, which outscored Boise State 46-30 in the paint and forced 27 turnovers despite missing standout Lenita Sanford, who is day to day with a knee injury.
The Broncos hung around, pulling within six with 7:01 left, but the Lady Rebels put them away with a game-ending 14-4 run ignited by Thompson, who said she tore two ligaments in her shooting wrist in a Jan. 14 loss to San Diego State.
Despite the injury, Thompson caught fire down the stretch Wednesday, when she sandwiched three layups around a pair of back-to-back 3-pointers, including a 23-footer from the wing that dropped through the hoop as the shot clock expired.
"I'm just trying to get back," Thompson said.
She might already be there.
Contact reporter Todd Dewey at tdewey@reviewjournal.com or 702-383-0354.
UNLV — 66
BOISE STATE — 50
KEY: Kelli Thompson scored a game-high 24 points for the Lady Rebels, who clinched their first winning season in six years.
NEXT: Air Force at UNLV, 3 p.m. Saturday, Cox Pavilion, KSHP-AM (1400)