Tourney win over Virginia Tech could loom large in March for Rebels
November 28, 2010 - 12:00 am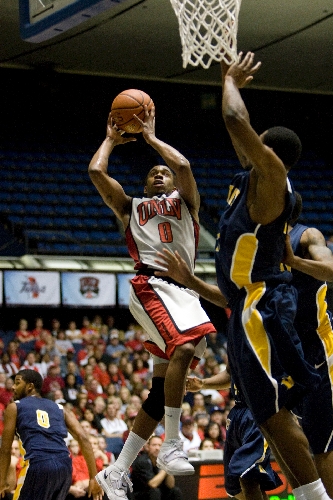 ANAHEIM, Calif. — Senior guard Malcolm Delaney is one of the nation's top players, and he stars for Virginia Tech, which comes from college basketball's most respected conference.
A victory over the Hokies would be an impressive line for UNLV to add to its NCAA Tournament resume for March.
"I don't know that players give that a lot of thought," Rebels coach Lon Kruger said. "But it's talked about on TV all the time about the value of wins at this time of year."
It's written about in newspapers and on Internet message boards, too, especially by those who enjoy comparing the strength of conferences.
So there is some intrigue in the backdrop as UNLV (5-0) meets Virginia Tech (4-1) for the championship of the 76 Classic at 6 p.m. today at the Anaheim Convention Center.
ESPN2 will televise the game, presenting the Rebels with a rare shot at national exposure.
An official Atlantic Coast-Mountain West Conference Challenge never will happen, but this matchup offers a small sample.
"We look forward to it," UNLV sophomore forward Quintrell Thomas said. "We need a team to test us like that."
Junior point guard Oscar Bellfield said he's giving little or no thought to facing an ACC opponent and what it could mean in March. But he has been thinking about last December and what happened in Hawaii.
The Rebels played in the Diamond Head Classic over Christmas and coasted to two double-digit victories before losing 67-56 to Southern California in the title game.
"It was an outcome that we didn't expect. It was really tough, but it was a learning experience," Bellfield said. "It's always going to be in your head.
"Our main focus is just trying to win this championship game, especially after losing one last year."
UNLV is playing for another holiday tournament title after running to relatively easy victories over Tulsa and Murray State.
The key to finishing the job should be containing Delaney, who runs the point for the Hokies. Delaney, the leading scorer in the ACC last season at 20.2 points per game, is averaging 19.6 this season. Bellfield won't be the only defender in Delaney's face.
"Delaney is so skilled. He's very quick and very good off the dribble. He scores, and he's very good at that," Kruger said. "But he's also a guy who makes players around him better because he is so talented.
"Everyone else has to kind of guard their man and also think about Delaney. It's one of those deals where you've got to give him that extra respect."
Kruger spent considerable time during Saturday's practice working on the Rebels' offense against a 1-3-1 zone. Virginia Tech beat Oklahoma State 56-51 on Friday afternoon in an ugly defensive battle.
The Hokies were ranked in the Top 25 in both polls before getting whipped 73-57 at Kansas State, which now is ranked fourth, on Nov. 16.
"Our defense is a lot better," Delaney said. "For the most part, we've shut people down. We play defense, and we make it tough for people to score. That's how we win games."
Contact reporter Matt Youmans at myoumans@reviewjournal.com or 702-387-2907.
UNLV VS. VIRGINIA TECH
WHEN: 6 p.m. today
WHERE: Anaheim Convention Center, Anaheim, Calif.
TV/RADIO: ESPN2 (31), KWWN (1100 AM, 98.9 FM)
LINE: UNLV -1