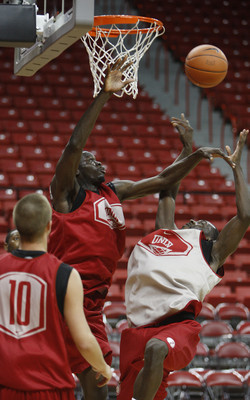 Any guy who answers to the nickname "Tree" is probably not tiny unless his friends have a sarcastic sense of humor. UNLV junior Emmanuel Adeife is 6 feet 10 inches tall, so his nickname fits.
And when it comes to humor, he gets it. He almost always is grinning.
"I like to laugh," said Adeife, whose favorite movie — "Dumb and Dumber" — tells something about his personality.
Junior guard Wink Adams finds Adeife's act amusing.
"He's one of our comedians. Off the court, he cracks jokes all day," Adams said. "When we're walking around campus, he'll just look at you and smile. You can't do nothing but laugh because you know he's thinking something."
On the serious side of things, the Rebels are more concerned about Adeife's ability to fill their giant hole in the middle.
With the graduation of five seniors, including centers Joel Anthony and Gaston Essengue, the UNLV basketball team has several job openings. The toughest position to fill is center, and there are only two candidates.
Adeife (pronounced a-deaf-E) is a transfer from Polk Junior College in Winter Haven, Fla. Matt Shaw, a 6-8 sophomore who scored 28 points in 21 games as a freshman, is the only other true post man.
Anthony and Essengue developed better than expected last season, combining to average 12.8 points and 9.1 rebounds per game.
Adeife and Shaw lack the experience and muscle of the two players they must replace.
"It is a concern," Rebels assistant coach Lew Hill said. "It's not going to be what it was last year right off the bat, but I think if they put the time and effort into it, they can come around quickly."
Adeife, from Fort Lauderdale, Fla., spent his freshman year at Houston but transferred because he didn't fit into a guard-oriented system. Every day since then he has worked to improve his offensive moves.
"I'd like to believe I've come a long way. I'm really improved offensively," he said. "I finish when they give it to me, and I offensive rebound like crazy, and that's my job.
"I'm going to dunk on people, run the floor, rebound, block shots and bring my fire to the team to get everybody pumped."
Hill and assistant coach Greg Grensing spend the most time instructing the big men, and they face a sizable challenge with Adeife.
"He does have a feel to score, but he doesn't have the right techniques," Hill said. "He can dunk the ball because he's long and athletic, but he doesn't have a go-to move yet if we throw it to him on the block. With time and work, he can develop that.
"Tree is energetic and he has a confidence about him which makes him be able to do some things."
UNLV coach Lon Kruger compares the 220-pound Adeife to Anthony, who was a slender 6-9 and 225 pounds when he arrived on campus and a muscular 255 when he left.
"I think there are a lot of similarities. Both are more comfortable blocking shots and rebounding than anything else, but I think Emmanuel is a little more offensive-minded than what Joel was in the beginning," Kruger said.
"Joel worked so hard at it. Joel was the best we've had in 30 years in terms of being driven and self-motivated. We kind of throw that out there as the standard."
As with most big talkers, listening is sometimes a weakness for Adeife, and Hill said that's a skill the center needs to practice.
"He's just got to listen a little more and really want it," Hill said. "If he does that, he could be a really special player one day."
In the meantime, Adeife will continue with his stand-up comedy.
"I like to pump my team up and make sure everybody feels loose and comfortable," he said. "On the side, why not tell a joke or two?"
• NOTE — The Rebels will hold their annual "Meet The Team" event, which is free and open to the public, at 9:30 a.m. Saturday at the Thomas & Mack Center. The team will scrimmage until 10:45 a.m.
Contact reporter Matt Youmans at myoumans@reviewjournal.com or (702) 387-2907.
UNLV Basketball