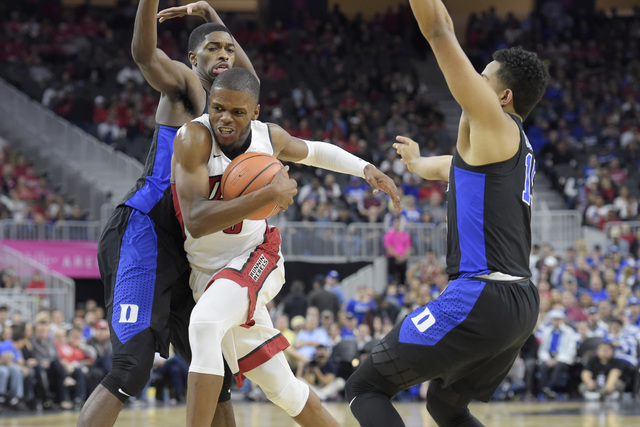 Even before the injuries removed Tyrell Green for most of last season, he had done little to suggest he would be an impact player.
It was that lost season, however, that drove Green in the offseason. Green not only was motivated to recover from back spasms, knee tendinitis and an injured hamstring, but to make sure when he did get back on the basketball court, he would be productive.
As the nonconference season nears a close, Green has accomplished those goals, becoming UNLV's most improved player and perhaps its best.
The 6-foot 7-inch senior forward is averaging 13.3 points and 6.4 rebounds entering Monday's 7 p.m. game against Southern Illinois at the Thomas & Mack Center.
"From when I first got here to now, he listens," UNLV first-year coach Marvin Menzies said. "He's got a lot of blemishes, and he's fixing them. He's paying attention to detail. He's been an active listener and learner. He's just being very coachable. When the kids get the knowledge and they already have the athleticism and the skills, they become better players, and he's doing that.
"I just have to pull him out when he gets a little tired because he hurts us on defense when he's playing tired. He's still shooting the ball well and playing within himself, rebounding, which is something he wasn't doing earlier and he's doing it now. So it will be a process, but he's one of those guys that I'm optimistic will be a really integral player for us in conference."
This game is a quick turnaround for the Rebels (6-5), who played Saturday night in Portland, Oregon, losing to Oregon 83-63. Southern Illinois (6-5), which last played Wednesday, has had more time to prepare.
"We've got 24 hours to get some knowledge in the guys' heads," Menzies said Saturday night. "That's, hopefully, one of the big advantages of having a charter (plane), so we can get home quickly and get the guys some scouting reports and go from there."
The Rebels, who are 3-point favorites, will need Green to continue his strong play.
He came through against the Ducks in the first half when the rest of his teammates were struggling offensively. Green scored 15 of the Rebels' 33 points, making a 3-pointer with two seconds left to bring UNLV within four points.
"I took (shots) in the flow of the offense," Green said. "That's how I play every game."
This is a much different season than last for him, when injuries limited Green to eight games, making his last appearance Dec. 22 against South Dakota. He averaged just 4.9 minutes, 1.8 points and 1.1 rebounds.
So in the offseason, he dropped 20 to 25 pounds to get down to 215 entering this season, with a body fat of 7 percent.
"I know the work that I've put in from the summer time," Green said. "At the end of the day, it's not about how well I play. All I care about is us winning."
Menzies said he didn't think this would be Green's final season playing basketball.
"He's got a good professional career ahead of him," Menzies said. "I think he'll make a lot of money for a while, maybe not in the NBA initially, but who knows down the road? He's got to keep grinding and getting better."
Contact Mark Anderson at manderson@reviewjournal.com or 702-387-2914. Follow @markanderson65 on Twitter.
UNLV vs. SOUTHERN ILLINOIS
When: 7 p.m. Monday
Where: Thomas & Mack Center
TV/Radio: UNLVRebels.com (online stream); KWWN (1100 AM, 100.9 FM)
Line: UNLV -3; total 144½