UCLA holds off Rebels in Maui Invitational
November 23, 2015 - 11:52 pm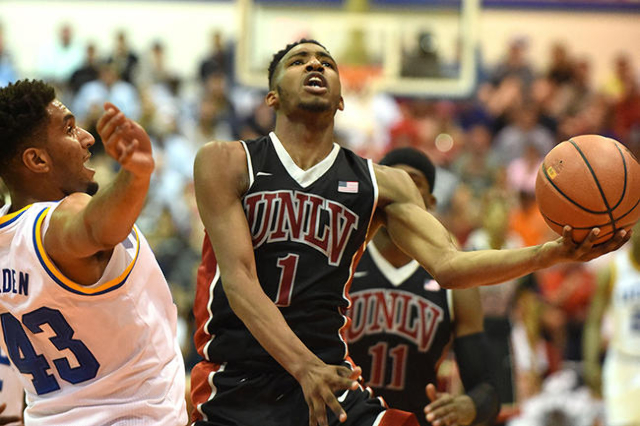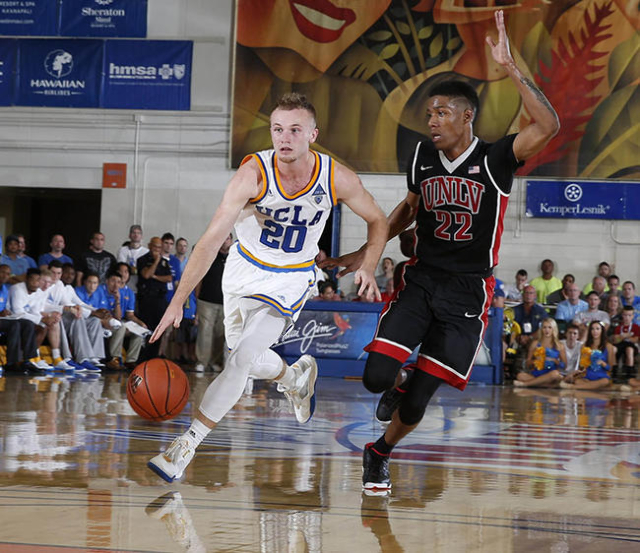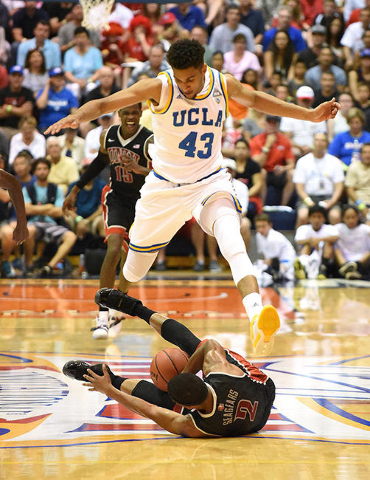 LAHAINA, Hawaii – When the game was about to slip away, Patrick McCaw got a grip and shot UNLV back into it.
When the game was on the line, Bryce Alford and Thomas Welsh helped put UCLA over the top.
Alford and Welsh scored 20 points apiece as the Bruins made more plays and more free throws late in a 77-75 victory over UNLV in the marquee game of the Maui Invitational on Monday night at the Lahaina Civic Center.
"We had some opportunities. We just came up short," McCaw said. "We showed we're a great team. I feel very confident about this team."
The Bruins (3-1) advanced to face Kansas, which crushed Division II Chaminade 123-72. The Rebels (3-1) play the Silverswords in the loser's bracket at 1:30 p.m. PT today on ESPN2.
Vanderbilt and Wake Forest also were winners, with the Demon Deacons pulling off an upset of Indiana.
Aaron Holiday had 18 points and made all eight of his free throws for UCLA. Isaac Hamilton struck biggest blow of the game from long range, a 3-pointer that put the Bruins ahead 67-65 with 3:20 remaining.
McCaw's 20 points paced UNLV. He hit 3 of 10 3-pointers, his last one dropping in the final seconds. Stephen Zimmerman Jr., the Rebels' 7-foot freshman, played through an illness that sapped some of his energy yet finished with 10 points and 13 rebounds.
"I'm not super sick," Zimmerman said. "I'm good enough to try to create for my team and produce. I don't think it affected me too much."
Jerome Seagears finished with 12 points, and Ben Carter totaled seven points and seven rebounds in the loss. With the Bruins threatening to pull away, the Rebels answered with a rally and cut their deficit to 54-52 on a 3-pointer by Derrick Jones Jr. with 12:17 remaining.
Zimmerman fought for an offensive rebound and hit a free throw to pull UNLV within 56-55 at the 10-minute mark. McCaw scored five consecutive points on a layup and a 3-pointer as the Rebels surged ahead 62-58 and riled up the announced crowd of 2,400 with 8:32 to play.
But Alford made two free throws, and Tony Parker's putback tied the score at the 7:12 mark. Seagears' 3-pointer gave the lead back to the Rebels, and the teams continued to trade punches down the stretch.
Welsh, a 7-foot sophomore, shot 9 of 12 from the field, scoring around the rim and sinking baseline jumpers. The Bruins essentially spent the night without their second-best player. Parker, a 6-9 senior, picked up his fourth foul 19 seconds into the second half. Parker returned with nine minutes to go, and his next shot was swatted away by Zimmerman.
Perimeter shooting was not the Rebels' strong suit, but they made enough 3s (9 of 29) to hang within striking distance.
The Rebels' pressure made an immediate impact. McCaw opened the scoring with a steal and layup. After another Bruins turnover, Zimmerman was fouled and made two free throws. Seagears sank a 3 from the top and Zimmerman hit a 3 from the corner to stretch UNLV's lead to 14-7 at the 15:55 mark.
But the momentum shifted when UCLA coach Steve Alford countered by putting his team in a 3-2 zone that turned the Rebels' half-court offense into a disorganized fire drill. Bryce Alford drove and dropped in a short bank shot, and Hamilton's fast-break layup put the Bruins ahead for the first time, 21-20, with 9:22 remaining.
"We extended (the zone) a little bit and made them take some 22- and 23-foot shots, and that slowed them down," Steve Alford said. "They gave us a pretty good punch to start the game. We took a really good shot from a really good team.
"That was intense basketball game. I think UNLV is really good. It's not so much a statement in the West to me. It's a good feeling as a coach because we're getting better, and we were able to hang in there and get a win. This was a big test for us."
Bryce Alford, fouled 60 feet from the basket while dribbling through the press, made two free throws to put UCLA up 31-22. Ike Nwamu's 3-pointer with 3:52 left finally stopped a six-minute field-goal drought for UNLV.
"We went through a stretch where we didn't execute against their zone," Rebels coach Dave Rice said. "We showed flashes of what we're going to be. For large portions of the game, we played terrific basketball."
The Bruins took control of the game despite the absence of Parker, who was forced to the bench early with three fouls and was scoreless in the half. Parker averaged 16.7 points and 16.0 rebounds in the first three games.
The Rebels committed 11 turnovers in the first 20 minutes, and the Bruins shot 47 percent (15 of 32) from the field. Still, free-throw shooting ended up being the deciding factor, and UCLA was nearly flawless by hitting 23 of 24 at the line.
"You can make an argument that's what won us the game," said Bryce Alford, who made 9 of 10 free throws.
Contact reporter Matt Youmans at myoumans@reviewjournal.com or 702-387-2907. Follow him on Twitter: @mattyoumans247
Check our GameDay page for full coverage of the UNLV-UCLA game.