UNLV announces Chris Beard as basketball coach, but his introduction will have to wait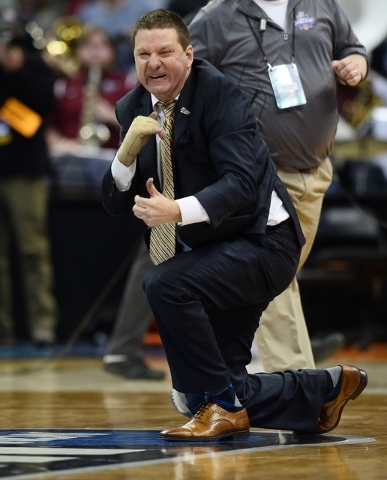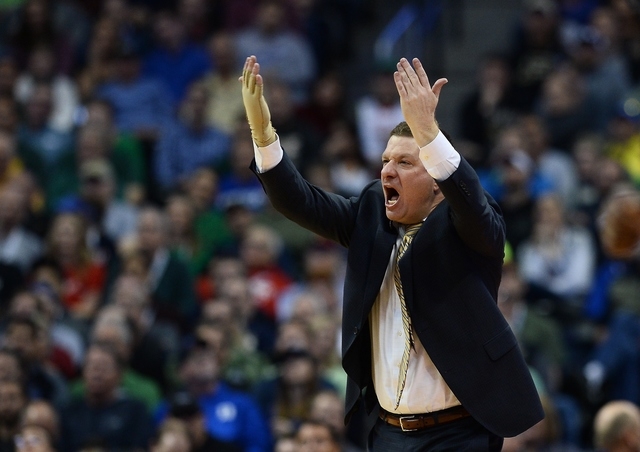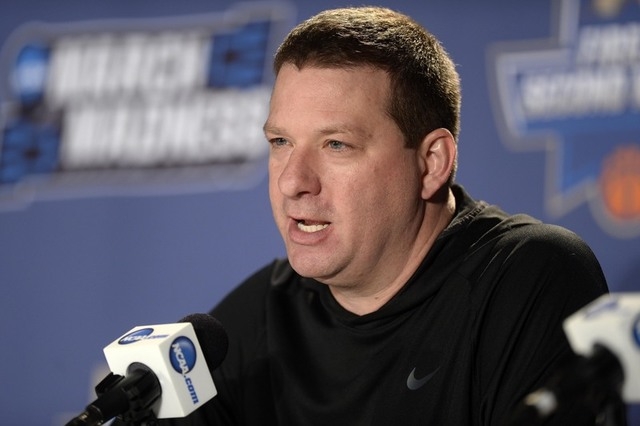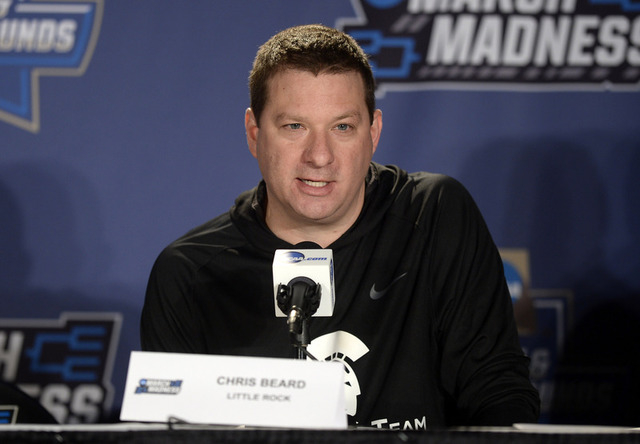 UNLV athletic director Tina Kunzer-Murphy can't wait to share new coach Chris Beard with the world.
Or at least the UNLV basketball world.
But she wants the process to play out first, which means finalizing the contract through the legal process and getting it approved by the University of Nevada Board of Regents, which likely will be Tuesday or Wednesday of next week.
And then UNLV will formally introduce Beard in a news conference.
"I think Chris Beard is a very special coach," Kunzer-Murphy said. "He's very intense. He's a self-described grinder. He's tough, hardworking, low key, but very intent on focusing on the main thing, and the main thing is his team."
UNLV officially announced Monday the hiring of Beard, who was the coach at Arkansas-Little Rock, but terms of the contract were not released. The contract is expected to be made public today once it gets in the regents' hands.
The deal, which was agreed to in principle on Sunday, is expected to be for five years with a salary in the range of $900,000 to $1 million, according to sources familiar with the numbers.
"I trust our athletic director and our president, who were hired to handle such matters, will bring a responsible financial package and show how they're going to pay for it," regent Trevor Hayes said.
According to Beard's Little Rock contract, UNLV will pay that school a buyout of $100,000 each of the next two years. His deal with the Trojans also includes a provision, according to the Arkansas Democrat-Gazette, that the school he leaves for must schedule a home-and-home with Little Rock. It's questionable whether such an item can be enforced or whether the Trojans would even want to try.
Beard, 43, led Little Rock to a 30-5 record and into the second round of the NCAA Tournament. He was named Sun Belt Conference Coach of the Year after engineering a 17-victory turnaround in his one season at the school.
"Chris is a high-character coach and proven winner with a clear vision for building a successful program on the court and in the classroom at UNLV," university president Len Jessup said in a statement. "He is one of the rising head coaches in the sport, and we're confident he's the right person to lead our program and continue the proud, winning tradition of Runnin' Rebel basketball."
Beard spent 10 seasons as an assistant coach at Texas Tech, including seven under Hall of Famer Bob Knight. He became a head coach in 2011, leading the South Carolina Warriors 31-2 record and the American Basketball Association finals.
The following season, Beard went 19-10 at Division II McMurry, before leaving for Angelo State. He led that D-II school to a 47-15 record in his two seasons there.
Beard got his Division I head coaching opportunity at Arkansas-Little Rock last season and made the most of it.
"When you're at some of these places, you do everything," Kunzer-Murphy said. "You're the head coach, you're the AD, you're the equipment guy, you're the trainer. He's seen our facilities, and he knows how special Runnin' Rebel basketball can be. He's a winner, he's been a head coach, and we believe he's going to be one who gets Runnin' Rebels back on track."
He got Little Rock on track, taking the Trojans to the NCAA Tournament for the first time in five years.
"We are appreciative of Coach Beard and his team's incredible list of accomplishments this season," Little Rock athletic director Chasse Conque said in a statement. "While Chris spent just one season in Little Rock, our program is better for his service to the University. We wish Coach Beard nothing but the best at Nevada-Las Vegas."
Chris Beard has stepped down as @LittleRockMBB head coach. https://t.co/oakgZZ8chj

— Little Rock Trojans (@LRTrojans) March 28, 2016
Beard met with UNLV's players on Monday night after arriving from Little Rock, his first chance to try to recruit his own team to stay. He also will have decisions on whether to retain assistants Stacey Augmon and Ryan Miller.
Beard still must wait to officially get to work, and Kunzer-Murphy is excited for him to get started.
"His focus is on his team," Kunzer-Murphy said. "From the time we started talking to him, it was clear what was really important to him. We liked his style. I think the people of Las Vegas will really embrace him and enjoy watching his teams play hard. We talked about how important that is for our Rebels to play hard, and I'm looking forward to see how that dynamic changes here as soon as he is in a position to take over the program."
Contact Mark Anderson at manderson@reviewjournal.com or 702-387-2914. Follow him on Twitter: @markanderson65
RELATED
UNLV picks Beard as new basketball coach
Mick Cronin spurns UNLV, stays at Cincinnati