UNLV basketball coach Chris Beard to get 5-year contract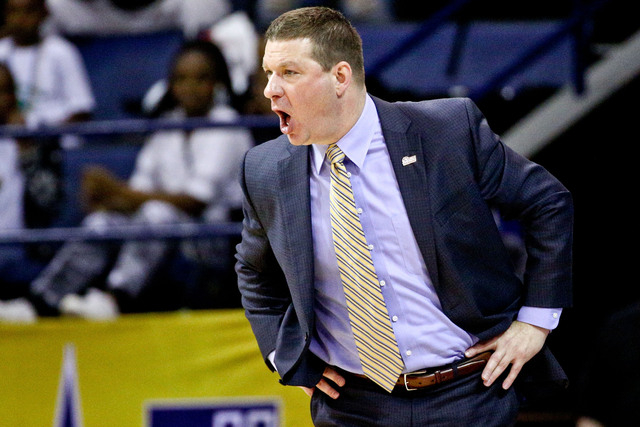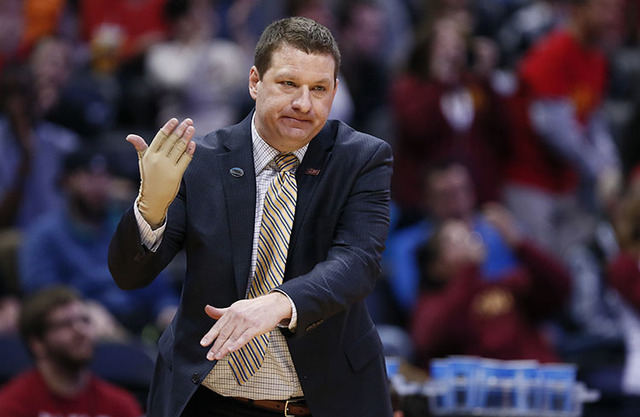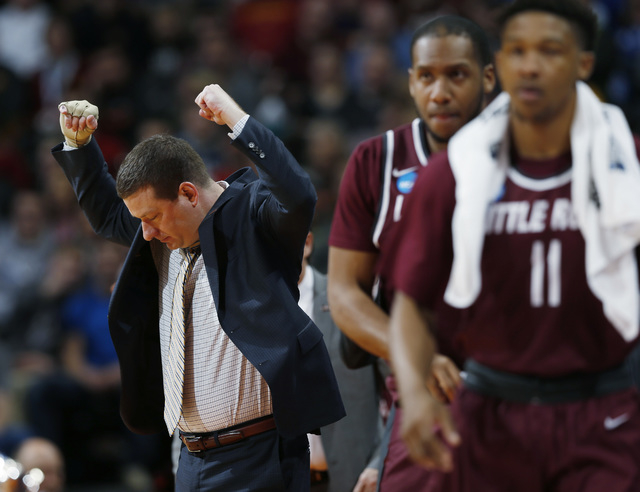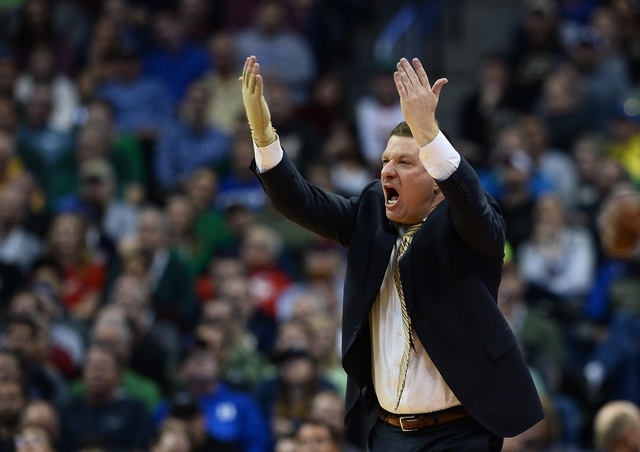 As of Monday, Chris Beard's contract and immediate future is in the hands of the regents, as is the state of the UNLV basketball program and perhaps the way the state will conduct business as it relates to big-time athletics.
The University of Nevada Board of Regents has increased control of how coaches are hired, and it will decide at a special meeting at noon Friday whether to approve Beard's five-year contract to become the Rebels' next coach.
If the deal is approved, Beard will receive at least $900,000 ($400,000 in base pay and $500,000 for TV and radio commitments) next season, with his minimum salary slowly rising to at least $1.2 million by 2020-21.
"I can't wait until Friday," UNLV athletic director Tina Kunzer-Murphy said. "I am very respectful of the process that we were going through, and looking forward to Friday at noon where we'll be meeting with the Board of Regents and presenting them with the contract and (them) getting a chance to meet Coach Beard."
The meeting is at the Nevada System of Higher Education board room at 4300 S. Maryland Pkwy. UNLV hopes to call a news conference following the meeting to formally introduce Beard.
He is set to earn quite a bit more than UNR's Eric Musselman, who last year signed a five-year deal at $400,000 annually, not including bonuses. Those close to UNLV's contract talks argue some of the numbers of Beard's contract make the deals closer in cost than they appear at first glance. Regents voted unanimously for Musselman's contract.
Whether they will be so united in approving Beard's more lucrative deal is the key question, and UNLV could encounter some resistance, most notably from chairman Rick Trachok, who has been vocal in his oppositi0n to high coaches' salaries. But the regents likely know that voting down Beard's deal would be a huge political risk that would greatly damage the university system's reputation and make it more difficult for UNLV and UNR to hire quality coaches in the future.
Here is what the regents will consider:
* In 2016-17, Beard would earn between $900,000 and $1.1 million. Of that potential total is up to a $100,000 bonus if revenue from ticket sales reaches at least $3.4 million, which didn't occur in four of the past 10 seasons. Musselman can receive up to $500,000 with a trigger at $1.2 million.
* In 2017-18, Beard would between $950,000 and $1.2 million.
* In 2018-19, his salary range is between $1.3 million and $1.5 million. That is because a $300,000 retention bonus kicks in.
* In 2019-20, Beard can make between $1.4 million and $1.7 million. His ticket-revenue bonus rises to as much as $200,000, but the trigger also increases to $3.6 million.
* In 2020-21, his salary range is $1.2 million to $1.5 million because the retention bonus drops to $100,000.
Should Beard leave within two years, UNLV would be owed a $1 million buyout. It is $750,000 by the end of the fourth year, and then any departure following that time is what remains his base pay. If Musselman leaves after next season, he owes $250,000 plus the remainder of his $300,000 annual base salary. After July 1, 2017, UNR would be owed just the remains of his base pay.
If UNLV fires Beard, it will owe him his remaining base pay — $400,000 for each of the first three seasons and $500,000 over the final two. But the contract has a stipulation that Beard would need to look for other employment, and should he find another job that is basketball related, UNLV would pay him only the difference between his base pay and his new salary.
UNR would owe Musselman the remainder of his base pay if he was fired.
Beard, 43, was hired after one season at Arkansas-Little Rock, where he went 30-5 and made the second round of the NCAA Tournament.
Contact Mark Anderson at manderson@reviewjournal.com or 702-387-2914. Follow him on Twitter: @markanderson65
RELATED
Nevada regents still reviewing Chris Beard's contract
UNLV announces Chris Beard as basketball coach, but his introduction will have to wait
With UNLV contract awaiting approval, Chris Beard briefly talks Rebel basketball
New UNLV coach Chris Beard attempts to keep players on roster
Stacey Augmon, Ryan Miller in limbo after meeting with new UNLV coach Chris Beard