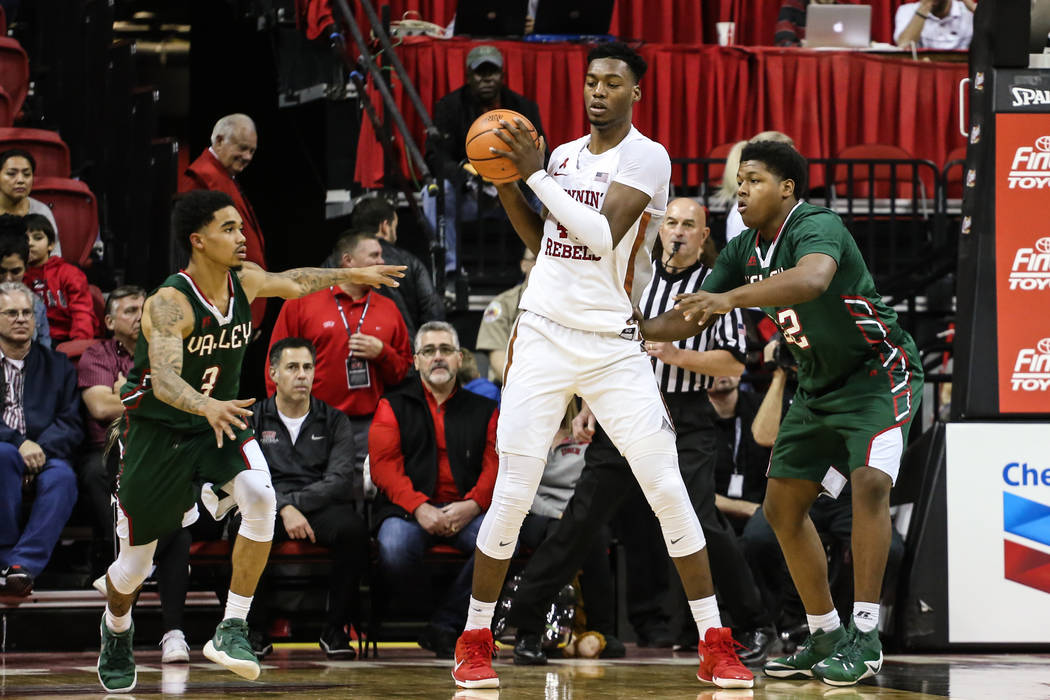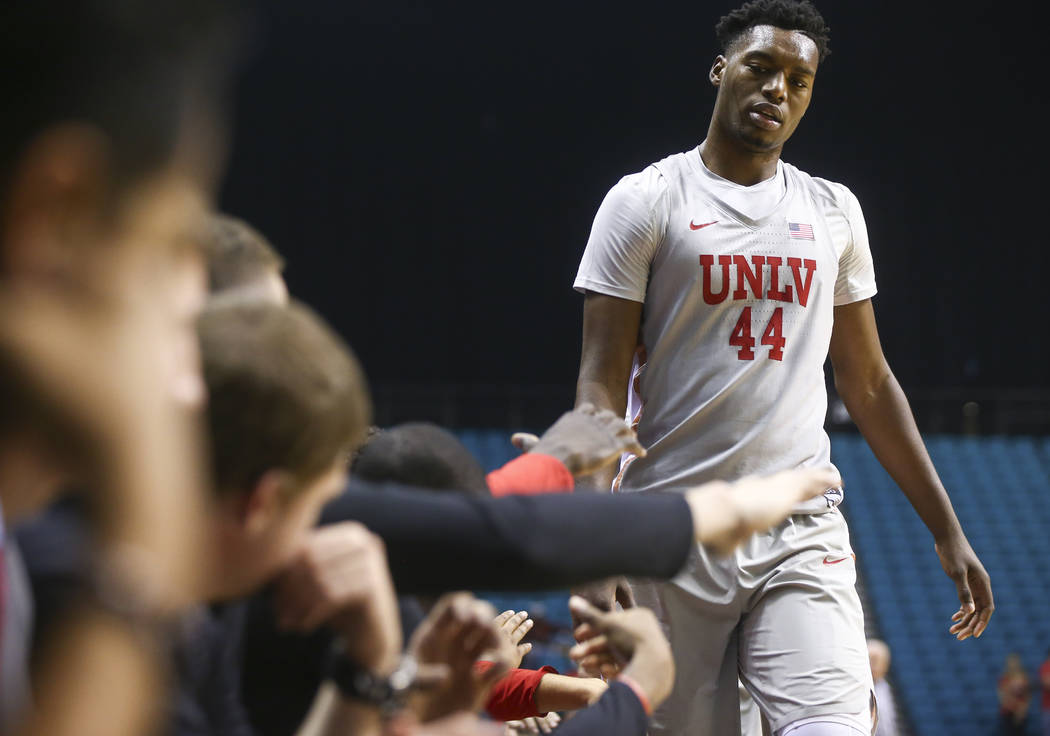 The stereotype — in many cases, the reality — regarding potential one-and-done players is they show up at a university to play basketball and do the minimum to remain academically eligible.
Not for UNLV freshman 7-footer Brandon McCoy, a McDonald's All-American who, even if he is months from declaring for the NBA draft, showed he is just as interested in being a student as an athlete.
McCoy earned a 3.34 GPA in the fall semester.
3.34 my first semester in college

— Brandon McCoy (@flyguyfreddyy) December 30, 2017
"It was a really big deal making my mom smile," McCoy said. "She always wanted me to get a 4.0, though, so it's always I've got to get better in everything. I thought college was going to be way harder, but I've got a good support system that helps us a lot off the court with the schoolwork."
McCoy was part of an overall strong semester for UNLV's team, which achieved a 3.1 GPA, just its second 3.0 or higher in the past 15 years.
UNLV is off this weekend, its second and final bye week of the Mountain West season. The Rebels (13-4, 2-2 MW) return to the court at 7 p.m. Wednesday to face New Mexico at the Thomas &Mack Center.
They are still trying to rediscover their early season spark but did win 81-76 at Air Force on Wednesday, the Rebels' first victory there in four years.
Those results — the win-loss record and not the GPA — draw fans' interest the most, and UNLV coach Marvin Menzies is well aware of that.
"I get it," he said. "There's another group of fans that care we have all the components in the program. Academics is right in line with citizenship and their play on the floor."
Menzies said a player's commitment to education is relevant to play on the floor, so it's a factor he considers when evaluating recruits.
"If you think about it, a kid who's a good student, there are usually some other things that go in line with that," Menzies said. "I think as you look forward to growing the program from where we took over to where we are now, we've got make sure all the guys have certain things. They've got to place some value into certain areas that I place value into as we move the foundation forward."
McCoy was a heavily recruited player, choosing the Rebels over Oregon, Arizona, Michigan State and San Diego State. He could have been a borderline student and still ended up at almost any school of his choosing.
But education was important in his household. His mother, Mildred Davis, is a retired Army master sergeant who is working on her second master's degree.
McCoy graduated from Cathedral Catholic High School in San Diego with about a 3.5 GPA. "School has come pretty easy," he said.
And fun. Last semester, he took History of Rock 'n' Roll, which was especially enjoyable for McCoy, a music buff who plays five instruments. On the other end of the spectrum was an Urban Studies course that tested his patience for writing.
"We had a 20-page paper," McCoy said. "I never wrote that many pages in my life."
Contact Mark Anderson at manderson@reviewjournal.com. Follow @markanderson65 on Twitter.
UNLV's remaining schedule
Wednesday, New Mexico, 7 p.m.
Saturday, at Colorado State, 2 p.m.
Jan. 23, at Fresno State, 8 p.m.
Jan. 27, San Diego State, 7 p.m.
Jan. 31, San Jose State, 8 p.m.
Feb. 3, at Boise State, 5 p.m.
Feb. 7, at UNR, 8 p.m.
Feb. 10, Wyoming, 5 p.m.
Feb. 14, Air Force, 7 p.m.
Feb. 17, at San Diego State, 1 p.m.
Feb. 21, Fresno State, 7 p.m.
Feb. 25, at New Mexico, 11 a.m.
Feb. 28, UNR, 8 p.m.
March 3, at Utah State, 6 p.m.
All times Pacific. All home games at the Thomas & Mack Center.