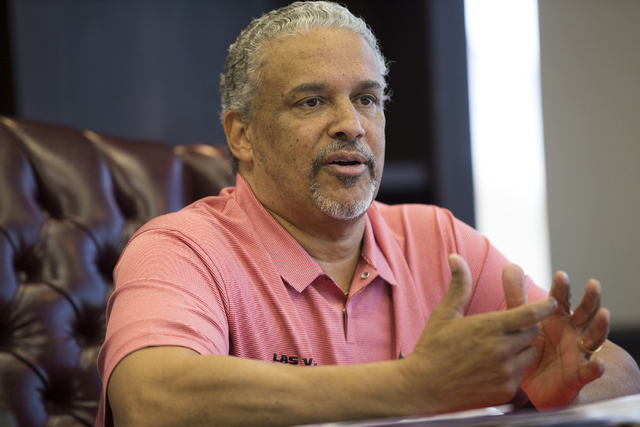 Jovan Mooring led the nation in scoring with 26.6 points per game last season at the National Junior College Athletic Association Division II level.
The 6-foot-2-inch guard from South Suburban (Community) College, located near Chicago, will get the chance to prove himself at the NCAA Division I level next season after signing a financial aid agreement Wednesday with UNLV.
"I think we got a kid who has kind of come into his own as far as his own personal path to development," Rebels coach Marvin Menzies said. "He's at a place where he can contribute at a high level to any program recruiting him. We feel pretty fortunate to land a player of his potential this late in the process."
Mooring, who will enter UNLV as a junior, was named the Spalding NJCAA Division II Player of the Year after leading his team to a 34-4 record and third-place finish at the NJCAA DII Championships. He averaged 28 points in four games en route to earning tournament Most Valuable Player honors.
Mooring scored 41 points in the third-place game, one of four 40-point games last season, and averaged a team-leading 6.2 rebounds, 3.8 assists and 3.0 steals. He shot 77.5 percent from the free-throw line (203-for-262) and 36.7 percent from 3-point range (99-for-270).
A solid defender who can play both guard positions, Mooring is one of several proven scorers signed by Menzies, who has added nine players to the roster since his five-year contract was approved April 22 by the University of Nevada Board of Regents.
"Obviously you want guys to put the ball in the bucket," Menzies said. "At this level, they're probably going to be defended different than how they have in the past, but at least it's a good starting place.
"They still have to be coached up and developed to get better, but you're working with good pieces of clay to mold."
Mooring, who still needs to qualify academically at UNLV, also attracted interest from Minnesota, Utah State, Memphis and Wisconsin-Milwaukee, where Rebels assistant coach Rob Jeter was head coach the past 11 seasons.
After teams tried to slow Mooring with a box-and-one defense in the playoffs in March, the Country Club Hills, Illinois, native told the Chicago Tribune he really doesn't care about points.
"Anyone who knows me knows I'm a winner. I'll take two points and a win any day. Teams can box-and-two me if they want, as long as we win," he said. "I know as the levels go up, you have to be able to do more than just one thing. I don't want to just be a scorer. I've learned to defend better, see the floor a lot better, and I've learned the small things in the game."
Menzies said he expects Mooring to make an immediate impact.
"He is an experienced, high-level guard that will be able to bring a lot to the table immediately," Menzies said. "I've said before it is critical that we bring in players that fill certain requirements that fit into our overall plan. Jovan checks all of the boxes for us in that regard."
South Suburban coach John Pigatti said he's really happy for Mooring, who was recruited by Akron and Miami (Ohio) out of Hillcrest High School near Chicago.
"He found the 'student' part of the student-athlete late in his career and really worked hard to be in a position to be able to play at the next level. I am honored for him to be able to play at a place like UNLV," Pigatti said. "He is a prolific scorer, can play multiple positions, is very coachable and will be a joy for the fans to watch because of how hard he plays on both the offensive and defensive ends of the floor."
Contact reporter Todd Dewey at tdewey@reviewjournal.com or 702-383-0354. Follow him on Twitter: @tdewey33