UNLV blown out by Bucknell in Hawaii tournament, 97-72
Updated December 25, 2018 - 6:29 pm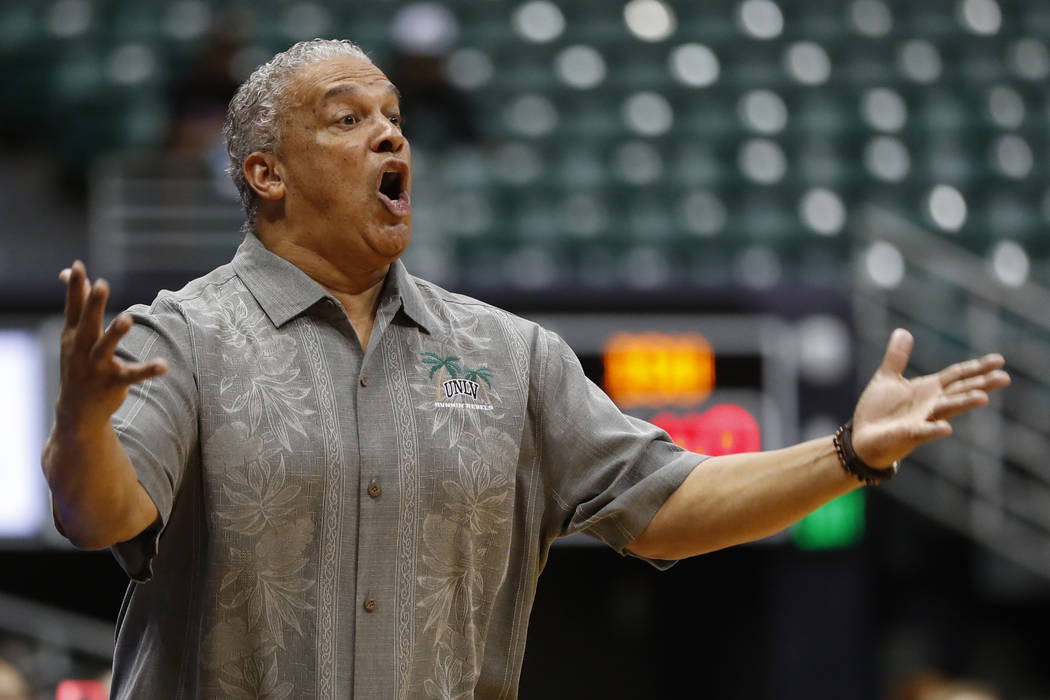 So much for taking momentum into Mountain West play.
UNLV closed nonconference play by getting blown out by Bucknell on Tuesday, trailing the entire way in a 97-72 loss in the third-place game of the Diamond Head Classic in Honolulu.
Bucknell — a 6-6 team that has losses to Fairfield, Canisius and Northeastern — made 57.8 percent of its shots, including 56 percent from 3-point range, at Stan Sheriff Center.
"We're not treating this like it's an aberration and a one-time thing," UNLV coach Marvin Menzies said. "It was the perfect tropical storm, so to speak. We're going to approach it from the basketball side of things and go through it and look at each possession to figure out what happened. Where were the missed assignments? Who made them? Why did they make them?
"We're going to teach and educate because this is a better team than we showed, and Bucknell is a better team. They were the best they've been all season."
The Rebels (6-6) now move on to conference play, with Colorado State visiting the Thomas & Mack Center on Jan. 2. That will be UNLV's first home game since a 65-61 loss to Cincinnati on Dec. 1.
UNLV never led in its final two games in the Diamond Head. The Rebels were beaten 84-79 by Indiana State on Sunday, and against Bucknell, they trailed by 36 points with 6:18 left.
"Once it started pouring, it started flooding," Menzies said. "I felt like I was grasping for straws trying to plug the dam. I had no answers — personnel answers, timeout answers, bark-at-the-ref answers. I had nothing. I threw everything at them but the kitchen sink and could not find a rhythm for our guys. Player-led teams find a way to do that. We're not player-led yet, which concerns me at this point."
Joel Ntambwe led the Rebels with 13 points, but he made only 4 of 17 shots. Amauri Hardy was the only other Rebel in double figures with 12 points.
UNLV made 38 percent of its shots, including 16 percent (4 of 25) on 3-pointers.
Six players scored in double digits to lead a balanced scoring attack for the Bison. Kimbal Mackenzie led Bucknell with 16 points.
Contact Mark Anderson at manderson@reviewjournal.com. Follow @markanderson65 on Twitter.