UNLV coach Marvin Menzies' contract reveals he will make less than Chris Beard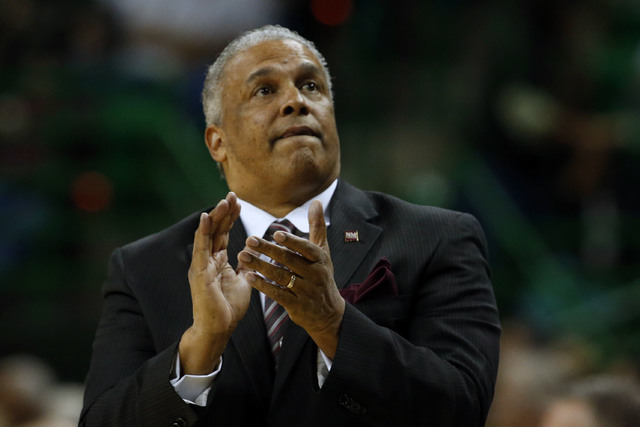 UNLV is more than coming out ahead for watching Chris Beard go to Texas Tech.
The university receives a $1 million buyout, and UNLV agreed to a five-year contract with new UNLV men's basketball coach Marvin Menzies that pays $700,000 in guaranteed money each of the first three seasons and $800,000 over the final two.
That's according to the deal that was posted on the Nevada System of Higher Education website Monday. The deal also was added to the agenda of the University of Nevada Board of Regents special meeting, which is at 9 a.m. Friday. Menzies' contract is the first business item on the agenda.
UNLV athletic director Tina Kunzer-Murphy said she did not want to comment on the contract until the regents meet. Menzies is not being made available to the media until then.
Beard, who left Friday for Texas Tech after only officially a week on the job, had agreed to a five-year contract worth at least $900,000 next season with the minimum rising to $1.4 million by the fourth year.
The contract for Menzies contains ticket revenue and postseason incentives. He made an annual salary of about $391,000 at New Mexico State.
Menzies can earn up to $200,000 each of the first three seasons at UNLV if ticket revenue hits $3.6 million. That financial figures increases to a maximum of $250,000 each of the final two seasons.
A Mountain West regular-season or tournament championship would get him another $30,000. Menzies also makes $15,000 for each round of the NCAA Tournament the Rebels advance to or $5,000 for each round of the National Invitation Tournament.
Should UNLV win a national championship, Menzies would receive a $60,000 bonus.
His buyout in the first year is $500,000 plus remaining base pay, for the second year is $250,000 plus remaining base pay, and then only remaining base pay following that time. Unlike the Beard contract, there are no retention bonuses.
Menzies, who agreed to the deal Saturday, arrived in Las Vegas on Monday morning and was meeting with players while awaiting the regents meeting.
Sources said Dwayne Morgan and Jalen Poyser, who announced they were leaving the program this spring, looked more likely to stay, but neither player has made an announcement.
Ben Carter is a graduate who could transfer and play right away. He plans to visit Arizona, Arizona State, Miami, Michigan State and North Carolina State, but the Bishop Gorman High School product also is considering remaining at UNLV.
"Ben's a winner, and he wants to play for a winner," said Carter's dad, Mike. "If (UNLV) puts together a team that can make the (NCAA) Tournament, then so be it. It's ultimately up to him."
The Rebels won't get Derrick Jones Jr. back. He hired Anthony Turner as his agent Monday, according to ESPN, ending any chance of returning. But Jones' chances of going back to the Rebels were slim because his eligibility has been in question after having his American College Test score vacated in early March.
Another former Rebel, Stephen Zimmerman Jr., signed with the Wasserman agency on Monday. He is expected to be a first-round draft pick and wasn't expected back anyway.
Menzies would love to keep UNLV's recruiting class together. Jaylen Fisher and Justin Jackson continue to list themselves on their Twitter accounts as UNLV commitments, and Findlay Prep's Carlos Johnson is still strongly considering the Rebels even though he reopened his recruiting.
Contact Mark Anderson at manderson@reviewjournal.com or 702-387-2914. Follow him on Twitter: @markanderson65
RELATED
New UNLV coach Marvin Menzies has to play catch-up in recruiting
Here's what people are saying about new UNLV coach Marvin Menzies
UNLV announces hiring of Marvin Menzies as basketball coach
Coaching mentors applaud UNLV's hiring of Marvin Menzies