UNLV crushes West Coast Baptist 112-54 in exhibition game
Updated October 25, 2019 - 11:42 pm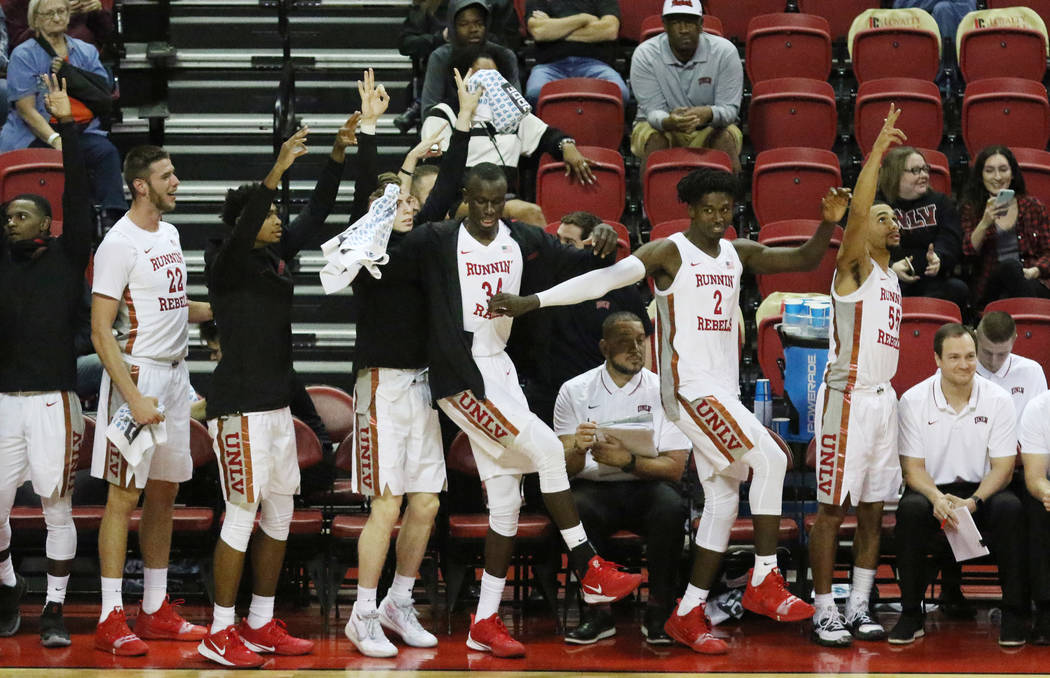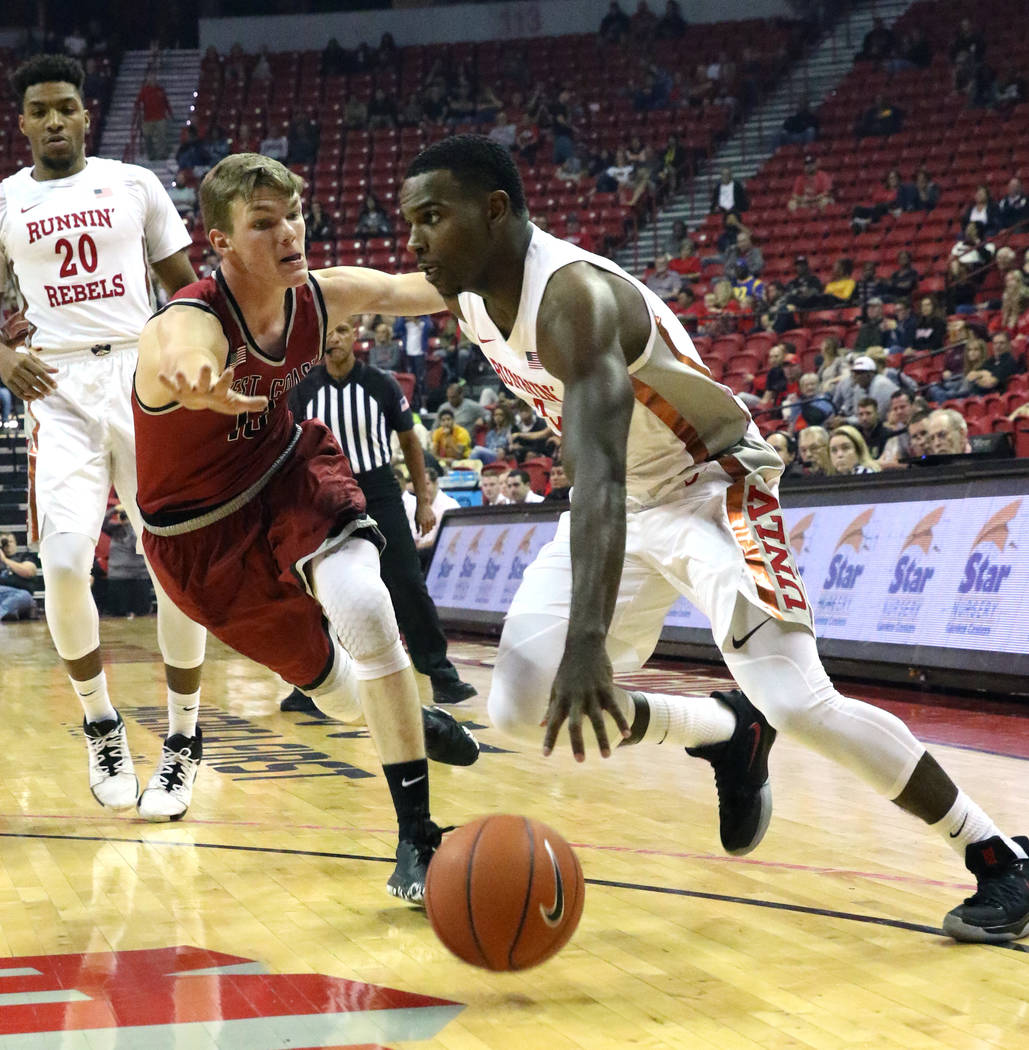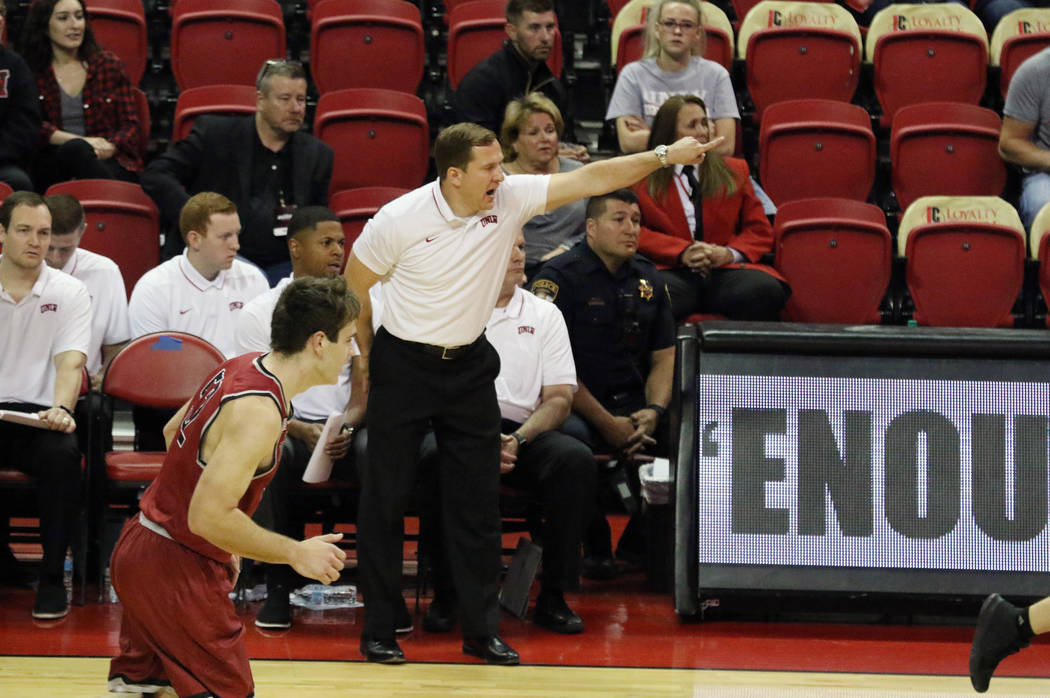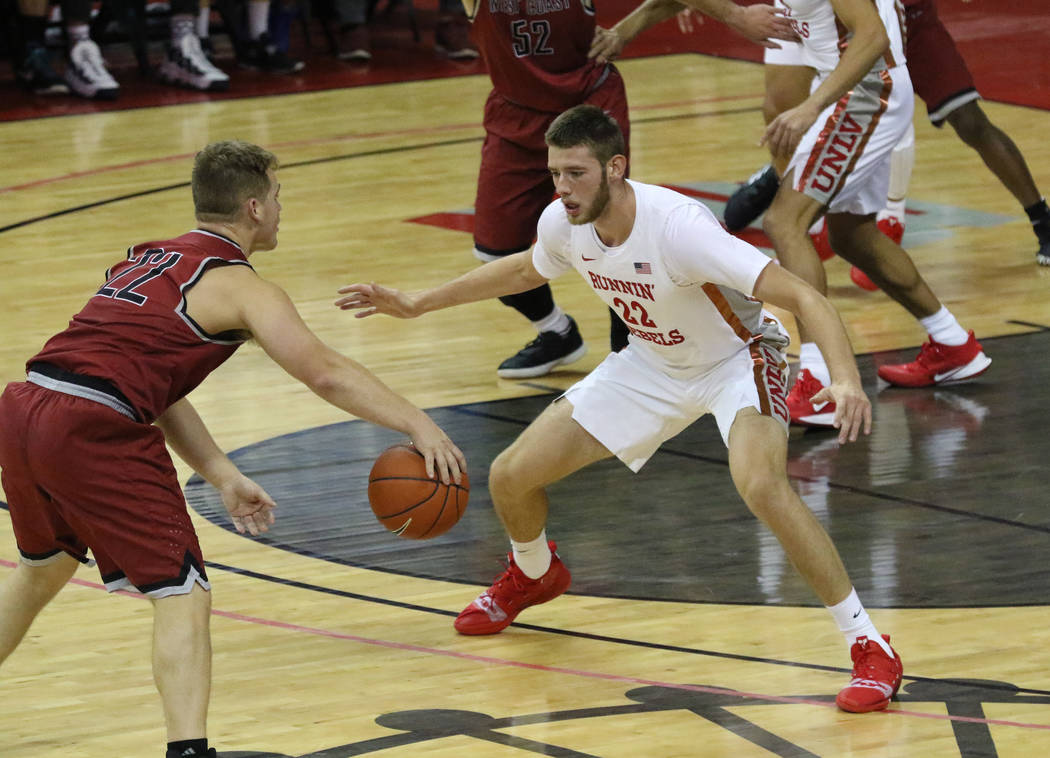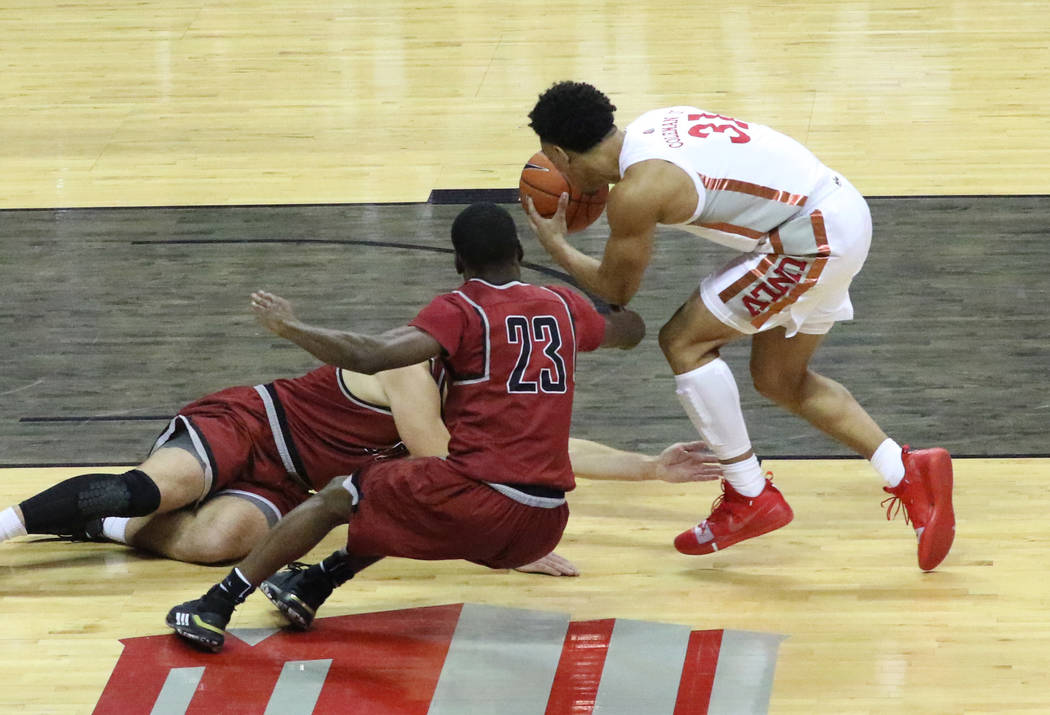 UNLV took command so quickly Friday night that Jonah Antonio went into halftime having outscored West Coast Baptist by himself.
Antonio finished with 23 points and nine rebounds to lead the Rebels to a 112-54 exhibition beatdown of the Eagles before about 1,500 fans at the Thomas &Mack Center.
He made 7 of 11 3-pointers overall and had 20 points by halftime as UNLV led 57-16. Antonio credited guards Elijah Mitrou-Long and Amauri Hardy, who combined for 18 assists.
"They'll find me," Antonio said. "My job is to be ready to shoot and knock down shots."
Teammate Mbacke Diong had 19 points and eight rebounds, and four other Rebels also scored in double figures.
This was the way new coach T.J. Otzelberger wanted to debut his team, and the season begins for real Nov. 5 when Purdue-Fort Wayne visits the Mack.
Here are three takeaways:
1. The Rebels are indeed runnin' again.
Previous UNLV coaches have promised an up-tempo attack only to often settle into halfcourt games. No question, the Rebels will have nights when the opponent dictates such a pace, but they showed in this game anyway they will run at every opportunity.
Rebounds quickly turned into outlet passes, and the ball moved quickly down the court.
That was expected under Otzelberger, who ran a similar scheme at South Dakota State the previous three seasons.
"You saw some signs of what it could be tonight, and it's something we need to continue to emphasize," he said. "We need to be the team that's in the best shape mentally and physically, and our guys have really bought into that. So if we continue with that mindset, I think the pace and the flow will be even better with games to come."
2. Hardy was a spark off the bench.
Bryce Hamilton started over Hardy, which was a little bit of a surprise. Hardy started 19 games last season, and Hamilton didn't make the opening lineup once.
Hardy, though, thrived as the first player off the bench, registering 14 points, 10 assists and no turnovers.
"I just came in and played with energy and had fun," Hardy said. "Everybody played, and I'm enjoying this win right now."
Otzelberger, who called Hardy "an elite playmaker," said his starting lineup will change throughout the season.
"To me, once you get in a game, how do you respond and how to do you play?" Otzelberger said. "I'm really excited about Amauri's energy and how he shared the ball."
3. The midrange jumper is a thing of the past.
Otzelberger will discuss in detail why analytics say the midrange shot is a bad one to take, and his players have listened.
They took just three such shots, instead focusing on shooting 3-pointers or baskets at or near the rim.
Otzelberger chuckled when asked about going away from midrange shots.
"I am a little bit of a numbers guy, but I think overall our guys did a great job," he said. "I think our team is highly successful when we can have a stubborn mentality to get into the paint, and I trust our players. Their judgment and decision-making is tremendous."
Contact reporter Mark Anderson at manderson@reviewjournal.com. Follow @markanderson65 on Twitter.