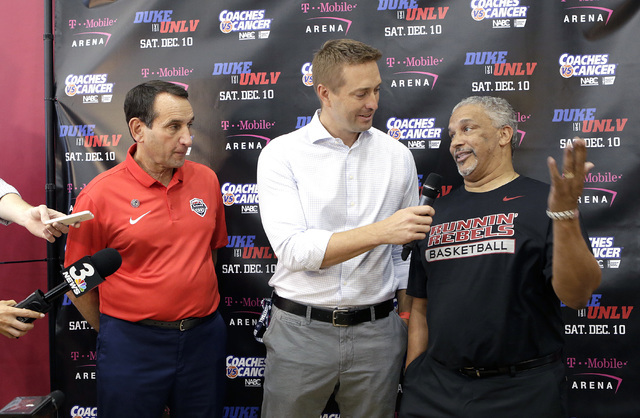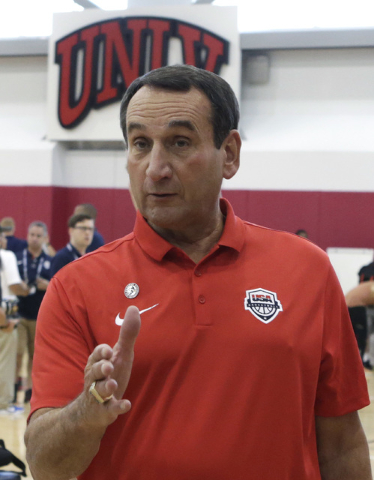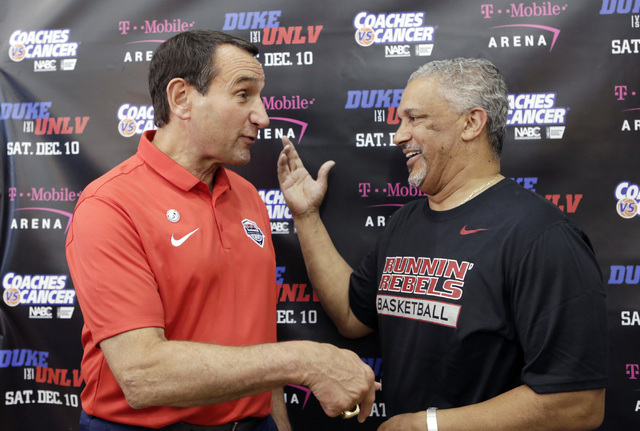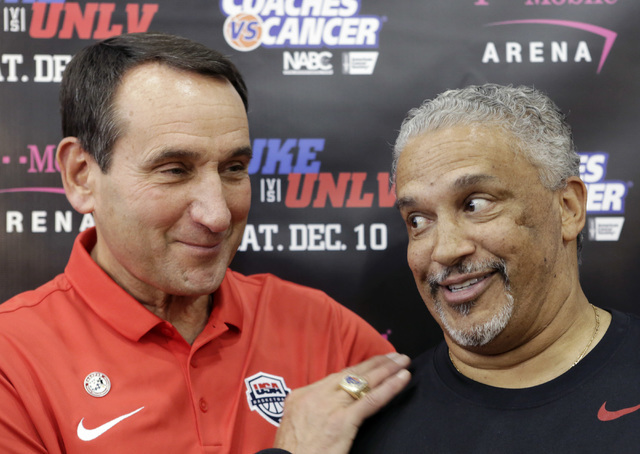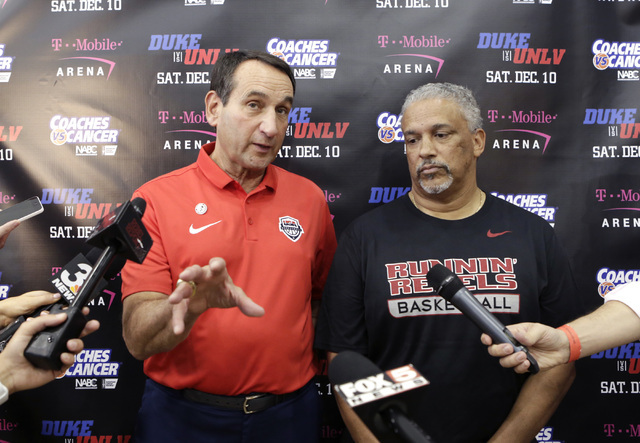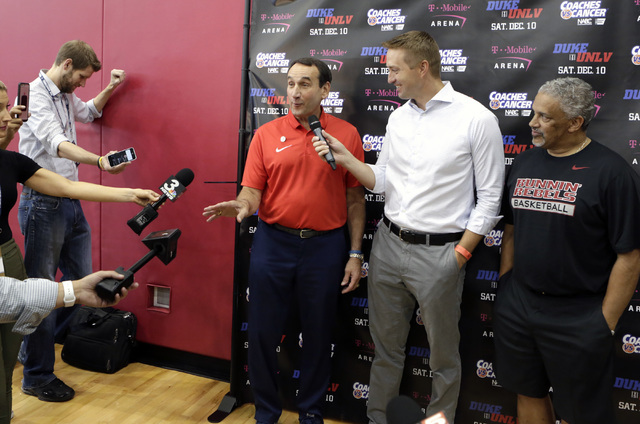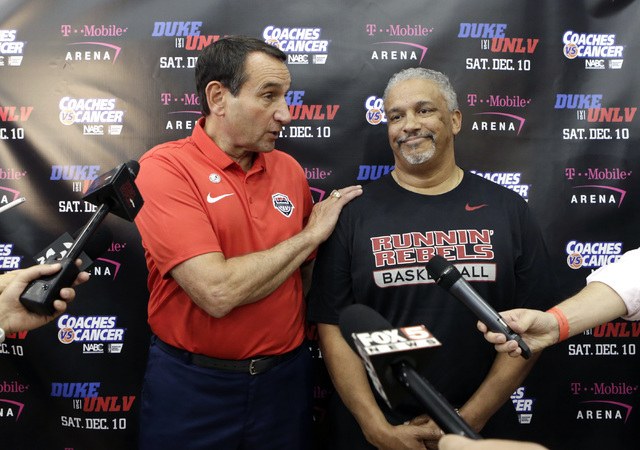 UNLV coach Marvin Menzies and Duke's Mike Krzyzewski stood shoulder to shoulder Thursday, Menzies in a black Runnin' Rebels T-shirt and Coach K in a red USA Basketball golf shirt.
They were chummy with each other, but on Dec. 10, the good feelings will disappear for a couple of hours when they're on opposing sidelines.
The coaches officially announced that the two storied programs will meet that day at T-Mobile Arena. ESPN will televise the game, but has yet to set a time.
"It's one of those opportunities, when you look at it from a program's perspective, this is great for our guys," Menzies said. "Trust me, they've already earmarked it on their calendars. They'll be excited to play."
UNLV season-ticket holders will receive a discount, but details will be announced perhaps next week on the first college basketball game scheduled to be played at the new Strip arena.
The following Saturday, Dec. 17, T-Mobile will host a doubleheader featuring Kentucky vs. North Carolina and UCLA vs. Ohio State.
Krzyzewski said the game against UNLV made plenty of sense for his program. The Blue Devils, who go into next season as the favorites to win the NCAA championship, play a national schedule every season.
"It's an incredible opportunity," Krzyzewski said. "I always respected what they did. The UNLV brand of basketball has not gone away. It may need to be heightened. That's what (Menzies is) going to try to do, but it's there. You have a tremendous history of success and a style of play that really made other people want to play that way."
The programs haven't played each other in 25 years, but the last meeting leaves a bitter taste with Rebels fans. UNLV took a 34-0 record into the 1991 national semifinals only to be upset 79-77 by Duke.
A year earlier, UNLV claimed its own national championship with a 103-73 rout of the Blue Devils.
"Everybody says, 'You beat us,' but do you know what happened the year before?" Krzyzewski said. "It's the biggest loss in the history of the NCAA championship, and I was part of that game. I'm not sentimental about it. I'm proud that we were in two Final Four games. Every program should be proud if they played in a Final Four. And that year, even though we lost, I was proud that we were in the championship game. They were by far the better team.
"The next year, we added a kid named Grant Hill, so we were pretty good, too."
Krzyzewski said he had a special connection when Jerry Tarkanian, the legendary UNLV coach who died Feb. 11, 2015.
"Jerry and I always felt we played a little bit alike as far as defense goes," Krzyzewski said.
While Krzyzewski has remained on the Duke bench, the Rebels are on their ninth coach since Tarkanian was forced out in 1992. Or it's 10 coaches, if Chris Beard — who was on the job for a week in April — is included.
Beginning with that 1991 championship, Duke has won five national titles. UNLV has not been back to the Final Four, and Menzies is on board to try to return the program to its prior heights.
Whether Menzies gets there is another question, but having Duke on the schedule was a good recruiting tool. The Rebels also face Oregon, Kansas and Arizona State.
"You know what kids' motivations are, and being able to play a program like Duke and some of the others we have on our schedule … are all selling points," Menzies said.
Contact Mark Anderson at manderson@reviewjournal.com or 702-387-2914. Follow on Twitter: @markanderson65