UNLV faces challenge of trying to fill seats at Thomas & Mack
Updated February 23, 2019 - 5:04 pm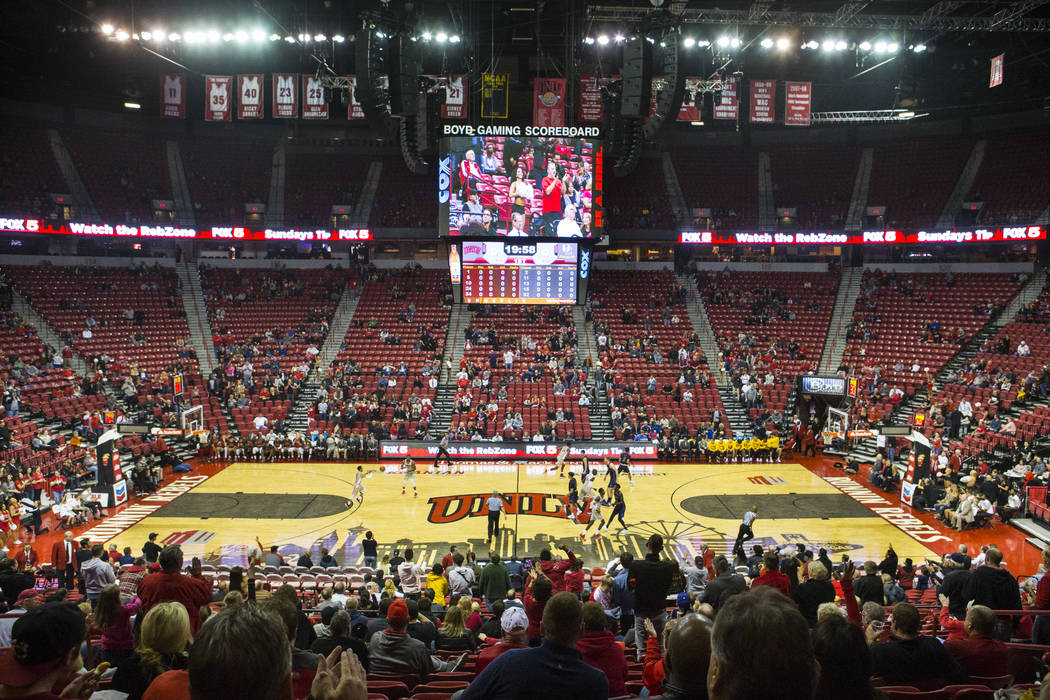 It wasn't long ago that a San Diego State visit would create a buzz and far more seats would be filled than not in anticipation of a game that would carry major Mountain West implications.
But when the Aztecs arrive for Saturday's 7 p.m. game against UNLV, the Thomas & Mack Center probably will be like most nights, with plenty of red seats unoccupied.
UNLV's announced attendance, which includes tickets out, averages 8,559 in the 18,000-seat building, its sixth decline in a row and its lowest figure in the Thomas & Mack, which opened in 1983.
Rebels athletic director Desiree Reed-Francois has used several promotions to boost basketball attendance, and she oversaw the installation of a new floor with the Las Vegas skyline two years ago and a new video board this season.
"We need to create a memorable experience every time people walk through Thomas & Mack's doorway," Reed-Francois said. "A ticket is thrown away usually, but those memories literally become part of who we are as fans and as a city. That's the beauty of athletics, and that's why it's so much more than a ticket. Results matter. Playing hard matters. Winning matters.
"We're in the memory-making business, and the best memories are usually surrounding something positive like a win. So we understand the expectations. We have to create a reason for people to care and make the UNLV basketball experience the place to be."
Drawing fans isn't an issue just at UNLV, and Reed-Francois said the nationwide average has dropped about 13 percent over the past 10 years.
In the Mountain West, attendance has been on a mostly steady decline since the 2010-11 season. Average attendance this season for Mountain West teams is 6,243, an all-time low.
"We've challenged our staff to really look at what we're doing from a fan's perspective and take off their administrator hat, if you will," Reed-Francois said. "Is parking easy? Is purchasing tickets simple? Are we providing good value? Are we meeting the customer where they need us to meet them?"
Reed-Francois said she also knows UNLV fans want to see high-level competition, and the Rebels will host two Power Five conference teams next season. She didn't identify the opponents because the agreements weren't finalized.
UNLV (15-11, 9-5 MW) enters the game against San Diego State (17-9, 9-4) having clinched its best conference finish in at least five years. Third-year coach Marvin Menzies remains hopeful the crowds that used to fill the Thomas & Mack will return.
"We're going to give whoever's here and whoever's home watching on TV that can't make it our best effort," Menzies said. "This is a rebuilding process. We're at a stage where we're trying to get the energy back in the building and the excitement back into the program. I feel like it exists right now.
"I think the fans that have come on a regular basis, the season ticket holders, will tell you they like our team. They like our chances of improving, and they like our chances next year and the year after that. I think things are pretty bright. I don't know if it's always painted that way, but that's just what it is."
More Rebels: Follow at reviewjournal.com/Rebels and @RJ_Sports on Twitter.
Contact Mark Anderson at manderson@reviewjournal.com. Follow @markanderson65 on Twitter.
Game day
Who: San Diego State at UNLV
When: 7 p.m. Saturday
Where: Thomas & Mack Center
Line: San Diego State -1; total 144
TV/Radio: ESPNU; KWWN (1100 AM, 100.9 FM)
–––
Probable starters
San Diego State (17-9, 9-4 MW)
Coach: Brian Dutcher (39-20, second season)
Player Pos Hgt Ppg
Devin Watson G 6-1 16.4
Jeremy Hemsley G 6-3 9.6
Matt Mitchell F 6-6 10.4
Jalen McDaniels F 6-10 16.9
Nathan Mensah F 6-10 5.5
UNLV (15-11, 9-5 MW)
Coach: Marvin Menzies (46-45, third season)
Player Pos Hgt Ppg
Noah Robotham G 6-1 8.7
Amauri Hardy G 6-2 13.1
Kris Clyburn G 6-6 13.2
Joel Ntambwe F 6-9 12.4
Mbacke Diong F 6-11 6.9