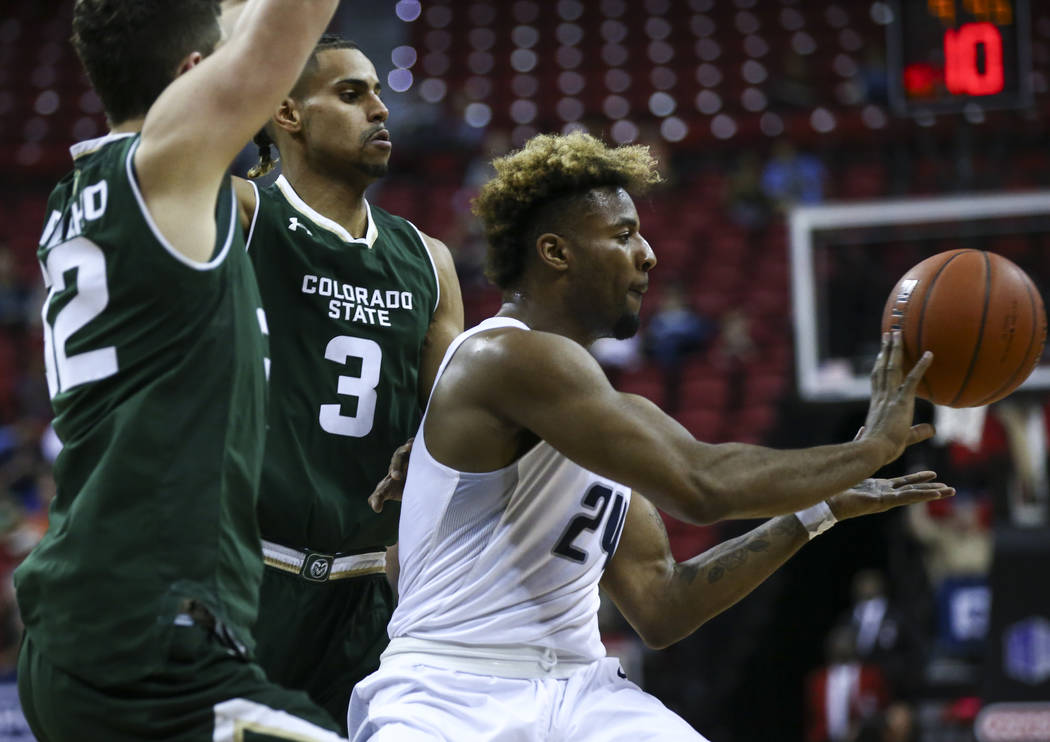 While the other Mountain West basketball teams began conference play Wednesday, UNLV got to enjoy the holidays a little longer.
Now that the Rebels' brief vacation is over, they will see where they stand compared with their league brethren when Boise State visits the Thomas &Mack Center at 8 p.m. Saturday.
Given Boise State is a top conference contender, the game figures to be a bellwether for the Rebels.
UNLV is a 4½-point favorite, and the game will be televised on AT&T SportsNet.
"It's taking a midterm," UNLV coach Marvin Menzies said. "We've had a lot of tests so far, but this is weighted heavily because of the ramifications of being a conference game against a very, very good opponent. So there's a little bit more to it that can help you to gauge where you're at right now, and I think we're approaching it that way in our preparation."
The Rebels could be without backup forward Cheickna Dembele, who suffered some sort of head or facial injury in practice Wednesday. Menzies said Dembele's availability will be decided at game time.
Dembele is one of the few rotation players who has been through Mountain West play.
Another is starting guard Jovan Mooring.
"You've got to be prepared for each team," Mooring said. "If you watched the games (Wednesday), you saw an upset with Wyoming and San Diego State. It shows on any night any team can be beaten, so it's about preparing and making sure you're ready for this type of play."
Here's a look at how the Mountain West shapes up look at this point in this season. Teams are listed in order of their Kenpom rankings:
UNR
Record: 12-3
KenPom/RPI: 30/14
Best win/worst loss: 88-81 over Rhode Island/66-64 to San Francisco
Where the Wolf Pack stands: Jordan Caroline and the Martin twins (Caleb and Cody) form an intimidating front court. The Wolf Pack missed two chances — losing by a combined 10 points to Texas Tech and Texas Christian — to register signature victories, but UNR still is the team to beat and could get an at-large bid in the NCAA Tournament even with a loss in the conference tourney.
Boise State
Record: 11-2
KenPom/RPI: 61/29
Best win/worst loss: 73-70 over Oregon/86-63 to Southern Methodist
Where the Broncos stand: Losing badly to SMU was a setback, but they still could get an at-large bid to the NCAAs with a strong run in the conference. The decision by Chandler Hutchison, who averages 16.3 points and 8.1 rebounds, to return this season makes Boise State a strong title contender.
San Diego State
Record: 8-4
KenPom/RPI: 63/60
Best win/worst loss: 72-70 over Gonzaga/63-62 to California
Where the Aztecs stand: They are playing their usual top defense, allowing 66.2 points per game, which is second to Boise State's 65. But San Diego State opened Mountain West play with an 82-69 loss at Wyoming, so the Aztecs have work to do if they want to contend.
UNLV
Record: 11-2
KenPom/RPI: 65/109
Best win/worst loss: 85-58 over Utah/77-68 to Northern Iowa
Where the Rebels stand: After winning 11 games all of last season, the Rebels have not only rebounded, but have shown they can compete in the Mountain West. They possess a senior-led backcourt and a frontcourt that includes standouts Brandon McCoy and Shakur Juiston.
Fresno State
Record: 10-4
KenPom/RPI: 83/155
Best win/worst loss: 70-55 over Cal State Bakersfield/59-57 to Evansville
Where the Bulldogs stand: They have no notable victories and a head-scratching loss to Evansville. But if the Bulldogs have proven anything, it's that they play their best late. After opening conference play with an 80-65 home loss to UNR, they will have to again.
Wyoming
Record: 10-4
KenPom/RPI: 111/84
Best win/worst loss: 75-66 over Oregon State/88-78 to Denver
Where the Cowboys stand: Wyoming didn't have the best nonconference, but the Cowboys opened conference play with a victory over San Diego State. Maybe that will create some momentum.
Utah State
Record: 8-6
KenPom/RPI: 146/221
Best win/worst loss: 71-67 over Northeastern/65-59 to Weber State
Where the Aggies stand: In beating San Jose State 86-72 in the Mountain West opener, Utah State played probably its best game. Was that a mirage given the opponent? Or do the Aggies have something to build upon?
New Mexico
Record: 6-8
KenPom/RPI: 170/214
Best win/worst loss: 78-59 over Evansville/88-76 to Texas-El Paso
Where the Lobos stand: This always figured to be a rebuilding season, and it's certainly working out that way. The Lobos opened the conference schedule with an 87-58 victory over Air Force, but it's difficult seeing them doing much in league play.
Colorado State
Record: 7-7
KenPom/RPI: 195/128
Best win/worst loss: 72-63 over Colorado/80-53 to Tulane
Where the Rams stand: If last season showed anything, it was don't underestimate a Larry Eustachy-coached team. Then again, the Rams no longer have Gian Clavell and Emmanuel Omogbo to carry them.
San Jose State
Record: 3-9
KenPom/RPI: 295/296
Best win/worst loss: 75-63 over Santa Clara/64-55 to Portland
Where the Spartans stand: After losing their coach and best player, it's not surprising San Jose State has slid back to being a team that opponents expect to beat.
Air Force
Record: 6-7
KenPom/RPI: 300/330
Best win/worst loss: 93-79 over Canisius/67-48 to UC Riverside
Where the Falcons stand: It's amazing how far they have fallen. Air Force has seldom been an easy place for opponents to win, but this could be the season where its home court isn't much of a factor.
Contact Mark Anderson at manderson@reviewjournal.com. Follow @markanderson65 on Twitter.
Game day
Who: Boise State at UNLV
When: 8 p.m. Saturday
Where: Thomas & Mack Center
TV/Radio: AT&T SportsNet; KWWN (1100 AM, 100.9 FM)
Line: UNLV -4½; total 154
Boise State (11-2, 1-0 MW)
Coach: Leon Rice (153-89, eighth season)
Probable starters
Player ; Pos. ; Ht. ; Ppg.
Lexus Williams ; G ; 6-0 ; 7.1
Justinian Jessup ; G ; 6-6 ; 14.4
Chandler Hutchison ; G ; 6-7 ; 16.3
Chris Sengfelder ; F ; 6-9 ; 11.6
Zach Haney; F ; 6-11 ; 5.8
UNLV (11-2, 0-0 MW)
Coach: Marvin Menzies (22-23, second season)
Probable starters
Player ; Pos. ; Ht. ; Ppg.
Jordan Johnson ; G ; 5-11 ; 12.8
Jovan Mooring ; G ; 6-2 ; 15.5
Kris Clyburn ; G ; 6-6 ; 8.8
Shakur Juiston ; F ; 6-7 ; 15.2
Brandon McCoy ; F ; 7-0 ; 18.9