UNLV falls 60-56 in OT to Kansas State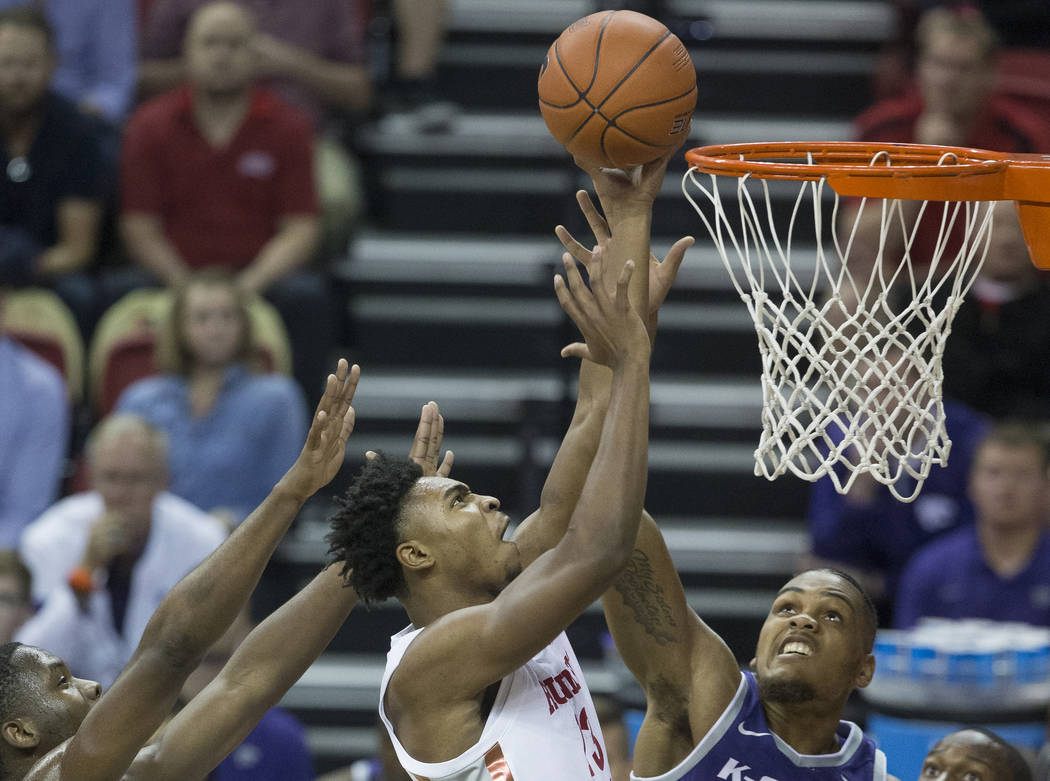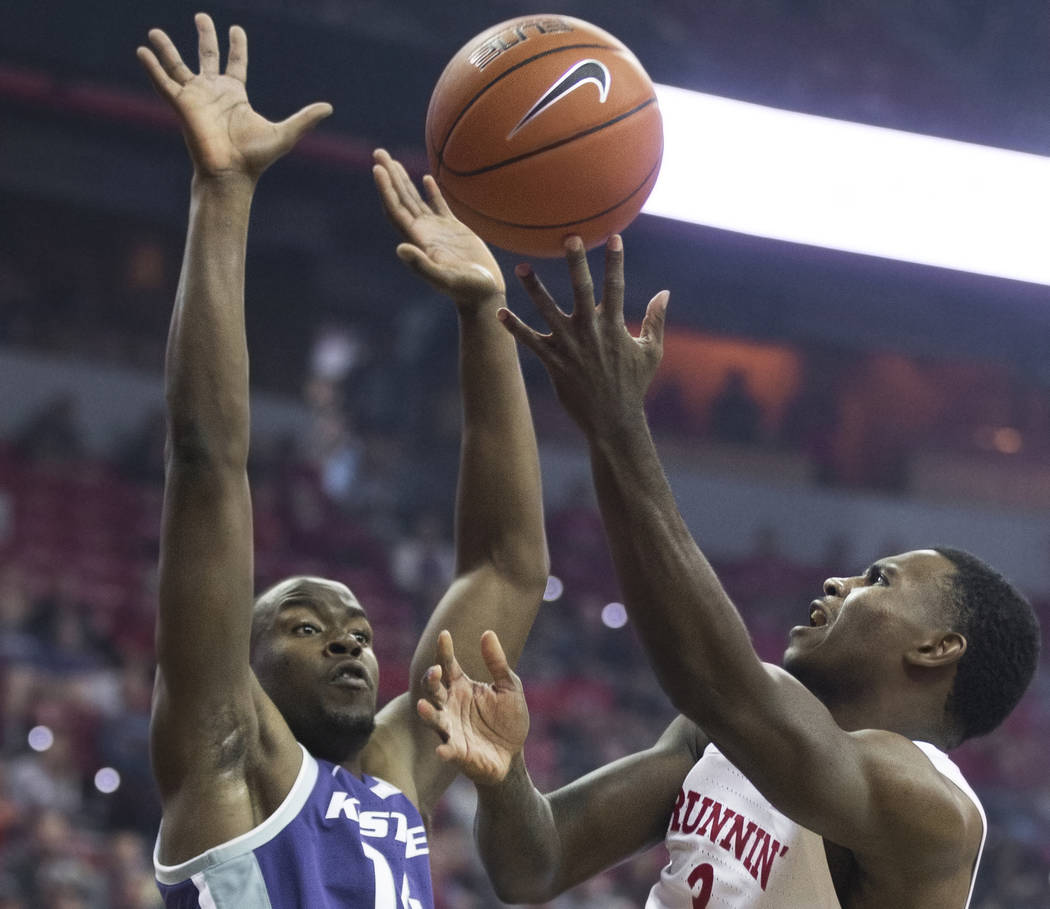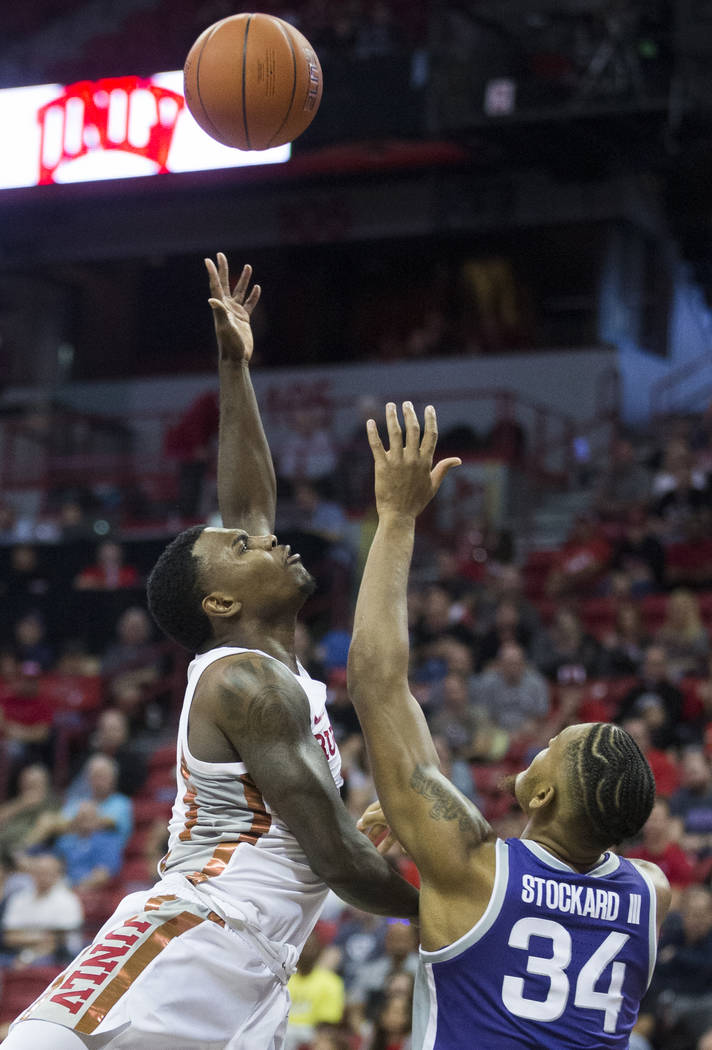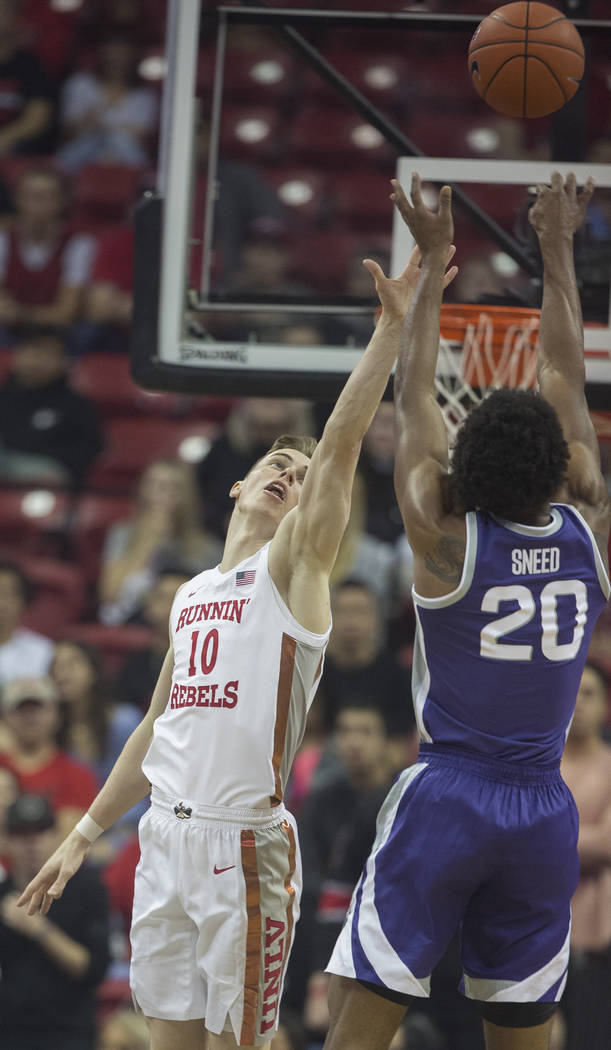 One of new UNLV coach T.J. Otzelberger's objectives has been to remove the midrange jumper from the Rebels' offense, and he has largely done that.
His dislike of that shot only intensified Saturday, but for a different reason.
Kansas State's Xavier Sneed's midrange shot, a 12-footer from the left side of the basket with 28.9 seconds left in overtime, put the Wildcats up for good in their 60-56 victory over UNLV before about 5,000 fans at the Thomas & Mack Center.
The Rebels (1-1) lost after leading for 31 minutes and failing to score on the final possession in regulation.
"We definitely let this one slip," said Amauri Hardy, who led UNLV with 27 points. "But this is a great team. They were the Big 12 champions. We're not going to let this game define us."
UNLV plays at California on Tuesday night.
Sneed led Kansas State (2-0) with 19 points.
Here are three takeaways from Saturday's game:
1. Relying on defense.
When Otzelberger took the UNLV job in March, most of the attention was on his aggressive offense that emphasizes transition, spacing and shooting 3-pointers, but he needs more shooters to properly carry out that plan.
Otzelberger knows that, and he has stressed defense since the beginning of training camp.
It was defense that gave the Rebels — who were challenged on nearly every possession by Kansas State's in-your-face defense — a more than legitimate chance to win.
Kansas State shot only 27.6 percent in the first half and 37.3 percent for the game. The Wildcats were 4 of 23 from the 3-point line, not making one until just less than 14 minutes remained in regulation. They also committed 20 turnovers (though UNLV had 25).
2. Riding the bench.
Except for Hardy, who made 11 of 23 shots, including 5 of 10 3-pointers, every UNLV player struggled with Kansas State's defense, some more than others.
Otzelberger didn't hesitate to sit starters Jonah Antonio and Donnie Tillman.
Antonio was taken out with 4:52 left in regulation and didn't return until 13 seconds remained in overtime. He is UNLV's best outside shooter, but missed five of six 3-pointers. Otzelberger even left Antonio on the bench at the end of regulation when Hardy missed a 3-pointer with the score tied at 48.
"I really liked how (Nick) Blair and Mbacke (Diong) had been going to the boards, so we were going to try to isolate in a drive," Otzelberger said. "A lot of times in those situations you get a tip-in late, and that's how you win. I thought it was that type of physical game."
Tillman was in and out of the lineup and played just under 16 minutes. He finished with only one point and had three turnovers.
"He just got a little excited early in the game, and then they decided to start switching one through four, which kind of threw our rhythm off a little bit," Otzelberger said.
3. Those darn second halves.
Both UNLV games were marked by slow starts to open the second half.
Against Kansas State, the Rebels let a 23-16 halftime lead quickly drop to 25-22 when the Wildcats got inside for two layups and a dunk. Otzelberger quickly called timeout.
"We need to be a little more focused defensively to guard the dribble," he said.
Contact reporter Mark Anderson at manderson@reviewjournal.com. Follow @markanderson65 on Twitter.