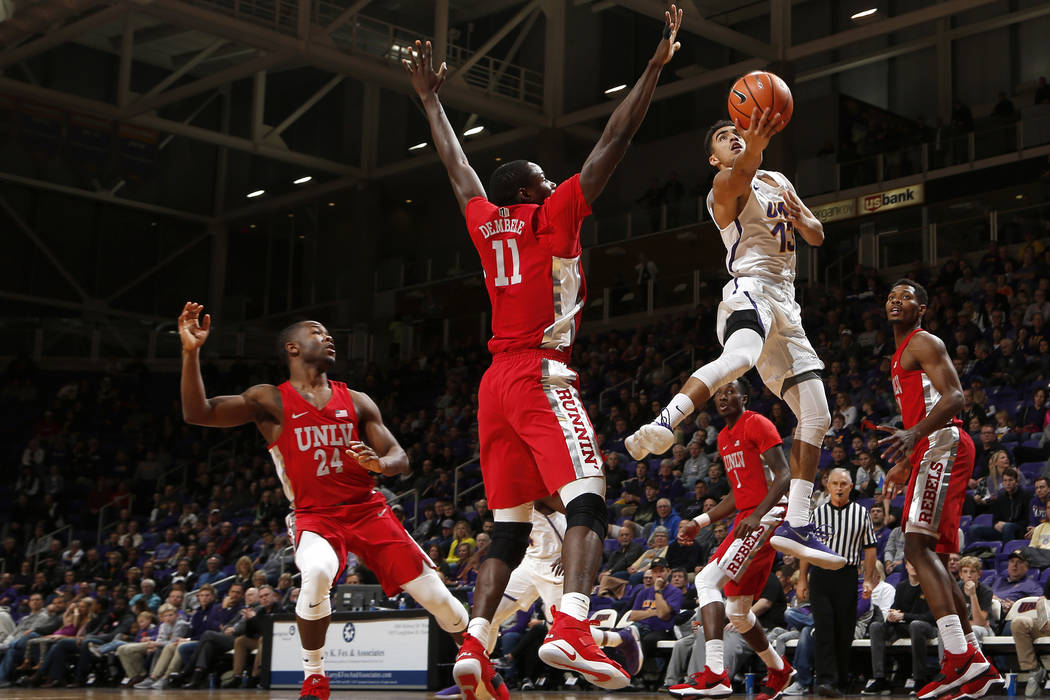 CEDAR FALLS, Iowa — As an errant pass sailed out of bounds, UNLV appeared to be in good position to escape with a victory over Northern Iowa on Wednesday night.
But before one official could signal turnover, another made an overruling call that didn't go in the Rebels' favor.
After throwing the ball away while charging to the rim, Northern Iowa center Bennett Koch was bailed out, as he collided with UNLV's Jovan Mooring on what was ruled a blocking call, one that set the tone for the Panthers' 77-68 overtime win in the Mountain West-Missouri Valley Challenge.
The loss was the first of the season for UNLV after a 6-0 start.
With his team trailing by one point, Koch made the front end of a one-and-one to tie the score. The Rebels had a chance to win after he missed the second free throw, but Jordan Johnson's runner rimmed off at the buzzer.
Mooring said he disagreed with what proved to be the decisive call.
"I saw (Koch) dribbling the ball in transition, and I saw him coming full speed," he said. "I was trying to get a charge. I thought I was there. Unfortunately the call didn't go my way. It is what it is."
Rebels coach Marvin Menzies didn't offer much of an opinion on the call, saying he didn't get a clear look, as the play occurred on the opposite end of the UNLV bench.
"Those guys are good officials, so if it was a block, it probably was a block," Menzies said. "I didn't see it, so I'm not going to comment on that one."
Overtime turned the Panthers' way after an acrobatic tip-in by Tywhon Pickford that gave them a 66-63 lead. On the following two possessions, Koch and Klint Carlson added baskets to spearhead a 9-0 run.
Koch scored 30 points and Carlson 23, career highs for both. The Panthers (6-2) did most of their damage inside, scoring 48 points in the paint.
"We always tell our guys tough twos won't beat you," Menzies said. "Actually tonight tough twos did beat us. Might have to reassess that philosophy."
Also beating the Rebels was a swarming Northern Iowa defense that forced 20 turnovers and held an offense that was fourth in the country in scoring to almost 30 points below its season average.
Kris Clyburn led UNLV with 20 points, but missed most of overtime after taking an elbow to the head while fighting for a rebound.
Freshman forward Brandon McCoy, who was averaging 20.2 points and 13.0 rebounds, was limited to nine points and seven rebounds. He took only five shots.
Shakur Juiston pulled down 13 rebounds, matching his season average, as UNLV finished with a 42-38 edge.
The Rebels didn't seem worried about suffering a significant setback from the loss, saying they felt confident in their ability to bounce back after a close defeat in a tough environment.
"We've got a lot to learn from," Juiston said. "We've got good film to go in and watch … to study and see what went wrong so we won't make the mistakes no more."