UNLV fans show mixed emotions about Rice's firing
January 13, 2016 - 12:23 am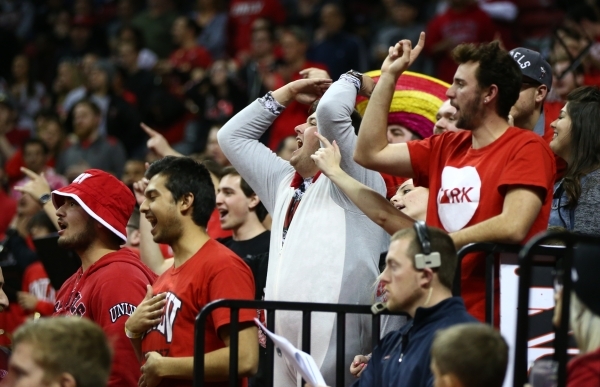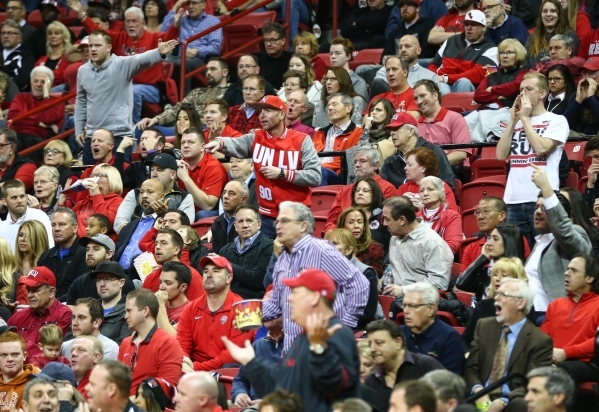 For several weeks, a vocal group of angry UNLV fans has hit social media and the sports radio airwaves to say it wouldn't return to basketball games until the administration dumped Dave Rice as coach.
Apparently the group didn't get the memo that Rice was fired Sunday and it was time to start showing up again.
An announced crowd of 11,377, more than 200 below the season average at the Thomas & Mack Center, turned out to watch UNLV's 86-74 victory over New Mexico on Tuesday night.
Those that were there to see interim coach Todd Simon's debut expressed mixed emotions about the school's decision to part ways with Rice.
"I think like a lot of people it needed to be done, but I'm not so sure about it being done now," said Mark Buchanan, who has had season tickets for six years and attended UNLV games since the 1980s. "I think he should have been given a chance to finish the year. But I don't think he was right for this job."
Tim Brennan, who said he has been coming to almost every game since the building opened in 1983, was one of the fans who had grown frustrated in recent weeks.
He said it was one particular loss that bothered him, however, as opposed to a general sense of dissatisfaction with the team.
"I stopped coming after Arizona State, to be honest," he said of UNLV's 66-56 loss to the Sun Devils on Dec. 16. "The Bobby Hurley loss was too much for me to handle. It was going to take awhile to get over. I wouldn't say it was expressly because of the coach, but it was just a tough one to get over. Those wounds were deep."
Brennan, like many longtime Rebels fans, still carries animosity toward the Arizona State coach because of his days as a star point guard at Duke.
He admits it was tough to watch Rice at the end of his reign.
"It was a little bit like watching a horse with a broken leg," Brennan said.
Brennan certainly wasn't alone in his frustration.
Buchanan said he could sense fans in his section growing more and more restless in recent weeks.
"I sit with a group of guys who have grown really frustrated watching this team play, and that's due to some of the things with the coaching," he said. "But they'll all be here."
Dan Bunin, another longtime season ticket holder, said it was difficult to blame some of the fans whose enthusiasm had waned because of the disappointing losses.
At least for him personally, the program is at a crossroads.
"We want the fans to always be here and be supportive," Bunin said. "But the fans do have the right to ask for a commitment back, and that's what I'm talking about in terms of who are they going to look to. Are they going to make a legitimate hire? Are they going to spend the type of money you have to spend to be the type of team that you've been promising you were going to bring us?
"Are we going to spend the money to actually hire a top-tier coach and try to build a legitimate program, or are we going to keep doing what we've done? Fiddle around and hire the level of people that can't compete at the top."
The answer to those questions will go a long way toward determining how much Bunin invests in the program.
"If they don't commit to try to have a legitimate program, then I won't commit to buying season tickets every year," said Bunin, who graduated from UNLV in 1990. "We spend a lot of money on these tickets, so certainly we expect something. We don't have to win. They have to make a legitimate effort, and if they lose, they lose.
"But if they're not committed, then I guess we won't be either at some point."
If UNLV continues to play as it did Tuesday, fans might start buying back into the program quickly.
— Contact reporter Adam Hill at ahill@reviewjournal.com or 702-224-5509. Follow him on Twitter: @adamilllvrj
Check our GameDay page for full coverage of the UNLV-New Mexico game.