January 27, 2010 - 10:00 pm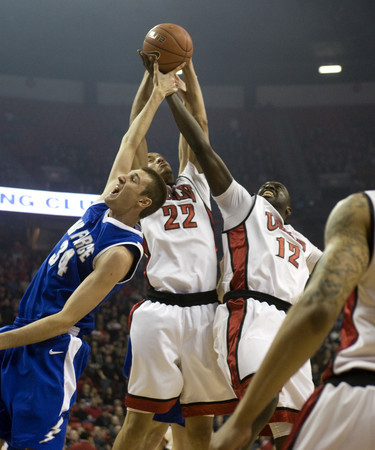 When junior guard Derrick Jasper crumpled to the court with a knee injury late in the first half, UNLV was faced with the possibility of suffering two major losses in one game.
Kendall Wallace stepped in and helped the Rebels avert total disaster by hitting four 3-pointers to spark a rally that produced a 60-50 victory over Air Force on Tuesday night.
"It's tough to replace a player like Derrick," Wallace said. "I think we all felt we had to step it up."
Wallace preserved the immediate future, but UNLV's hope is that he's not the long-term replacement for Jasper.
The Rebels (17-4, 5-2 Mountain West Conference) are off until playing at Wyoming on Feb. 3.
Whether Jasper will be lost will be determined soon. He injured his left knee with 1:16 remaining, and was crying as he was helped off the Thomas & Mack Center floor at halftime.
The initial prognosis for Jasper was a sprained knee, which will be re-examined today. Jasper needed microfracture surgery on the same knee in the summer of 2007, before he transferred from Kentucky to UNLV.
"It's just one of those freak injuries," coach Lon Kruger said.
Wallace, starting the second half in place of Jasper, picked up the Rebels with his perimeter shooting.
Wallace made four 3s in a five-minute span for all 12 of his points to turn around the game. His last 3 put UNLV up 39-34 with 13:07 remaining.
"We desperately needed that," Kruger said. "Kendall is a guy who can make 3s, obviously, and we needed that lift."
The Rebels trailed 24-21 at the half, and their spirits were down, too. Jasper hit the floor after the Falcons' Tom Fow drove the lane and charged into UNLV's Matt Shaw, who was knocked into Jasper.
"It's a scary scene to see that," Wallace said. "Hopefully, it's not as bad as it looked."
The first half was all-around ugly for the Rebels.
Fow got hot from long range to propel Air Force, which led 22-13 on Fow's third 3-pointer with 3:22 left. The Falcons (8-11, 0-6) were 19-point underdogs and riding a 21-game conference losing streak.
"Once they get a lead, it's tough, because they run the clock down," Wallace said. "We put a little too much pressure on ourselves to make shots and cut that deficit down too quick. This would have been a tough one to lose."
UNLV was held to its lowest first-half scoring total of the season. The previous low was 25 points against Southern California on Dec. 25.
"The pace of the game was certainly to Air Force's favor," Kruger said.
Wallace changed the pace. His first 3-pointer gave the Rebels their first lead since early in the first half, 26-24, with 18:07 remaining. He sank four shots in a row and finished 4-for-10 on 3-pointers.
"I was able to make a few shots and we were able to make a run," Wallace said. "We picked up our defense at that time, too."
Air Force was within 44-40 with seven minutes to go. Shaw had a rebound basket and Chace Stanback made a 3 to extend UNLV's lead to 49-40.
It was a five-point margin before Tre'Von Willis buried a 3-pointer with 52 seconds to go. Willis finished with 13 points and Stanback 12 for the Rebels.
Oscar Bellfield produced 10 assists on 22 field goals for UNLV, which shot 50 percent from the field.
"We got good shots in the first half, but we didn't make the open looks," said Rebels center Brice Massamba, who totaled eight points and four rebounds. "In the second half, we started to make the shots and it opened it up for dribble penetration, because they had to step out on our shooters."
Jasper, who has started all 21 games, had three points, four assists and four rebounds before leaving.
"Of course, we're all concerned about Derrick," Massamba said. "I just hope it's nothing serious."
Contact reporter Matt Youmans at myoumans@reviewjournal.com or 702-387-2907.
UNLV-Air Force audio slide show
UNLV – 60
AIR FORCE – 50
KEY: Kendall Wallace hit four 3-pointers early in the second half to rally the Rebels, who trailed by nine in the first half.
NEXT: UNLV at Wyoming, 7 p.m. Feb. 3, The Mtn. (334), KWWN-AM (1100)