UNLV freshman from Liberty brings pace, poise to 1st practice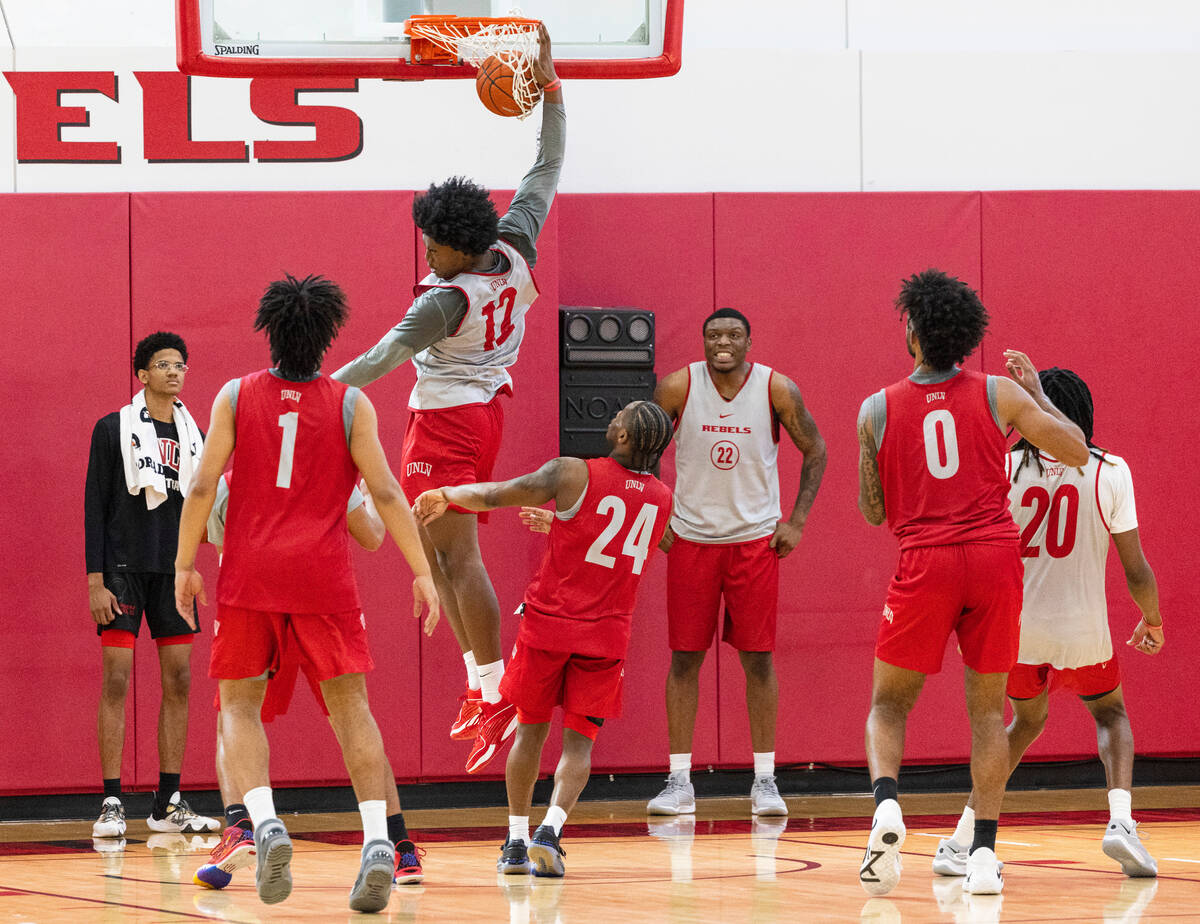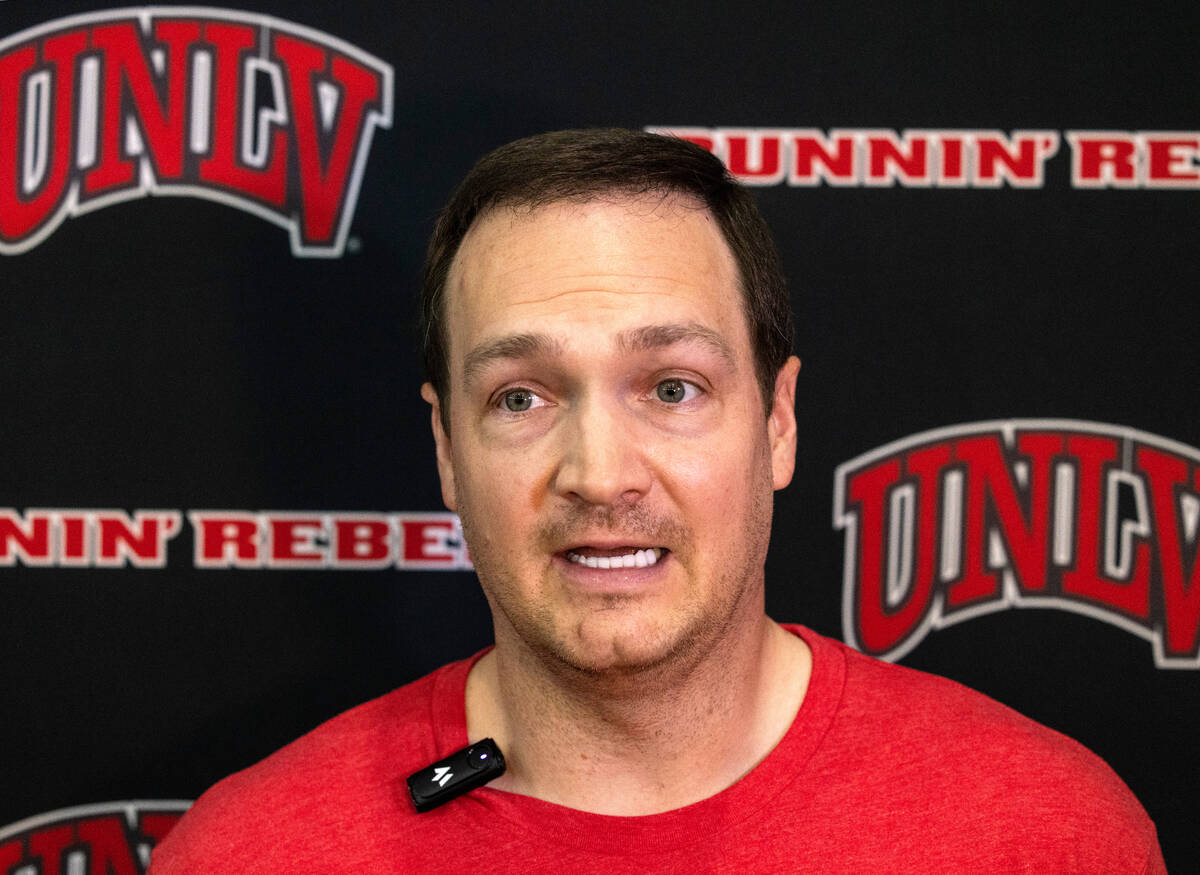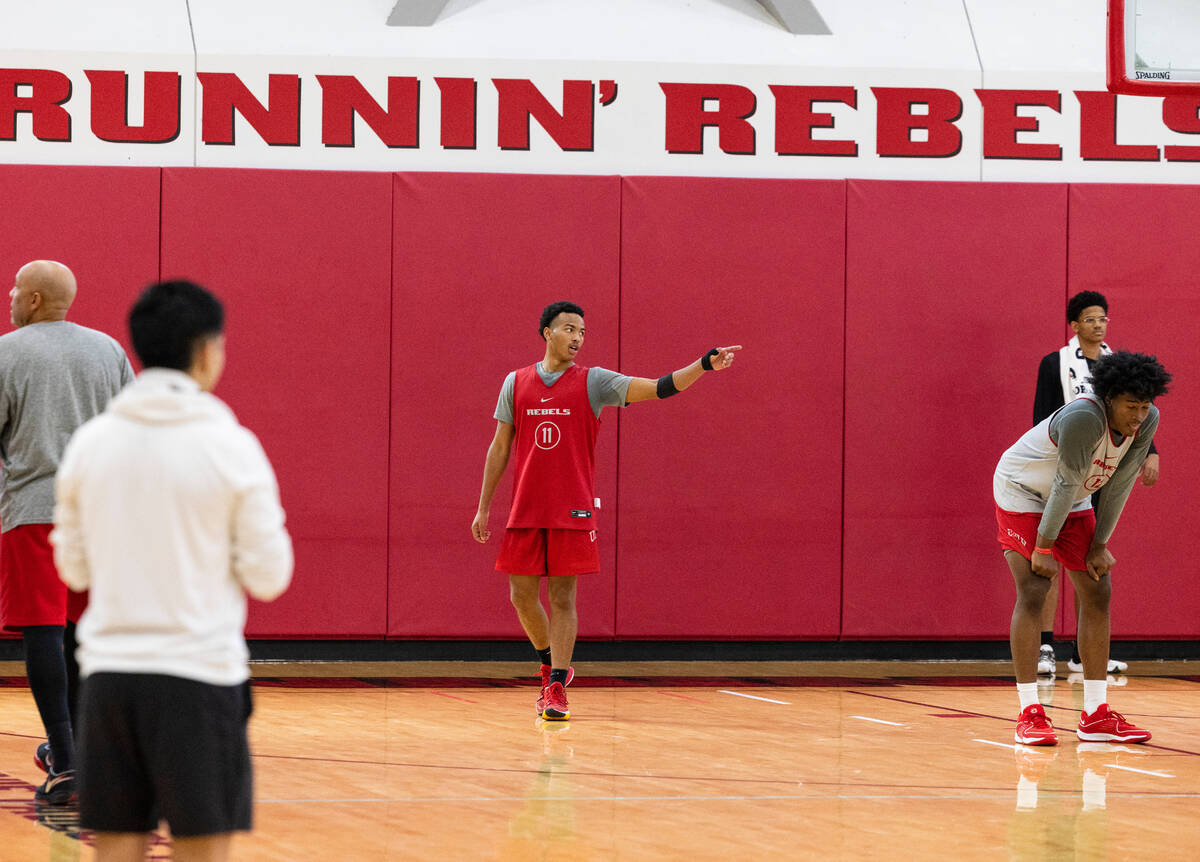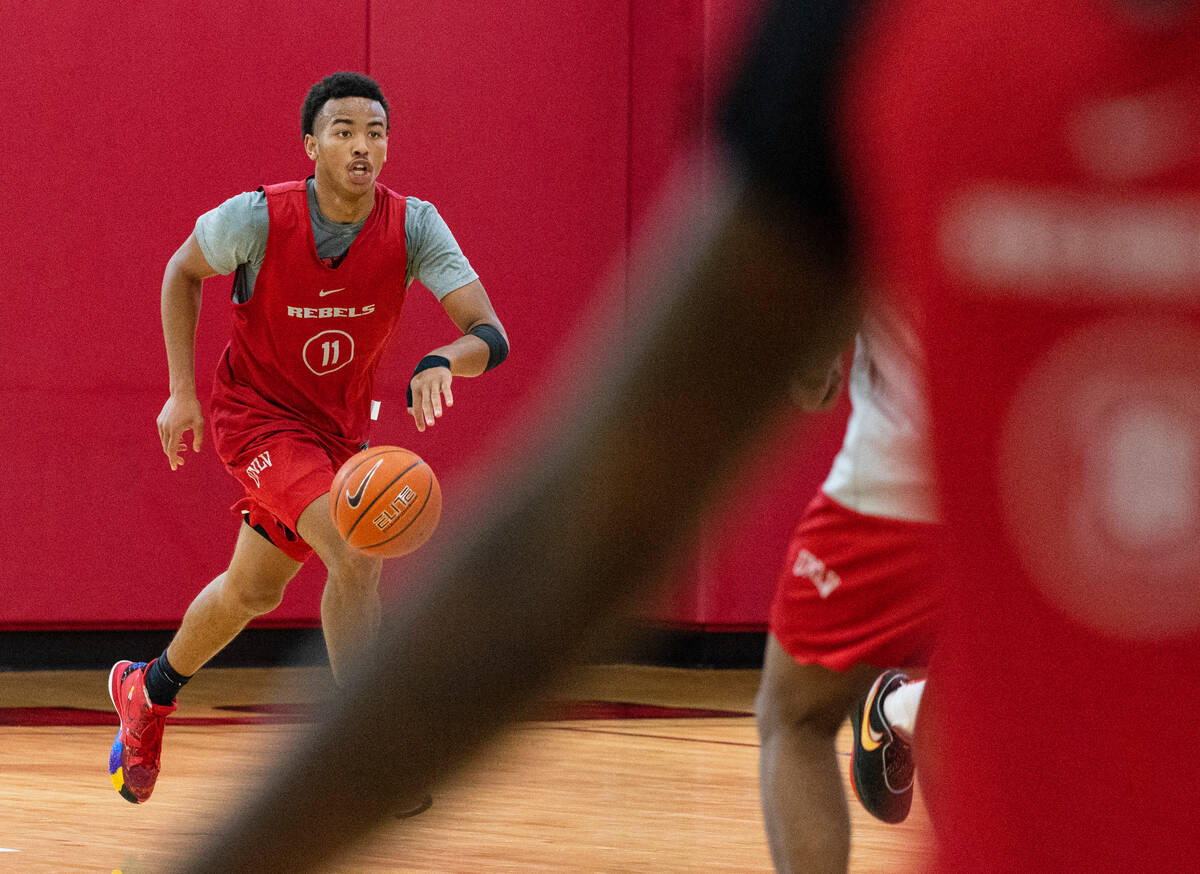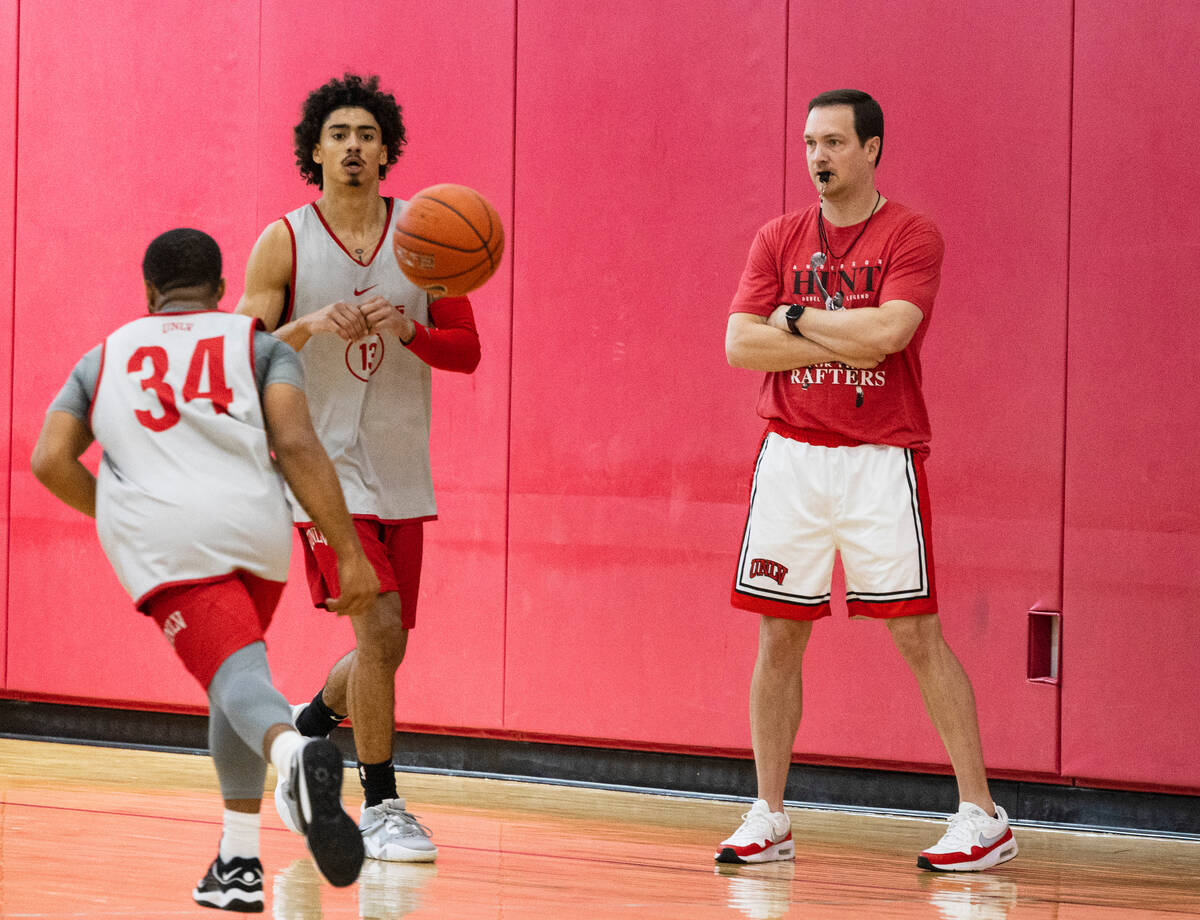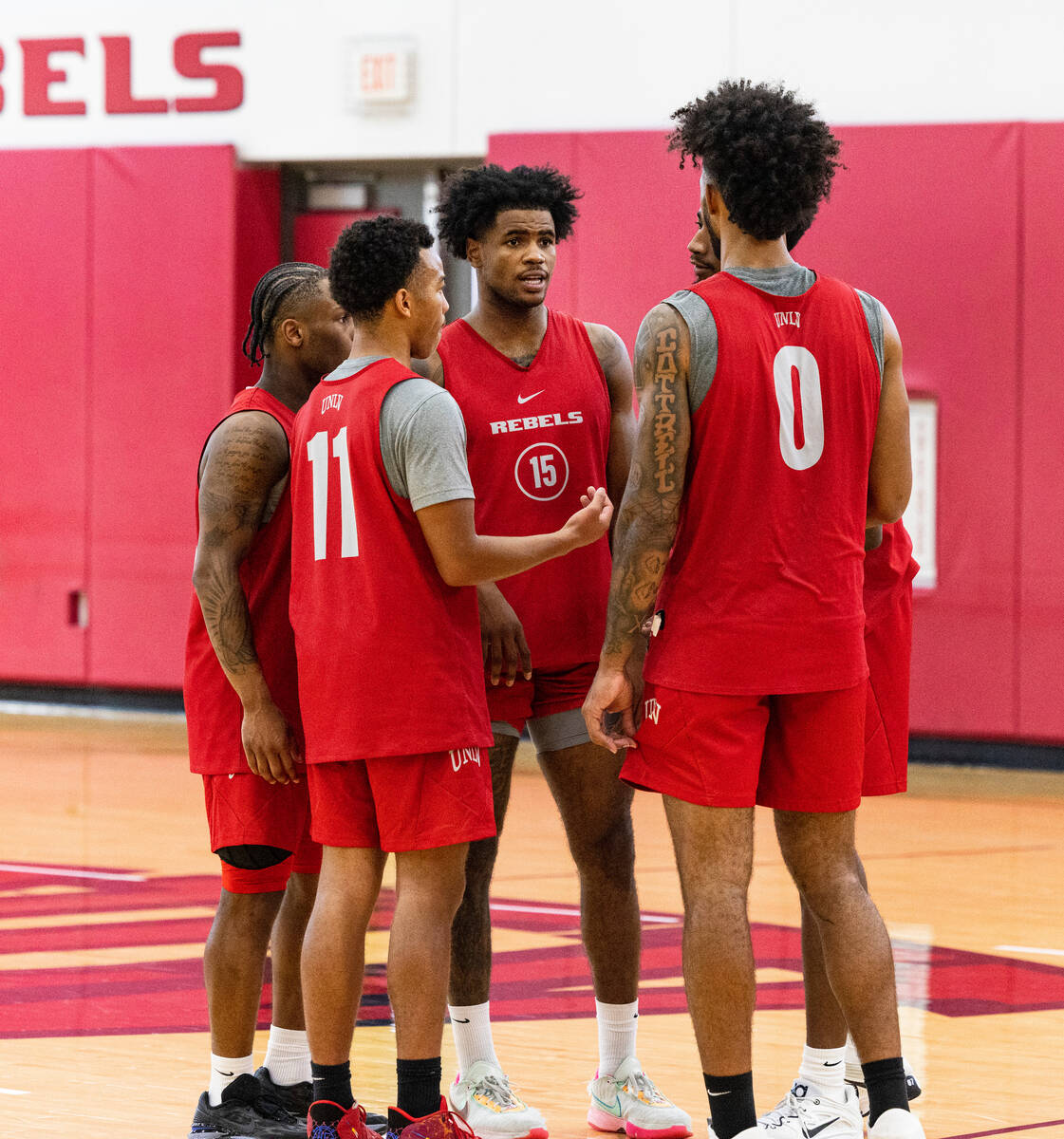 Dedan Thomas Jr. didn't know until Wednesday afternoon that his teammates call him "Turbo."
The freshman point guard's new nickname was revealed by fifth-year senior shooting guard Justin Webster after UNLV's first full-length basketball practice.
Much to his surprise.
"Turbo?" he asked rhetorically, his gray UNLV T-shirt still dampened with sweat as he shyly smiled with satisfaction.
"Sometimes when I'm dribbling, I can just like — hit a speed boost or something. I just try to use my speed to my advantage. I personally had never heard that before," he said, drawing a chorus of laughs from an assembly of reporters.
"Shoutout Web, though. That's my shooter. That's my dog."
And vice versa.
Donning the same scarlet and grey No. 11 practice jersey his father wore more than 30 years ago, the former Liberty standout quarterbacked the Rebels through their spirited 2½-hour session at the Mendenhall Center, flashing his aforementioned speed and precocious savvy, along with his signature smile.
The elder Thomas watched proudly — and intently — from the bleachers as his son continued to acclimate with his coaches and teammates. So far, so good, according to third-year coach Kevin Kruger, who has constructed around Thomas his most talented team to date.
"Being just turned 18, a week or so ago, it's a little tough to get out there and be demanding," Kruger said of Thomas, who preferred UNLV over Arizona, Florida, Gonzaga, Houston and UCLA.
"He's observant. He's watching and he's just going to keep … earning trust and growing in that leadership role being the point guard. But you can see he's got a lot of skills and instincts that make playing kind of natural for him."
Also among them: his poise and his pace, content to go "Turbo" in transition when opportunities arise or meticulously utilize possessions in the halfcourt when fast breaks aren't available. He's insulated by a roster chock-full of experienced upperclassmen who can alleviate some of the literal and figurative pressure he'll face, already adjusting to their respective sets of skills as to maximize the collective output.
Webster and returning sixth-year wing Luis Rodriguez flanked Thomas on the perimeter in one prospective unit, while fifth-year senior transfers Jalen Hill (Oklahoma) and Kalib Boone (Oklahoma State) anchor the frontcourt.
Other returners to the rotation include junior point guard Jackie Johnson III and junior wing Shane Nowell. Fourth-year sophomore forward Isaiah Cottrell is healthy after sitting out last season with a foot injury.
Fifth-year senior transfer forward Keylan Boone (Pacific) and bruising junior college transfer junior forward Rob Whaley join Thomas and fellow freshmen Brooklyn Hicks and Jacob Bannarbie to comprise the rest of the newcomers.
Bannarbie is redshirting, according to a source with knowledge of UNLV's plan for him this season.
The Rebels finished 19-13 last season, seventh in the Mountain West.
"We've all got to be accountable," Webster said. "We're all trying to win, so we can't do stuff like last year because we didn't win last year."
Unlike last year, though, the Rebels are armed with depth, positional versatility and — finally — a floor general.
Hill, a fellow native Las Vegan and Clark graduate, has known Thomas for more than a decade, playing as a youth against teams coached by his father and following his development from afar.
"Seeing him grow up from being a kid to where he is now, I just think that he's grown up so much," Hill said. "You can see out on the court he's leading us. As a freshman, that's a big thing. I think he's going to be a great player for us this year."
Contact Sam Gordon at sgordon@reviewjournal.com. Follow @BySamGordon on X.