UNLV freshman shares story of good luck
November 20, 2014 - 11:16 pm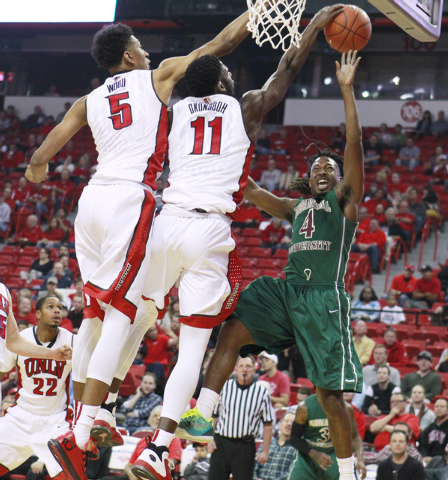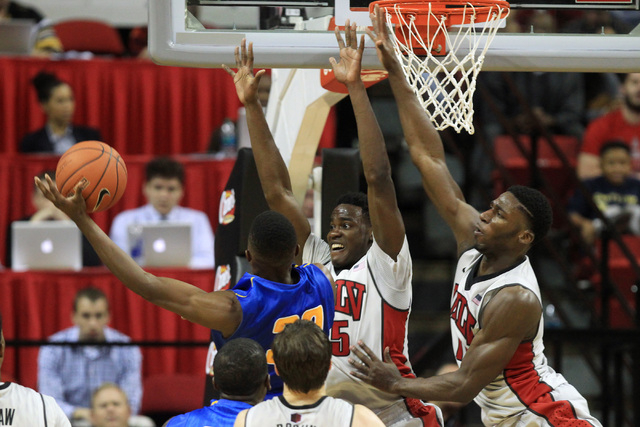 NEW YORK — It's a story Goodluck Okonoboh has told countless times. He is fortunate to tell it, though, so he never tires of it.
His parents, Sylvester and Justina, had moved from Nigeria and settled in Boston. His dad was working as a taxi driver, and on a dark, foggy morning picked up three men who directed him to a destination that was a dead-end road.
"My dad got shot once in the chest," Goodluck said. "He wasn't supposed to make it."
Sylvester was rushed by ambulance to a hospital, where doctors said his outlook was bleak. Justina was nine months pregnant with their second son. After one night on life support, Sylvester's condition took a surprisingly optimistic turn.
"When he was shot, he said he was thinking about how he wanted to live to see his son," said UNLV's 6-foot-10-inch freshman. "Two weeks later, he named me Goodluck because not everyone is lucky enough to have a father, and he felt like I was his good luck charm because he pushed through. It was like a miracle.
"It's definitely good having a unique name."
Okonoboh's parents plan to be in Brooklyn, N.Y., to see him help the Rebels (2-0) take on Stanford (2-0) at 4 p.m. today in the Coaches vs. Cancer Classic at the Barclays Center. In the second semifinal, No. 4 Duke (3-0) faces Temple (2-0). The final rounds are Saturday.
In UNLV's first two games, Okonoboh reinforced the reputation he forged in high school as a strong rebounder and shot-blocking rim protector. He totaled 15 rebounds and 13 blocks in narrow victories over Morehead State and Sam Houston State last weekend.
The Cardinal present a much bigger challenge with 6-11 Stefan Nastic, 6-9 Rosco Allen, a Bishop Gorman High School graduate, and 6-8 Reid Travis on the front line.
"I want to guard the best big (player) on the court," Okonoboh said. "I feel I can be the best shot blocker in the country this year. I'm still getting better, still not where I want to be at defensively."
Ranked by ESPN.com as a top-30 prospect in the 2014 class, Okonoboh, from Wilbraham &Monson Academy in Springfield, Mass., was pursued by Duke, Florida, Indiana and Ohio State until he committed to UNLV last fall.
The Rebels' style of play appealed to him, as did a chance to play with Dwayne Morgan, another top recruit from Baltimore.
Morgan, a 6-8 forward, was the first to commit to UNLV, and after Okonoboh followed, shooting guard Rashad Vaughn of Findlay Prep sealed a star-studded recruiting class for coach Dave Rice in February.
"I think we can accomplish a lot, especially because we all have good relationships and that helps us out a lot," Okonoboh said. "I think we have a big season ahead of us. Hopefully, it shows up now, but everything takes time.
"I knew I could come here and make an impact right away and get a chance to showcase my skills. I like to run and get after it, so it's a perfect fit for me."
Okonoboh is attempting to fill the void left by Khem Birch, one of the nation's top shot blockers last season. Birch left after his junior season, was passed by in the NBA Draft and is playing for the Miami Heat's D-League affiliate.
"Goodluck is a good off-the-ball shot blocker similar to what Khem did for us, and he's an excellent one-on-one post defender," Rice said. "I've seen significant improvement in his attention to detail. He brings high energy on every possession on both ends of the floor."
Adapting to the speed of the game, Okonoboh said, is the transition he has yet to make on the offensive end. His scoring (10 points on 4-for-8 shooting) has come almost exclusively on dunks and layups.
"I'm more of a midrange killer," Okonoboh said of his jump shot. "I'm still getting used to the college feel. I know as the season progresses I'm going to be doing a lot more. I've got to be more aggressive on the offensive side."
Assistant coach Stacey Augmon is serving as his primary tutor.
"Goodluck is an outstanding defensive player," Morgan said. "I feel his offensive game is the same way, but he just hasn't shown it yet."
Okonoboh, Morgan and 6-11 sophomore forward Chris Wood will find out exactly where they stand against Stanford's stronger, more experienced bigs. It's another chance for the Rebels' man in the middle to get his unique name out there.
"These are the types of games you look forward to," Okonoboh said, "because that's when you see who can really play."
■ NOTES — The Cardinal opened the season by defeating Wofford (74-59) and South Dakota (84-73), hitting 55 of 74 free throws. … UNLV is 28 of 54 at the free-throw line. … Rosco Allen is one of three Las Vegas products on the Stanford roster, joining twins Malcolm and Marcus Allen from Centennial High.
Contact reporter Matt Youmans at myoumans@reviewjournal.com or 702-387-2907. Follow him on Twitter: @mattyoumans247.
UNLV vs. STANFORD
WHEN: 4 p.m. today
WHERE: Barclays Center, Brooklyn, N.Y.
TV/RADIO: truTV (54), KWWN (1100 AM, 100.9 FM)
LINE: Stanford -7½, total 137