UNLV guard Bryce Hamilton named first-team All-MW by media
Updated March 2, 2020 - 9:52 pm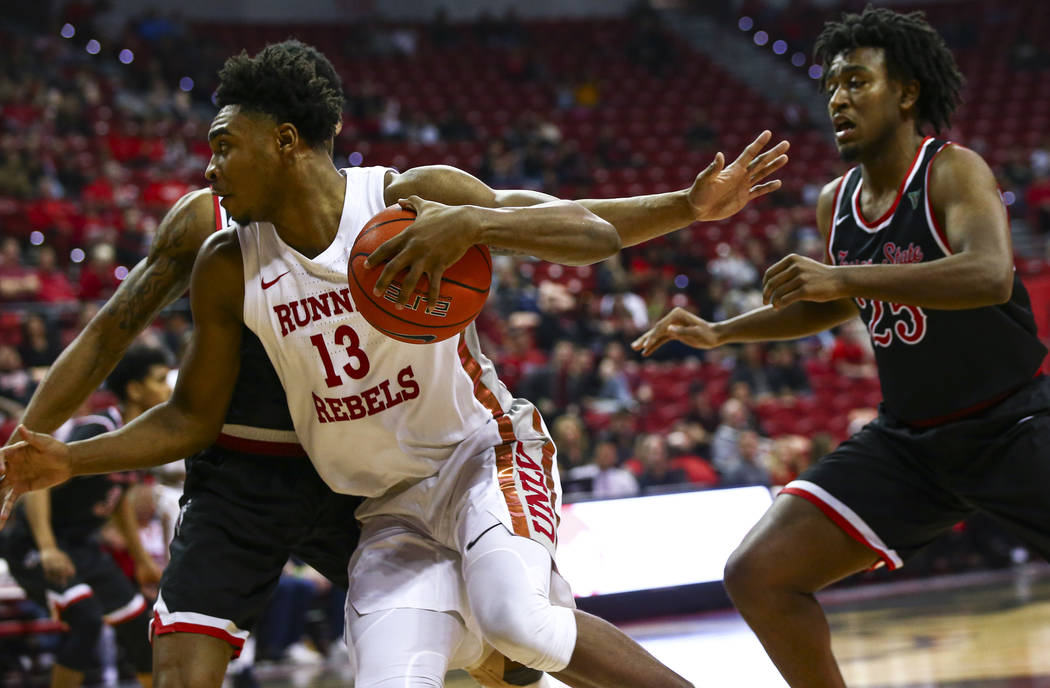 UNLV guard Bryce Hamilton, one of three Mountain West players to average more than 20 points in league play, was named first-team all-conference on Monday by the league media.
He was the only Rebel selected to one of the three all-conference teams, but junior guard Amauri Hardy was named to the honorable-mention list.
Hamilton, a sophomore, averaged 20.9 points against Mountain West teams, second only to UNR's Jalen Harris' 25.3. San Jose State's Seneca Knight averaged 20.1 points.
Tre'Von Willis, who averaged 20.3 points in the 2009-10 season, was the last Rebel to average at least 20 points in Mountain West play.
San Diego State junior guard Malachi Flynn was named Player of the Year and Newcomer of the Year, averaging 17.6 points, 5.1 assists and 4.4 rebounds. Brian Dutcher, who led the Aztecs to a 28-1 record and Mountain West regular-season championship, was named Coach of the Year.
Also honored were Utah State sophomore center Neemias Queta for Defensive Player of the Year, Colorado State guard Isaiah Stevens for Freshman of the Year, and UNR senior guard Nisre Zouzoua for Sixth Man of the Year.
The coaches' all-conference team is expected to be announced Tuesday.
Contact reporter Mark Anderson at manderson@reviewjournal.com. Follow @markanderson65 on Twitter.
Media All-Mountain West
First team
Malachi Flynn, San Diego State
Jalen Harris, UNR
Sam Merrill, Utah State
Bryce Hamilton, UNLV
Justinian Jessup, Boise State
Second team
Nico Carvacho, Colorado State
Matt Mitchell, San Diego State
Derrick Alston Jr., Boise State
Neemias Queta, Utah State
Justin Bean, Utah State
Third team
Jazz Johnson, UNR
Yanni Wetzel, San Diego State
Lavelle Scottie, Air Force
Seneca Knight, San Jose State
Nate Grimes, Fresno State
Hunter Maldonado, Wyoming
Honorable mention
Isaiah Stevens, Colorado State; JaQuan Lyle, New Mexico; K.J. Feagin, San Diego State; David Roddy, Colorado State; Amauri Hardy, UNLV; Lindsey Drew, UNR; Orlando Robinson, Fresno State.
Player of the Year: Malachi Flynn, San Diego State
Coach of the Year: Brian Dutcher, San Diego State
Defensive Player of the Year: Neemias Queta, Utah State
Newcomer of the Year: Malachi Flynn, San Diego State
Freshman of the Year: Isaiah Stevens, Colorado State
Sixth Man of the Year: Nisré Zouzoua, UNR