UNLV hoping local basketball players want to stay home
September 20, 2016 - 3:20 pm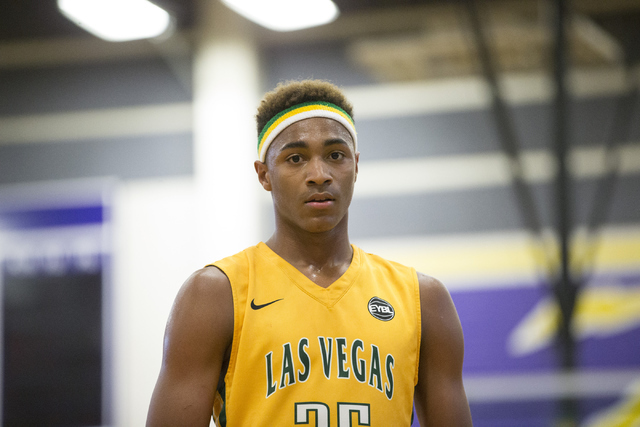 UNLV basketball coach Marvin Menzies has acknowledged that the late start he and his staff received because of the hiring process put them behind in recruiting for the 2017 class.
But they are making an effort, as well as putting in the time for the 2018 and 2019 classes.
UNLV hasn't landed any commitments for the current class, but that doesn't mean recruiting isn't going well. The Rebels are in the mix for a number of players, and they are making a push to keep the locals at home.
This is the year to do just that, with ESPN.com rating three players among the nation's top 35.
But as was noted by Findlay Prep coach Paul Washington Sr., whose son P.J. is on that list, Menzies has a lot working against him. Counting Chris Beard, who didn't coach a game before heading to Texas Tech, the Rebels are on their fourth head man since January.
"Would you fall in love four times?" Washington asked, referring to those UNLV is recruiting. But Washington also said the Rebels own a home-court advantage with the locals.
"They have a long way to go, but I think they're headed in the right direction," Washington said. "You can't really judge it by this year. You have to go on the coaching philosophy and the kids they're bringing in."
P.J. Washington, a 6-foot-7-inch forward at Findlay Prep, is rated by ESPN as the nation's 16th-best prospect. His final eight include the Rebels as well as Arizona, Kansas, Kentucky, North Carolina, North Carolina State, Texas and UCLA.
He traveled to Kentucky last weekend for his first official visit and has trips remaining to North Carolina, Texas and Arizona. Paul Washington said not to read anything into UNLV not being on the official visit list because his son can go over there any time.
"So from an official standpoint, it doesn't make sense," Paul Washington said.
That's why Troy Brown Jr., a 6-6 guard from Centennial High, isn't taking an official visit to UNLV. He already has gone there unofficially, as well as to Arizona and California. Brown, listed by ESPN as the No. 18 recruit, has taken an official visit to Ohio State and has trips left to Alabama, Oregon, Kansas and Georgetown.
"I want him to go through the process and look at what every school has to offer when he gets off the road and make an informed decision," Brown Sr. said. "You can't make an informed decision if you don't have all the information. UNLV is still in play as the rest of the schools are."
Brown Sr. said he and his son were impressed with what they have seen with Menzies.
"He definitely has a vision for the program," Brown Sr. said. "Right now, he's trying to get the players in who fit what he's trying to do. Troy likes him as a person.
"Anytime you get a chance to play in your hometown and in front of family and friends, you've got to give it a look. He'll give that school a definite look."
The other highly rated local is Bishop Gorman 6-6 forward Charles O'Bannon Jr., ranked No. 35 by ESPN. His final eight include Arizona, Kansas, North Carolina State, Oregon, Texas, UCLA and Washington as well as the Rebels. He has scheduled official visits to UCLA, Southern California, North Carolina State and Texas.
He heads into this season at Gorman feeling some urgency.
"I feel I really had a good spring, but I didn't have as good a summer as I expected," O'Bannon said. "I wasn't as consistent as I would like to be. I didn't have the breakout summer I wanted or planned, so I'm going to have to make it up this school season."
Contact Mark Anderson at manderson@reviewjournal.com or 702-387-2914. Follow on Twitter: @markanderson65
EYE ON UNLV
Players who UNLV coach Marvin Menzies is focusing on for 2017 commitments:
Brian Bowen
Height: 6-7
Hometown: Saginaw, Mich.
ESPN: No. 13 overall, No. 3 small forward, five stars
List: Arizona, Creighton, Indiana, Kansas, Kentucky, Michigan, Michigan State, North Carolina State, Oregon, Texas,UCLA, UNLV
Troy Brown Jr.
Height: 6-6
Hometown: Las Vegas (Centennial)
ESPN: No. 18 overall, No. 5 small forward, five stars
List: Alabama, Arizona, California, Georgetown, Kansas, Ohio State, Oregon, UNLV
Hasahn French
Height: 6-7
Hometown: Springfield, Mass.
ESPN: No. 24 power forward, four stars
List: Marquette, Massachusetts, Minnesota, Saint Louis, UNLV, Virginia Commonwealth
Charles O'Bannon Jr.
Height: 6-6
Hometown: Las Vegas (Bishop Gorman)
ESPN: No. 35 overall, No. 6 small forward
List: Arizona, Kansas, North Carolina State, Oregon, Texas, UCLA, UNLV, Washington
P.J. Washington
Height: 6-7
Hometown: Henderson (Findlay Prep)
ESPN: No. 16 overall, No. 2 power forward, five stars
List: Arizona, Kansas, Kentucky, North Carolina, North Carolina State, Texas, UCLA, UNLV