UNLV knocked out of Mountain West tournament by San Diego State, 62-52 — PHOTOS
Updated March 9, 2017 - 12:23 am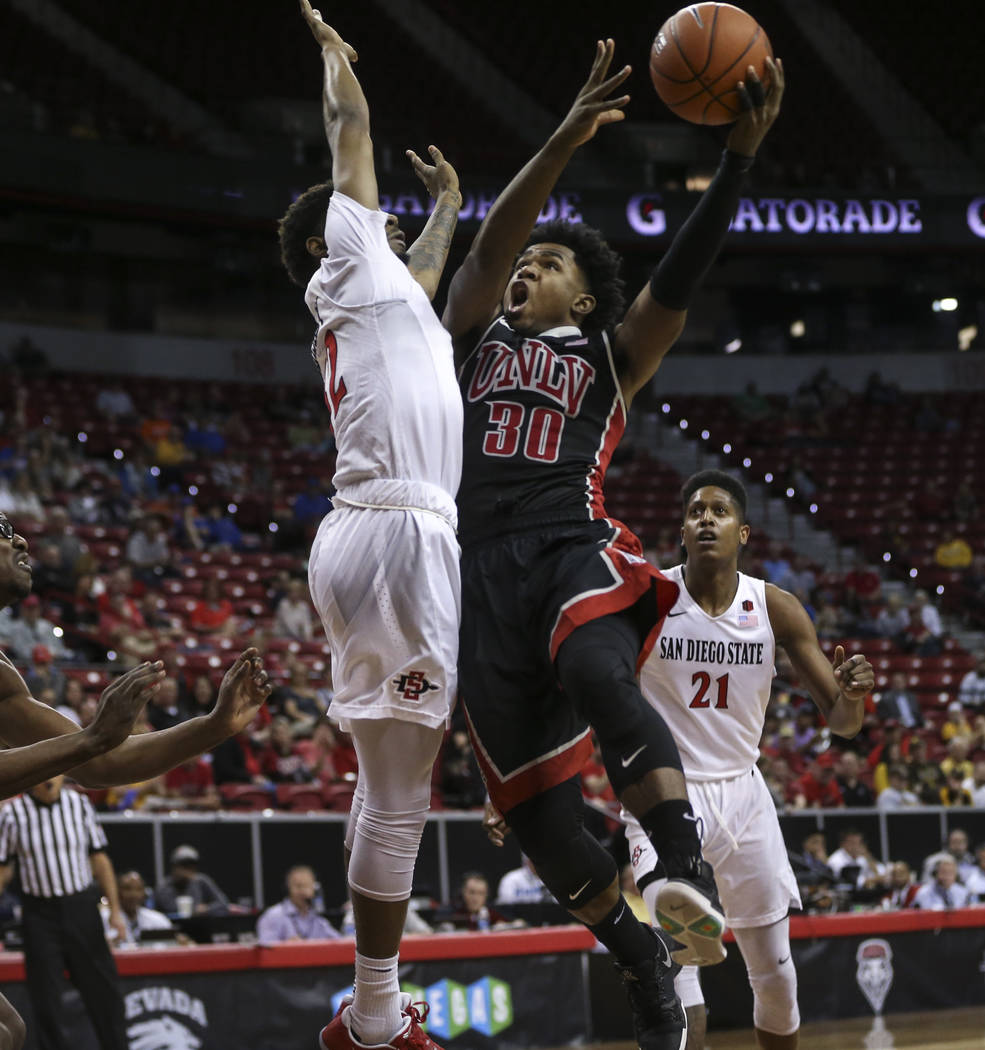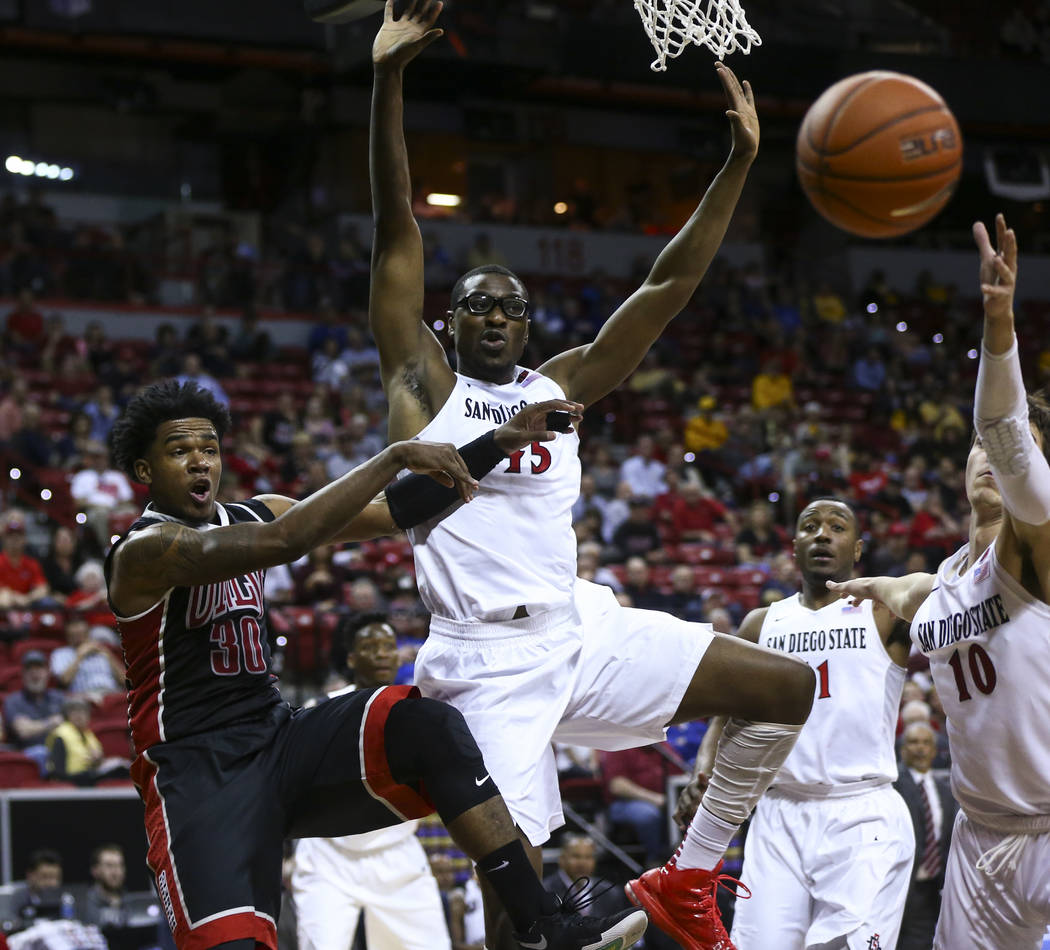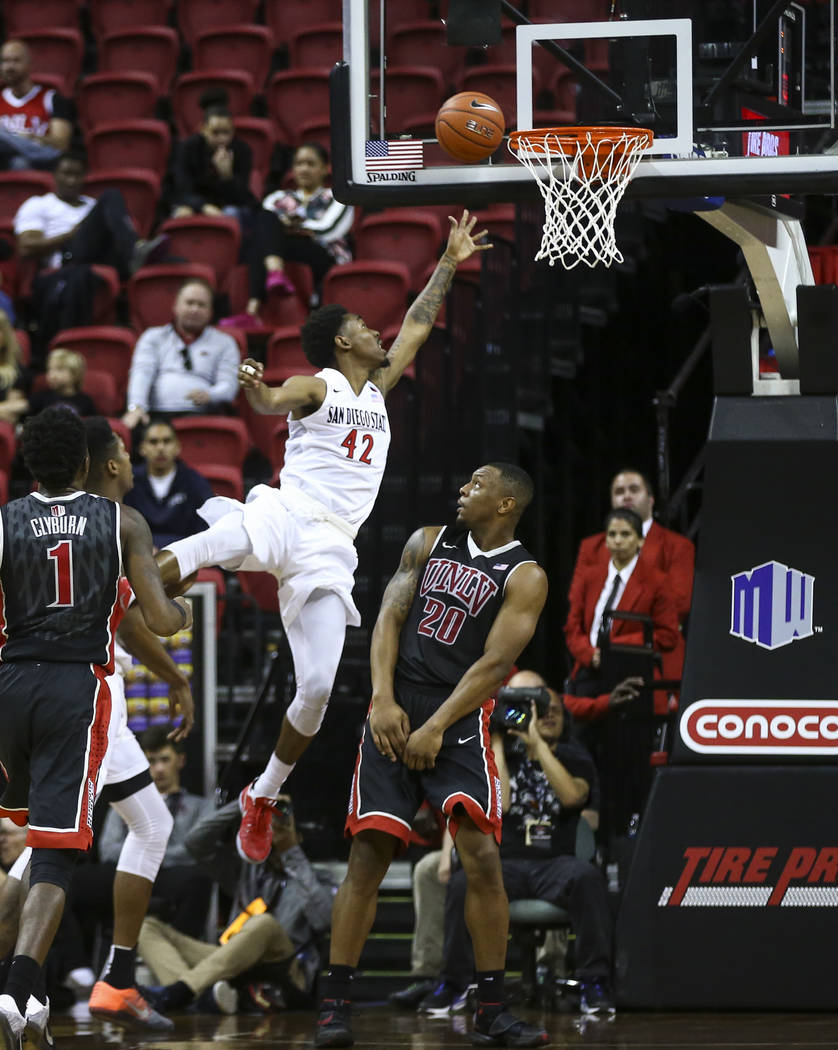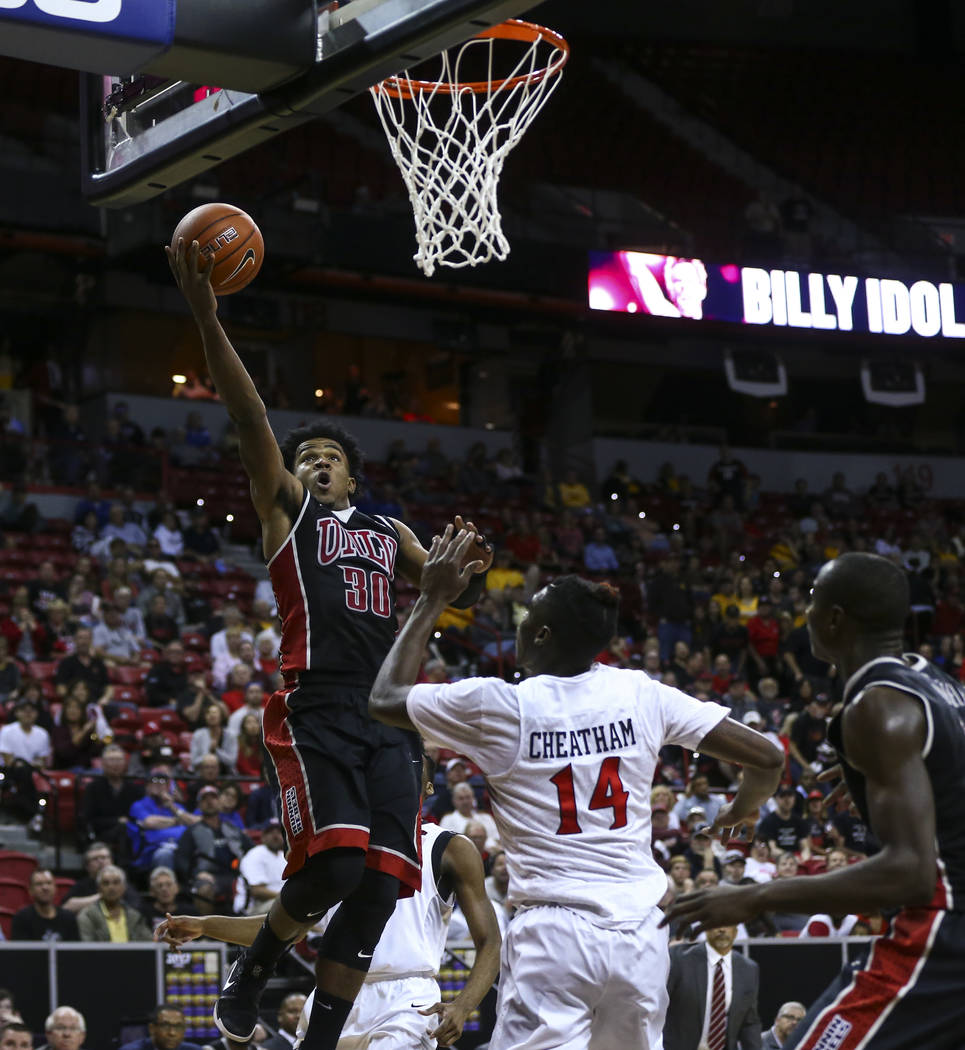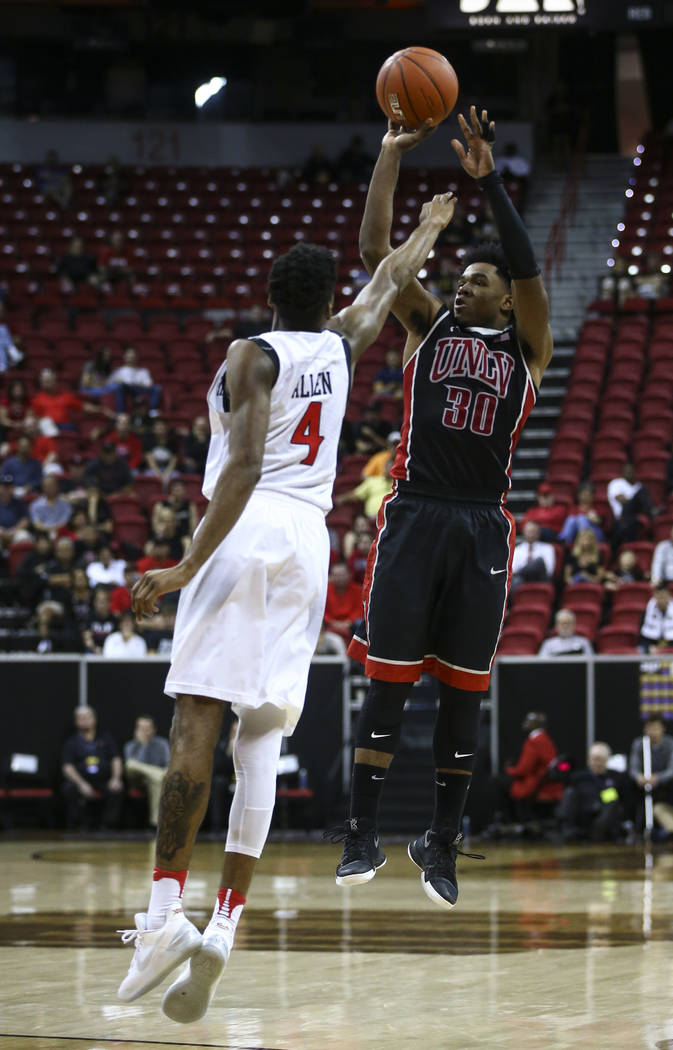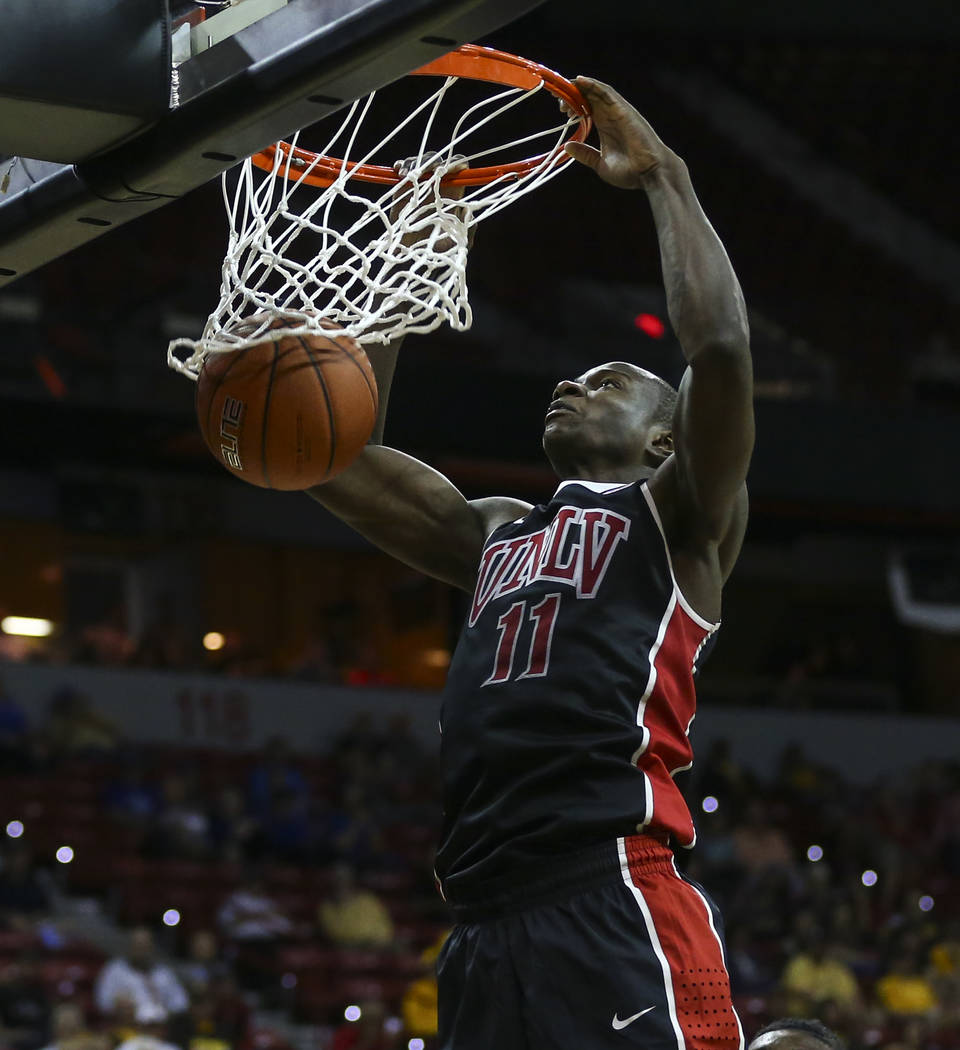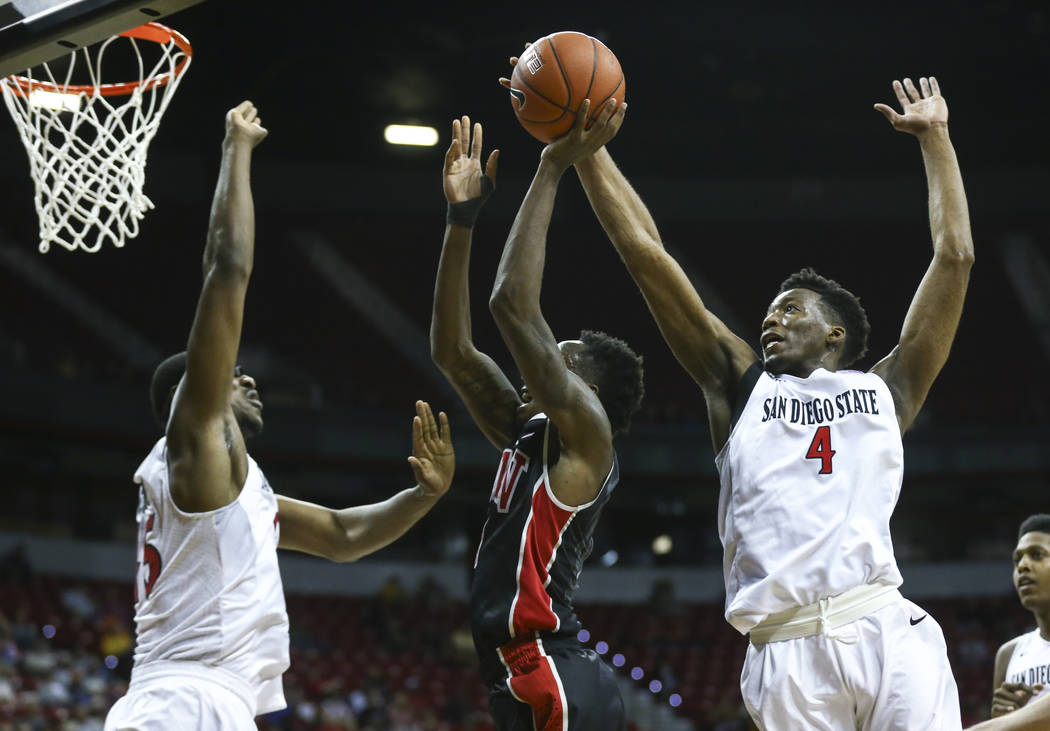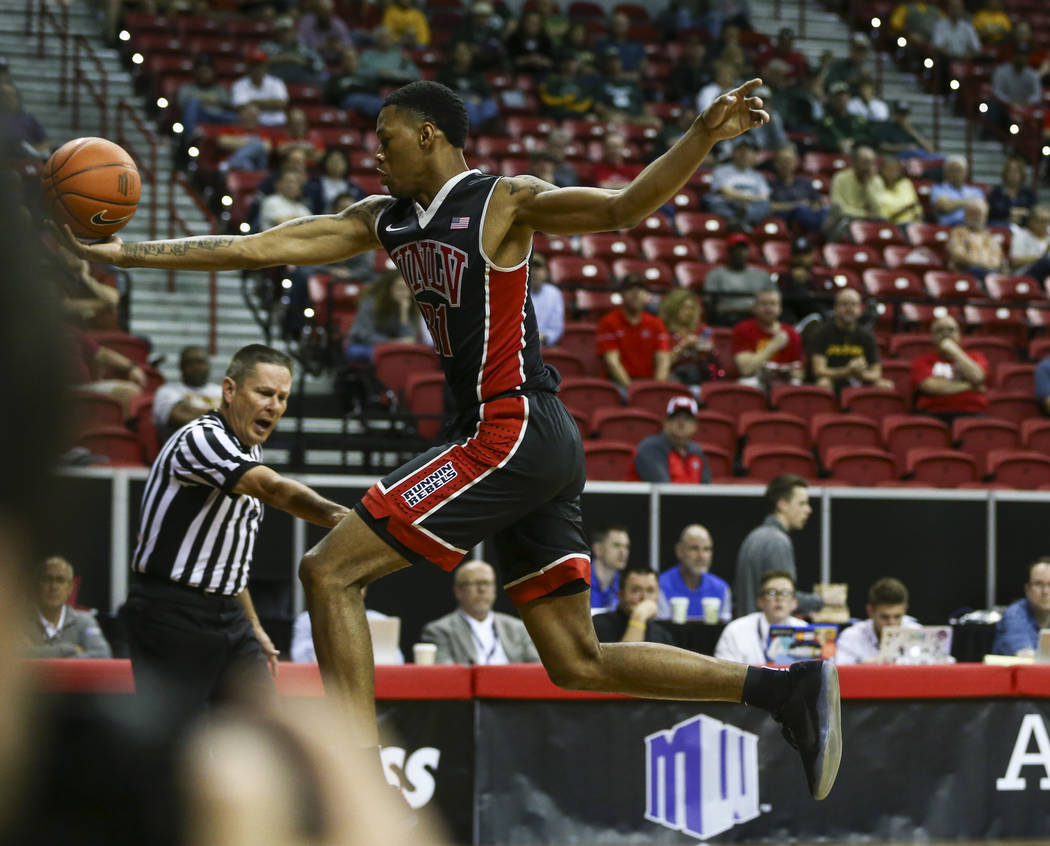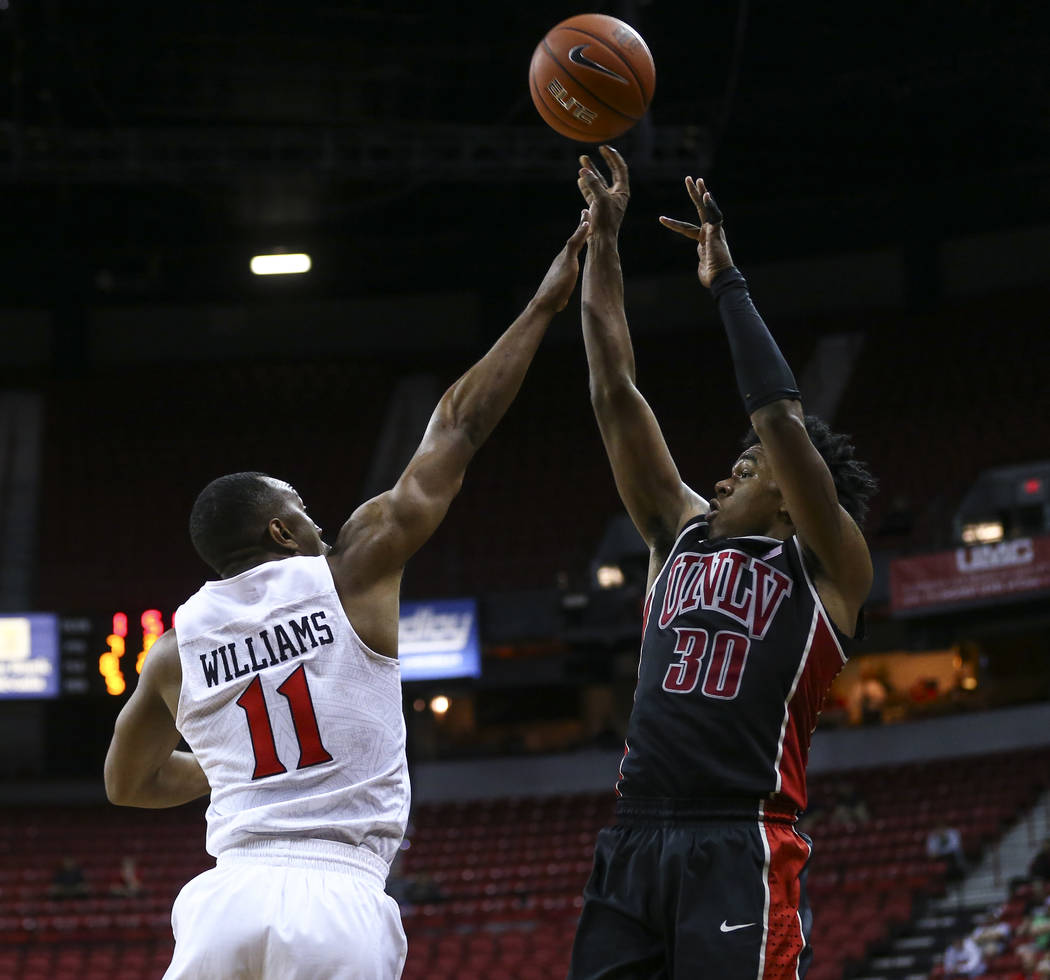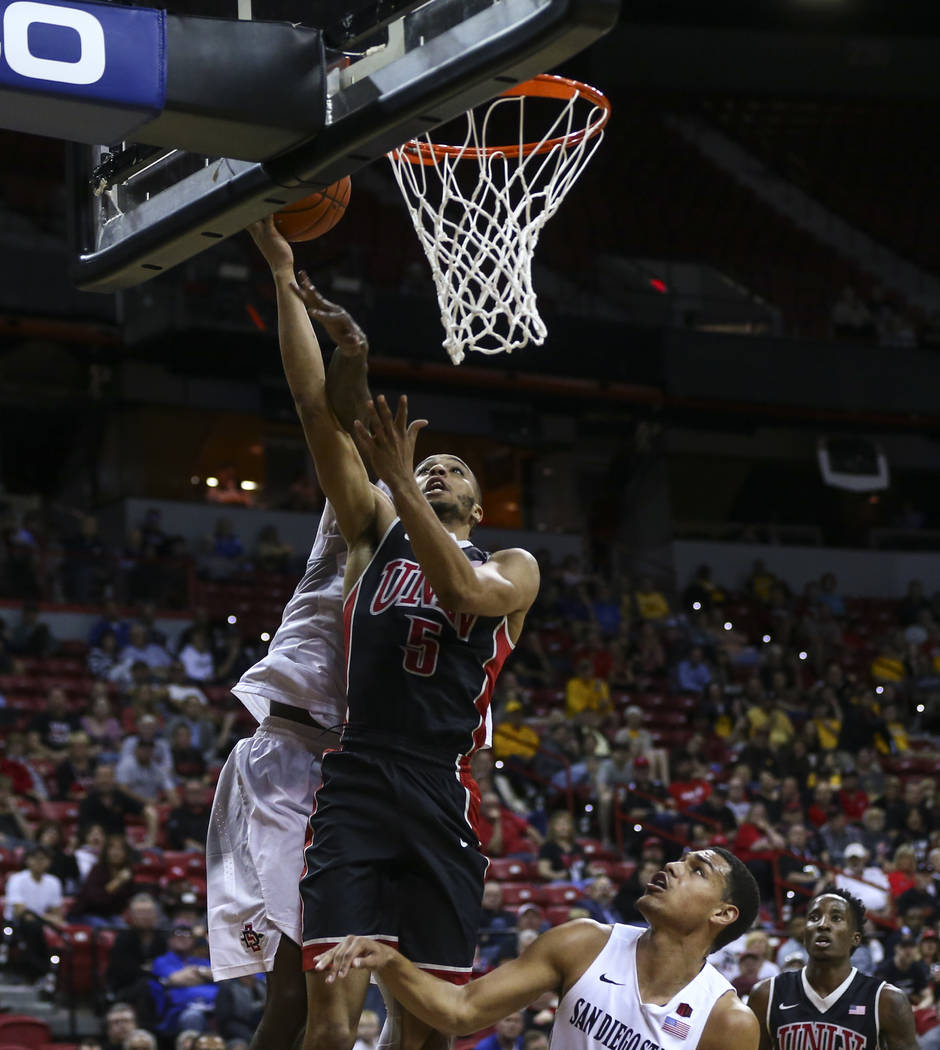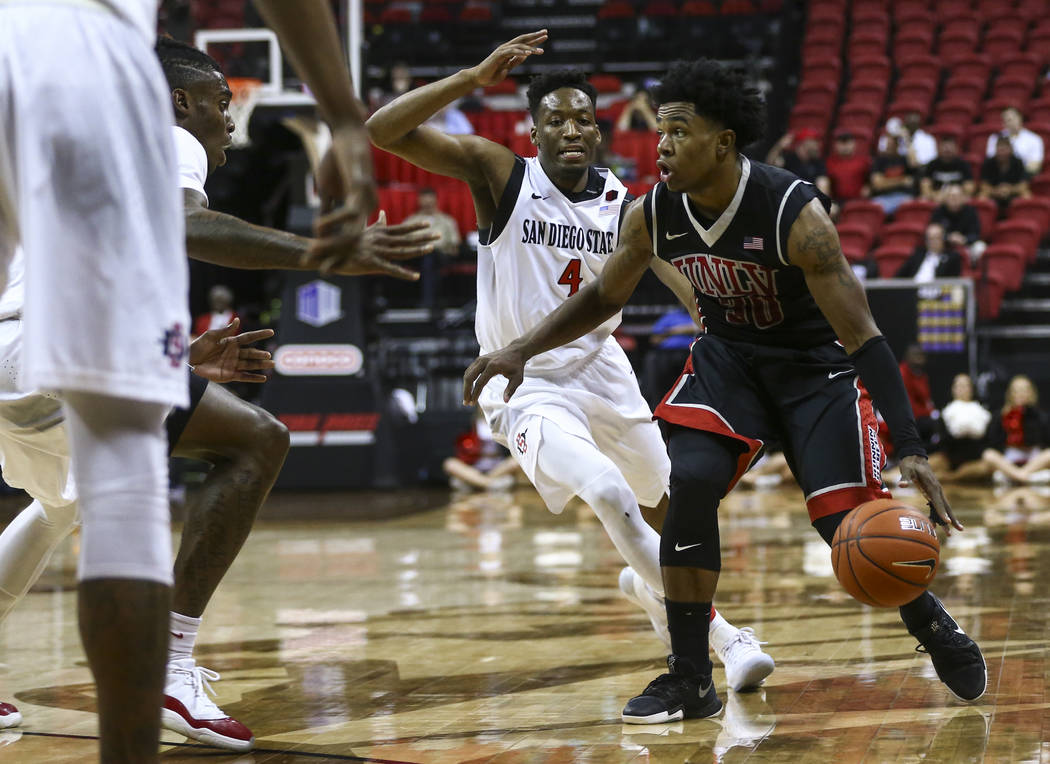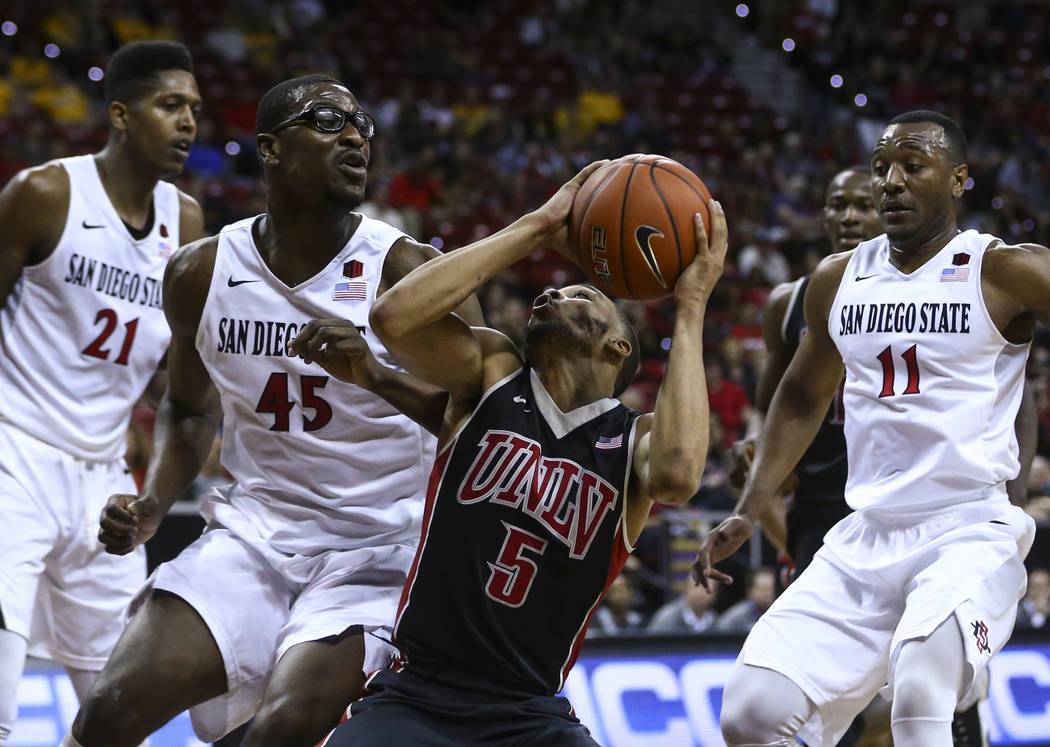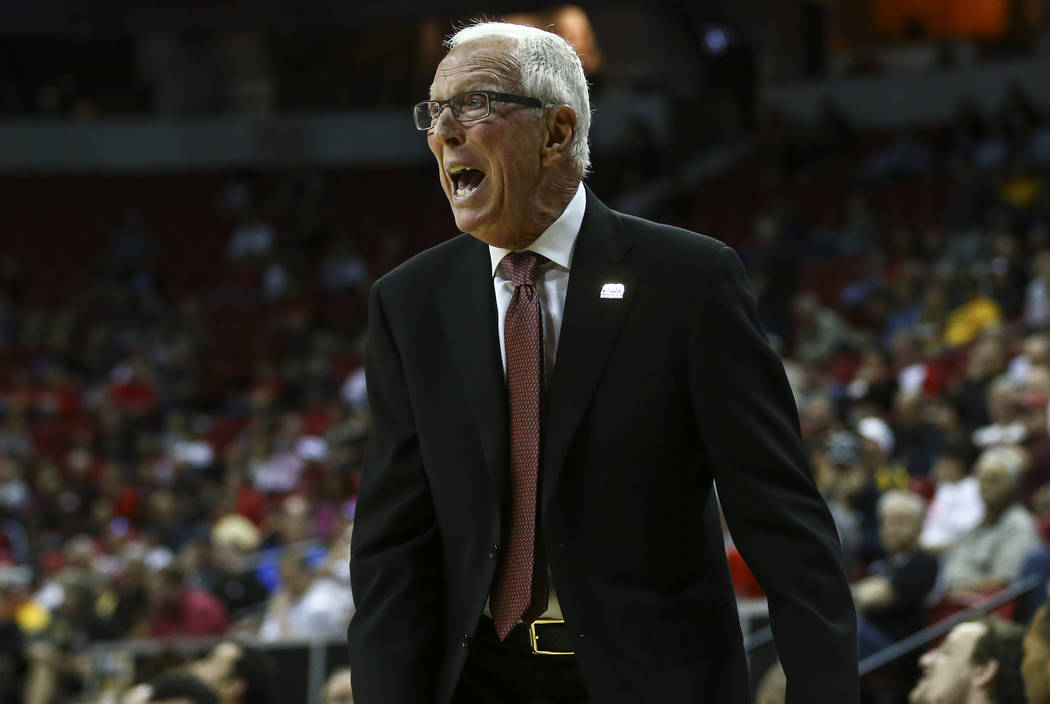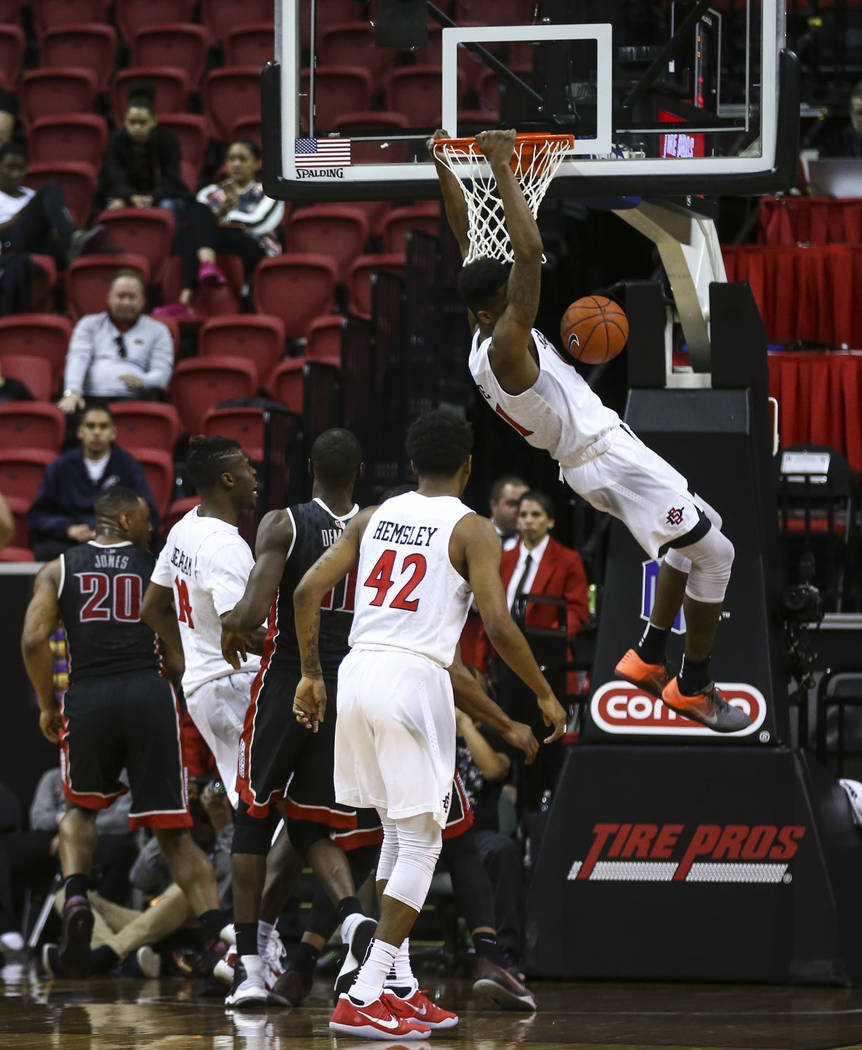 San Diego State couldn't even make layups, and UNLV was rolling to a sure victory, up 21 points not even two minutes into the second half.
Then it all fell apart for the Rebels, just like their basketball season quickly went south in Mountain West play.
The Aztecs capitalized with a stunning 62-52 overtime victory in a Wednesday first-round conference tournament game at the Thomas & Mack Center.
"We got lucky that we were able to come back," San Diego State coach Steve Fisher said. "Rarely do you come back from as big a deficit as we had because usually you're playing so bad, so poorly, that you don't have the toughness to come back."
Sixth-seeded San Diego State (18-13), which outscored the Rebels 12-2 in the extra period, next plays No. 3 Boise State (19-10) at 8:30 p.m. Thursday.
No. 11 UNLV (11-21) ended the season losing for the 11th time in 12 games, and this one was the most excruciating. The Rebels led 32-14 at halftime and by as much as 37-16 1:38 into the second half.
San Diego State then went on a 25-3 run to go ahead 41-40 to spark the largest recorded second-half comeback in Aztecs history.
"I thought the pressure of (San Diego State's) press turned the tide," UNLV coach Marvin Menzies said.
This was an Aztecs team that showed almost no signs of life until then. They made 4 of 27 shots in the first half, missing all seven 3-point attempts.
San Diego State then went from making 14.8 percent of its shots to 42.3 percent in the second half, while UNLV's percentages slipped from 38.7 to 22.7.
"We missed a couple of shots in the second half that we were making in the first half," UNLV point guard Jovan Mooring said. "I think a lot of it had to do with them making shots. We weren't getting the stops we were getting in the first half."
Mooring fouled out with 5:10 left, costing the Rebels their most dependable scorer. He finished with 18 points, 15 coming in the first half in which he single-handedly outscored the Aztecs.
Menzies made the decision to keep Mooring on the court when he picked up his fourth foul with 10:59 remaining. San Diego State was in the midst of its game-changing run at that point.
"I felt like I really needed to keep him on the floor," Menzies said. "He knew that he had to stay on the floor. I told him, 'I want you to play (defense). You have to make sure you show your hands.' So it was really one of those deals where you've got to make a decision, and he was playing so well."
UNLV's other top scorer, forward Christian Jones, looked gassed down the stretch. He finished with 16 points, but missed four of six free throws in the final 4:45. One of those misses occurred with 10.1 seconds left and the chance to put the Rebels ahead.
Jones didn't blame fatigue, saying, "It was more of a mental thing than anything. I was just missing free throws, basically."
So ends the first season under Menzies, the 21 losses five worse than the previous UNLV record. He went into a nearly impossible situation, trying to build a depleted roster in short order while playing a brutal schedule.
One season is over. An important offseason begins.
Contact Mark Anderson at manderson@reviewjournal.com or 702-387-2914. Follow @markanderson65 on Twitter.
RELATED
UNLV bettors suffer epic bad beat in OT loss to Aztecs
WEDNESDAY'S GAMES
No. 8 Utah State 90, No. 9 San Jose State 64 — Koby McEwen made 9 of 12 shots, including all five 3-point attempts, and scored 27 points to lead the Aggies (14-16). Jalen Moore added 19 points for Utah State, which shot 55.9 percent. Ryan Welage led San Jose State (14-16) with 14 points. The Aggies play top-seeded UNR (25-6) at noon Thursday.
No. 10 Air Force 83, No. 7 Wyoming 68 — The Falcons (12-20) scored the game's first 25 points and cruised to victory. Jacob Van led four Air Force players in double figures, scoring 18 points. Justin James scored 20 points for Wyoming (18-14), and Hayden Dalton had 15 points and 12 rebounds. Air Force next plays No. 2 Colorado State (21-10) at 6 p.m. Thursday.