UNLV knocks off New Mexico 80-69 with late run
Updated January 8, 2019 - 11:39 pm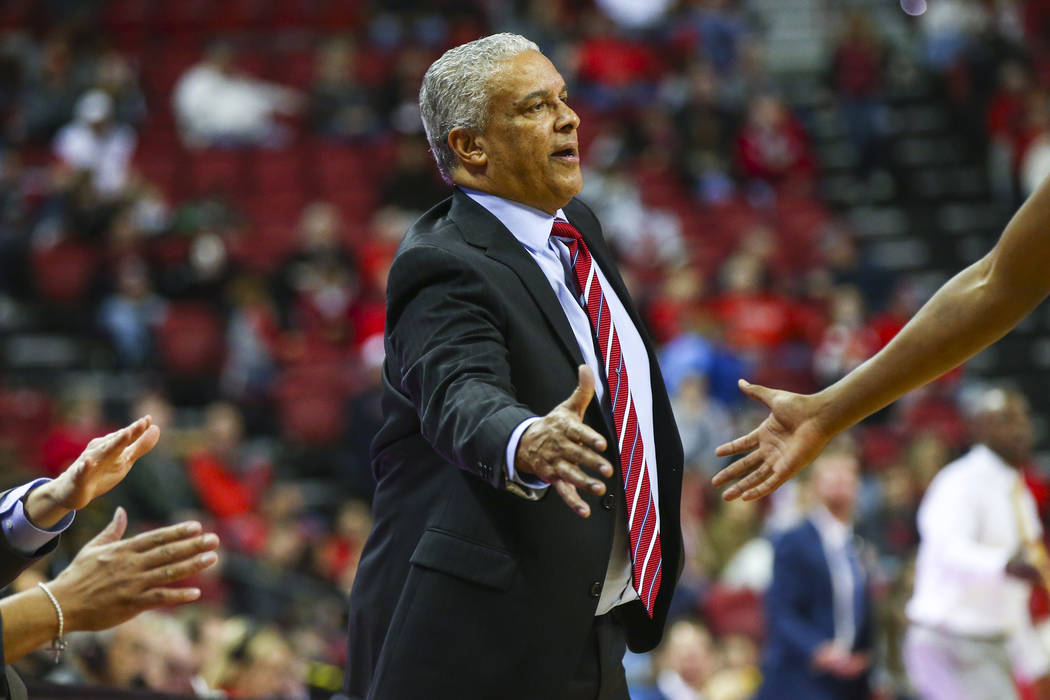 ALBUQUERQUE, N.M. — UNLV came into DreamStyle Arena-The Pit knowing that the Mountain West's best team had just been blown out three nights earlier on this very floor.
The Rebels were determined not to let that happen.
They did more than that.
UNLV came in Tuesday and beat the Lobos 80-69, sending what had been a raucous crowd heading for the exits in the final minute and giving the Rebels their first 3-0 Mountain West start ever.
Kris Clyburn — who scored 25 points on 8-of-13 shooting — provided the dagger. He missed a layup, but then came back with a 3-pointer with 58.6 seconds remaining for a 74-67 lead.
"Going back to last year, I missed the game winner here," Clyburn said. "That was a big-time shot for me to be able to knock down. I've been in the gym working on that all week."
New Mexico's fans sensed that was game as well as UNLV closed with an 11-2 run.
The last time the Rebels began conference play 3-0 was in the 1998-99 season when they were a member of the Western Athletic.
Not all news was good for the Rebels, however.
Forward Mbacke Diong went down hard at the end of the first half, suffering what appeared to be an ankle injury. He tried to play in the second half, even warming up by the bench, but never made it back into the game.
The Rebels already have taken a major hit in their frontcourt with injuries to Shakur Juiston (knee) and Cheickna Dembele (hand). Diong being out would put more pressure on freshmen Joel Ntambwe and Jonathan Tchamwa Tchatchoua to perform.
UNLV (9-6 overall) gave the Lobos (8-7, 2-1) a much better game than their state rivals did on Saturday. Then-No. 6 UNR was blown out 85-58 by the Lobos and fell four spots in The Associated Press poll.
The Rebels showed from the beginning that they weren't going anywhere, answering each New Mexico spurt with one of their own.
They also handled the Lobos' full-court press and 2-3 zone — an aggressive defense that sometimes more closely resembles a 3-2 — by finding the soft spots in the zone and even getting behind the defense.
"In the last four or five games, (the Lobos) have run zone," senior guard Noah Robotham said. "When you come out of the man, that means you probably can't guard the bounce that well. So even though they were in zone, we were trying to attack it and get downhill and make it as tough as possible for their bigs."
The Rebels also made 46.2 percent of their 3-pointers. They entered the game shooting 29.1 percent.
In addition to Clyburn, who also led UNLV with nine rebounds, three other Rebels reached double figures. Robotham had 14 points and eight assists, and Ntambwe and Amauri Hardy each scored 12 points.
This was the kind of effort UNLV can use moving forward. The Rebels gets a little more than a week off before playing at Air Force on Jan. 16, an atmosphere that will pale in comparison to this one.
After going 6-6 in nonconference play, the Rebels have won three in a row, suddenly looking like a team that can be a factor in the Mountain West.
"To win at a place like this, and it's really hard to win here, trust me I understand that better than anybody, you have to have a whole team effort. So I'm really pleased as the leader of this program a group of young men that are all locked in," Rebels coach Marvin Menzies said. "I think when you have that, you've got a chance every given night."
Contact Mark Anderson at manderson@reviewjournal.com. Follow @markanderson65 on Twitter.
Box Score