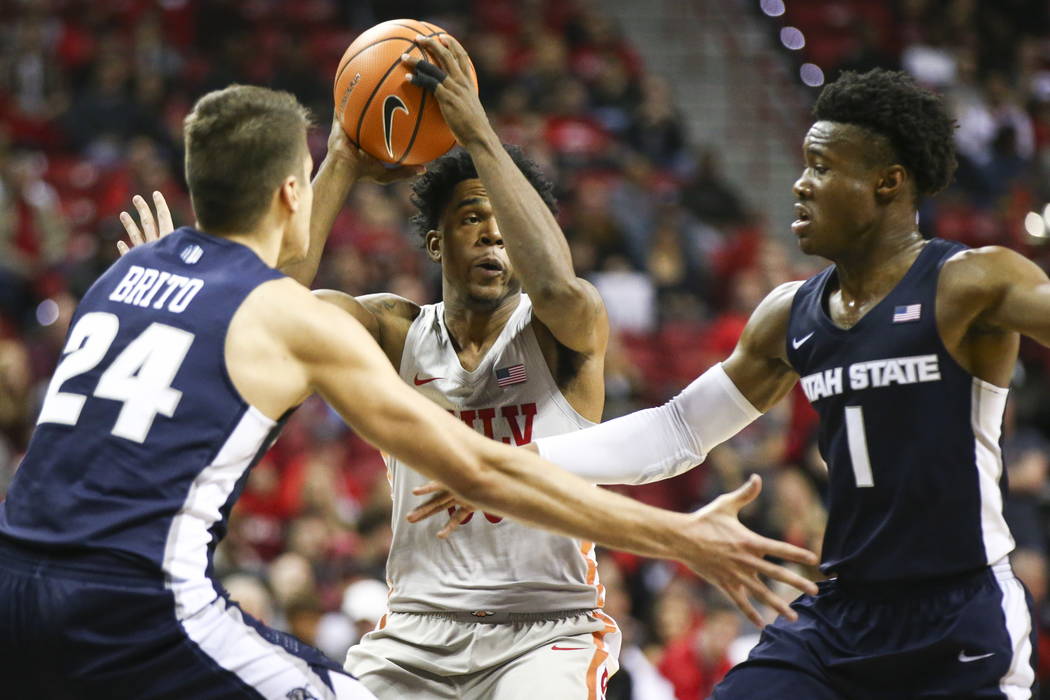 AIR FORCE ACADEMY, Colo. — Clune Arena doesn't look particularly imposing.
Air Force has trouble filling the 5,843 available seats for basketball games. The court shares the same building with a track.
Duke's Cameron Indoor Stadium it isn't.
It's an arena, however, where favored teams often go to lose, and UNLV has been far from immune. The Rebels, who visit the Falcons at 7 p.m. Wednesday as 9½-point favorites, haven't won at Clune since 2014.

Rebels coach Marvin Menzies understands the experience, having watched UNLV lose 81-58 in last season's trip to the arena that sits at an elevation of more than 7,200 feet. As an assistant coach at San Diego State, he was on the bench when the Aztecs lost twice between 2000 and 2003.
"It has an environment that's different than your typical basketball arena because of the seating," Menzies said. "There are a lot of unique aspects of the travel that make it challenging. Plus, they play really well at home."
UNLV (12-4, 1-2 Mountain West) needs the victory after a rough start to conference play. The Rebels were outplayed in an 83-74 loss to Boise State, escaped with an 82-76 overtime victory at San Jose State, and were defeated 85-78 by Utah State.
This stretch has added a sense of urgency to the meeting with the Falcons (6-9, 0-3).
"Their chemistry's still good," Menzies said. "They're still good together off the floor and on the court. We lost a couple of games. People are always going to look for blemishes when you lose games, but those blemishes were there when we won games. We're still a young team that hasn't played together before. It's not surprising that you're going to have some bumps in the road."
One of the bumps is Jovan Mooring's shooting slump.
He made 48.2 percent of his shots and averaged 16.7 points in 11 nonconference victories. In the two nonconference losses and three Mountain West games, Mooring shot 18.5 percent and averaged 7.4 points.
"Good offensive players go through some slumps," Menzies said. "He's had a little bit of a slump, but I think guys like that have got to get in the gym and get up extra shots and just have great practices. He doesn't lack for confidence, but sometimes you need those reps of seeing that ball drop through the net, so he's been doing a little extra work to make sure he reminds (himself) of the talent that he has."
Maybe Mooring breaks out against Air Force, and maybe the Rebels play with energy the entire game.
"The guys really don't understand the level of intensity that exists in conference," Menzies said. "Of all the teams, UNLV will always have a target on its back, and they can't take possessions off and they can't show up to games without the right level of concentration and intensity and passion. If you start the game that way, it may end up costing the game."
That was the case Saturday against Utah State in which UNLV trailed by as many as 15 points in the first half.
Do the players now understand the energy required for conference play?
"I'll tell you after Wednesday," Menzies said.
More Rebels: Follow all of our UNLV coverage online at reviewjournal.com/Rebels and @RJRebels on Twitter.
Contact Mark Anderson at manderson@reviewjournal.com. Follow @markanderson65 on Twitter.