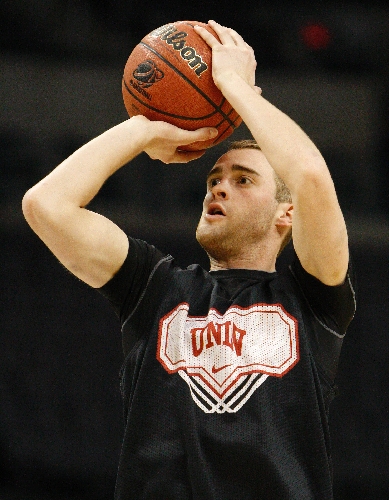 A quiet summer would have suited Lon Kruger just fine. Instead, the UNLV basketball coach has encountered one full of surprises from his senior class.
The Rebels were rocked by another setback Wednesday when guard Kendall Wallace was lost for the season with a torn anterior cruciate ligament in his right knee.
Wallace, the victim of an unlucky injury, is the third of UNLV's four scholarship seniors to make the wrong kind of headlines since late April.
"It's not a positive offseason in that regard," Kruger said.
If there is a positive, it's that Kruger still has a roster deep in guards with seniors Tre'Von Willis and Derrick Jasper, junior Oscar Bellfield, sophomores Anthony Marshall and Justin Hawkins and freshman Karam Mashour. Junior Chace Stanback and freshman Carlos Lopez are versatile forwards.
"Kendall, of course, is kind of a designated shooter in a way," Kruger said. "I don't think those minutes will be taken by one guy. We have plenty of wing players."
But the offseason has taken a toll. Matt Shaw's career ended April 27, when it was announced he failed a random drug test at the NCAA Tournament and was issued a one-year suspension. Willis was arrested June 29 on several charges, including felony domestic battery of a female.
Willis' status remains uncertain, but he could be on the floor for the 2010-11 season, and the Rebels desperately need him. The 6-foot-4-inch guard averaged 17.2 points per game and was the team's top scorer as a junior.
Shaw, a 6-8 forward, was UNLV's most accurate 3-point shooter (45 percent) and fourth-leading scorer last season.
Wallace, a 6-4 sharpshooter from Mesa, Ariz., made a team-high 61 3-pointers and was the fifth-leading scorer at 6.9 points per game. He averaged 19 minutes while starting nine of 34 games to help the Rebels finish 25-9.
He was injured Tuesday when he "landed awkwardly" while chasing a loose ball in a pickup game, according to Kruger.
Wallace was hopeful it was a minor injury. But Dr. Michael Milligan, the team's head physician, diagnosed the torn ligament after an MRI exam. Wallace, who needs surgery and about six months of rehabilitation, will redshirt with plans to return for the 2011-12 season.
"I'm disappointed for Kendall," Kruger said. "Those injuries are always extremely disappointing, even more so when it happens before your senior year."
Wallace's long-range shooting will be missed. He hit seven 3-pointers to lift UNLV to one of its biggest victories of last season, 74-62 at New Mexico on Jan. 9.
Without Wallace and Shaw, the Rebels can count on a stronger inside attack anchored by junior Brice Massamba and sophomore Quintrell Thomas.
Contact reporter Matt Youmans at
myoumans@reviewjournal.com or 702-387-2907.